With Theresa May having set her date of departure on June 7th the UK Conservative Leadership Election Odds  can finally begin to mean something. There are plenty of candidates, lots of drama and the overriding sense that in light of their current popularity none of it will make any difference anyway. Well, not unless you hit up Bet365, one of the best online sportsbook sites in the UK, and bet on which of the present crop of wannabes you think will climb the greasy pole.
Theresa May described it as having been "the honour of my life" and said she was leaving "with no ill will, but with enormous and enduring gratitude to have had the opportunity to serve the country I love." A liar to the last. Being Prime Minister of the UK during the Brexit process has been an absolute nightmare for her, to deny it is like thinking Chris Grayling getting 250/1 in the UK Conservative Leadership Election odds makes him a great candidate and not a useless git.
Indeed it has been so appalling it's actually quite surprising anyone at all wants the job at all. The party is shedding members like a cat does hair in summer, the Brexit Party is going to humiliate them in the European Elections and they still have no clear idea how to deliver the wishes of the British people. Anyone taking advantage of UK gambling laws to back any the UK Conservative Leadership Election odds on the various candidates should remember this isn't going to end well.
Nigel Farage 16/1 To Lead Conservatives At Bet365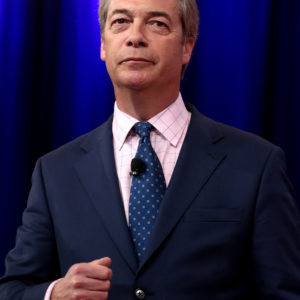 Bookies in the UK like Bet365 aren't allowed to accept wagers on human suffering, it's against the law, but you can still find 50/1 on Jacob Rees-Mogg becoming the next Tory leader (and thus Prime Minister) which is frightening. That said the true horror only really dawns, however, when you realize that those self same bookies like Bet365 will give you 16/1 on Nigel Farage in the UK Conservative Leadership Election odds, and he's not even a member of the Conservatives.
That's the same price that the eminently sensible Penny Mordaunt is getting and better UK Conservative Leadership odds than people like SajidJavid, Rory Stewart or David Lidington are getting. It's like discovering Vladimir Putin is in the front runner to be the Democrat Candidate in the 2020 US Presidential election. Either the bookies like Bet365, one of the best online betting sites in the UK these days, are insane, or British politics is far, far more broken than we realize.
UK Conservative Leadership Election Odds OnRaab Shorten
 Michael Gove gets 12/1 in the UK Conservative Leadership Election odds despite having stabbed his own preferred candidate in the back last time round. That pretty much puts him outside the running with Jeremy Hunt a long way ahead on 9/1 and Andrea Leadsom (who resigned as Leader of the House to run) at 8/1. Not that either of those two will be able to pick up enough support now that a new moderate candidate has emerged to absorb the anti-Johnson voters.
UK Tory Leader Odds

Chris Grayling – 250/1
George Osbourne – 200/1
David Cameron – 200/1
Theresa Villiers – 100/1
Amber Rudd – 66/1
Jacob Rees-Mogg – 50/1
Priti Patel – 50/1
Liz Truss – 40/1
Ester McVey – 33/1
Rory Stewart – 22/1
Matthew Hancock – 20/1
SajidJavid – 20/1
Penny Mordaunt – 16/1
Nigel Farage – 16/1
Michael Gove – 12/1
Jeremy Hunt – 9/1
Andrea Leadsome – 8/1
Dominic Raab – 4/1
Boris Johnson – 6/4
Dominic Raab is the very definition of an empty suit. As bland as beige on legs he is now 4/1 in the UK Conservative Leadership Election odds because he's the anti-Boris. Boris Johnson is 6/4 favorite and has wanted to be leader of the Tory Party for years, trouble is the party have never wanted him, and even now may still not. Sure a wager on Raab is not in the same league as a bet on sports in the UK but at that price, and given how much of a wally Johnson is, it's a nice one.