Who will be the NBA MVP for 2019?
A detailed look at NBA MVP odds 2019 for the best players in the league.
Considering NBA MVP odds 2019, we have prepared a detailed analysis of who will be the most valuable player of the new NBA season!
How good was James Harden last season? He's been called the people's MVP because of all the fan support. But right up there with him was LeBron James who is arguably the most famous basketball player in the world currently.
With all the other in-form challengers who are aiming for the most coveted individual achievement of NBA, the 2019 season looks like it would be one of the most entertaining and mouth-watering with such high stakes because of various changes during the trading and transfer period. What will be the NBA MVP odds in 2019?
The odds might be in the Pelicans' Anthony Davis favor?
The Pelicans have had a tough preseason. One thing to take from this is that, during the new season they will definitely need their formidable leader and talisman, Anthony Davis, without him they just don't seem to be winning.
Anthony Davis seems to have the promise of an NBA superstar with odds for 2019 at +450. Everything depends whether he can stay fit and injury free. Can Anthony David have his best season yet and beat main contenders like King James and Giannis?
James Harden can win the MVP title back-to-back
According to online sportsbook news sites in the USA, James Harden of the Houston Rockets won MVP in 2018 receiving 86 first-place votes and 965 total points. Before 2018, Harden had finished second twice in the previous 2 seasons. His NBA MVP odds for 2019 are +650.
James Harden would become the 12th player to win the MVP award back-to-back if he does so in the new season but that would be a great feat since team dynamics will shift with the addition of Carmelo Anthony to the Houston Rockets. Maybe the could actually help Harden but both of them would need to gel to keep the Rockets at the top. Do you think James Harden can win it back-to-back?
can take the Celtics back to the glory days and win MVP
As a Former teammate to LeBron James, Kyrie Irving is no stranger to winning. In fact, he seemed to be LeBron's right hand man when they used to play together. But now that he's at the Boston Celtics, he will definitely be out of LeBron's shadow and will have to rise to be the obvious headliner of the team.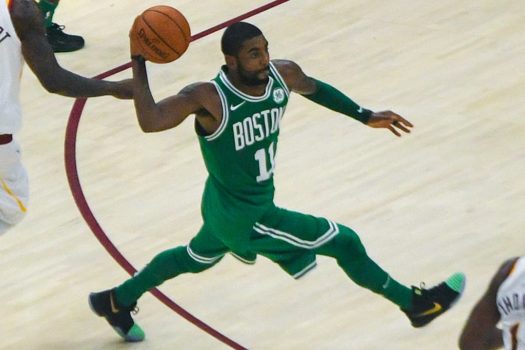 The only thing that would be in question will be his fitness. It takes a grueling season to get the MVP. His NBA MVP odds for 2019 are +1500. Will Kyrie Irving be up to the task?
Can LeBron James make it to legend status and tie Jordan with 5 MVPs?
LeBron James wasn't far from James Harden as he received 738 points as reported by online sportsbook sites in the USA. Now that LeBron James is with the LA Lakers, they would definitely make a formidable team.
His NBA MVP odds are +333. Only 2 NBA players are known to have won 5 MVPs, these include basketball greats, Bill Russell and Michael Jordan. If LeBron wins the next one, he would be tied with these legends.
The Lakers have young energetic players like Kyle Kuzma and Ingram who don't seem to stop scoring. They also have Lonzo Ball and Rajon Rondo who are both proven playmakers. It has been speculated that LeBron will inspire all these young players since he's not just an NBA star but a true leader and role model.
Well, despite his return to the Cleveland Cavaliers and having a new squad, in 2014-2015 season, Steph Curry and his Golden State Warriors team rose to become the dominant team that season. Would another dominant team ruin LeBron's chances? Will LeBron benefit from having a new squad with him?
Are there players who could steal the MVP title out of LeBron's hands?
The odds seem to favour LeBron James but history shows any of these contenders stand a chance at winning. These include, Golden State Warriors' players Kevin Durant and Steph Curry.
Steph Curry won the MVP title back-to-back in 2015 and 2016 with the Golden State Warriors. That was surprising to all LeBron James fans in 2015. Maybe he can do it again, his odds are +1200.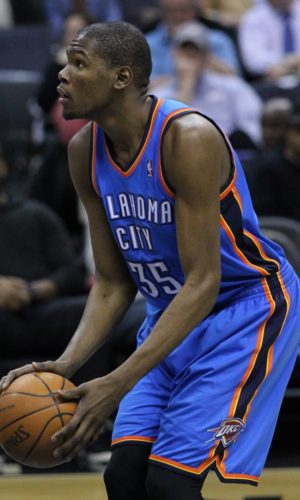 Kevin Durant was the MVP back when he was in Oklahoma City Thunder in 2014, beating LeBron James who was the MVP just the year before. Kevin Durant's odds are +1000, now maybe he would be the one to surprise us once again.
Durant and Curry have an awesome partnership at the Golden State Warriors but they seem to cancel each other out by sharing these points and praise in the end. Can one of them take the leadership role solo and win MVP?
The Toronto Raptors seem to have the championship title in mind. The addition of Kawhi Leonard has positioned them to make a real run for the title. With DeRozan and Kyle Lowry backing Leonard up, they could really go all the way this season. And if they are able to perform really well, Kawhi Leonard will definitely be seen as the catalyst. His odds are for MVP are +950.
Meanwhile, Giannis Antetokounmpo has been in epic form and he's rising in the superstar ranks. If his Bucks team can beat the Celtics in the Eastern Conference, then it's all there for the taking. His odds are +500.
Can James Harden, the reigning MVP, repeat his 2018 season? Will LeBron James succeed at the Lakers? Will Golden State Warriors help Stephen Curry to win his 3rd MVP? Will a new NBA star win the MVP and become a superstar?
Bet on the next NBA MVP and their teams at Bovada Sportsbook to be a part of the excitement!