2019 Asian Cup Top Scorer Predictions and Betting Tips
Generally speaking, considering previous years' results, scoring 5 goals is enough. Which team's which player do you think will be capable of doing that this year?
The tournament hasn't been going on for a week. Outright odds to win 2019 Asian Cup keep changing as the teams' forms drop and raise. Those who expect odds-upsetting results, might want to check out our article about those five underdogs who could win Asian Cup 2019.
Individually speaking, we must mention 3 players who already netted twice. They are Japan's Yuya Osako, Iran's Mehdi Taremi and India's Sunil Chhetri. If they continue this way, they will be even bigger favourites by 2019 Asian Cup top scorer predictions. However, other candidates are expected to deliver more as the stake raises.
Bet on the best Japanese strikers in 2019
When it comes to Asian Cup top scorer predictions, Japanese strikers are usually on top of the list. Especially when they have a player with 2goals right after the tournaments just started. Werder Bremen's Yuya Osako has 2 goals and Unibet Sportsbook believes he will be the best Japanese striker. His odds to score the most goals for Japan are 1.50. Other good picks could be the youngsters: RB Salzburg's 23-year-old Takumi Minamino for 7.00 and FC Groningern's 20-year-old Ritsu Doan for 3.50.
Mehdi Taremi to be Asian Cup 2019 top scorer?
As mentioned up above, Iran's striker is already on his way towards glory. He is the #1 striker for Iran, and he's already proving that. The odds for Taremi to score the most goals for Iran are 1.50. However, he might be challenged by Rubin Kazan's 24-year-old Sardar Azmoun. His odds are 3.00 and he's definitely up to taking the throne of Iranian football – as well as Asian as they both hope to win 2019 AFC Asian Cup for Iran! Their cooperation for the nation's glory is obvious, as the youngster also has a goal by his name already…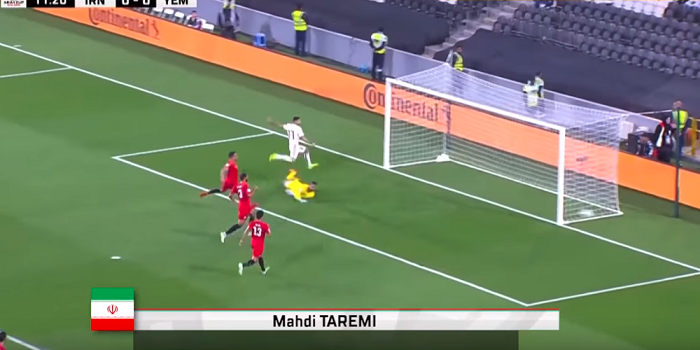 Ali Mabkhout favoured by Asian Cup top scorer predictions
Nobody expected the United Arab Emirates star Ali Mabkhout to deliver the extra back in 2015. However, he helped his nation take the bronze medal with his superb performances. He scored 5 goals and was top scorer of the tournament. He is up to repetition, but will he be capable of doing the same once again? Asian Cup top scorer predictions and betting tips pay more attention to him this time, especially because he already scored his first goal…
Saudi Arabian strikers in hopes of winning the Top Scorer award!
Saudi Arabia's Yasser Al-Qahtani was co-top scorer in 2007 with 4 goals, and Fahad Al-Bishi was top scorer in 1992 with 3 goals. They are the only Saudi Arabian Asian Cup top scorers as of today. That could change this year as 4 Saudi Arabian strikers already scored a goal: Hattan Bahebri, Fahad Al-Muwallad, Mohammed Al-Fatil and Salem Al-Dawsari. They all hope to compete for Asian Cup top scorer award as well. Which one of them will score the most goals for Saudi Arabia? Bet at Unibet Sportsbook!
Who will score the most goals for Saudi Arabia?
Fahad Al-Muwallad
2.75
Salem Al-Dawsari
4.00
Hattan Bahebri
4.00
Mohammed Al-Fatil
6.00
South Korea star Son Heung-min might worth a bet…
Heing Min Son should be top pick at all 2019 Asian Cup top scorer predictions. The Tottenham star has scored 38 goals for Spurs in 115 games, and netted 23 times on 74 matches for his home nation. South Korea is among the biggest favourites to win 2019 Asian Cup. Should they progress as expected, Son might as well be thereabouts. At Unibet Sportsbook, you get to bet on Son to score the most goals from South Korean players. His odds are 3.75.
GAMBLING News -
December 2022