Are The 2019 London Marathon Odds On Mo Farah Irresistible?
39th Running Gives Olympic Hero Another Shot At The Win

The 2019 London Marathon Odds On Mo Farah 9/2 At Bet365

Kenyan Eliud Kipchoge Holds Course Record And Is Favorite
Beyond the lunatics in their charity fancy dress, the sincere but sweaty worthies raising money for good causes and those who just enjoy running twenty-six miles for fun the elite races are a serious business in of itself. For none of the competitors is that more true than for London's local Somali hero. Indeed you'd almost have to be heartless not to take up the 2019 London Marathon odds on Mo Farah at Bet365, one of the best online sportsbook sites in the UK. It's a fairytale.
Mo Farah's record at middle distance running barely needs repeating at this point. Five golds at the European Championships, six golds at the World Championships and, of course, four golds spread over the last two Olympics have made him one of the most successful runners of all time. Of course now he's move up from 5,000m and 10,000m to the longer distance those 2019 London Marathon odds on Mo Farah seem to suggest he'll be looking to medal in Tokyo as well.
His aim to be at the 2020 Olympics and win over the Marathon distance is no small ask, and we wait to see if the bookies like Bet365 giving him 9/2 is based on more than just wishful thinking. After all he only managed third last year behind Ethiopian TolaShuraKitata and the legend that is Eliud Kipchoge who took his third win at this prestigious event. A year on Eliud will be running again and he'll be the shortest priced athletics bet on sports in the UK this weekend.
Mo Has Sights Set On Gold In Tokyo Too
The bookies like Bet365 give the Kenyan just 4/6, far shorter than the 2019 London Marathon odds on Mo Farah, and with TolaShuraKitata getting 7/1 this is one fairytale that will take a lot of luck to come true. Mo's best time for the marathon is 2:05:11 and Eliud's record in the UK capital is 2:03:05 which he achieved back in 2016, although last year he still finished quicker than Mo has yet managed. That said Mo will be getting just a mite more support on the course.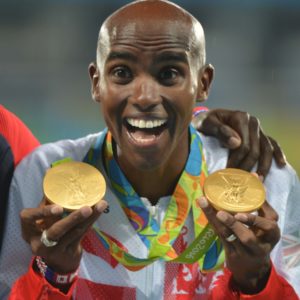 A firm fan favorite you can expect to see hordes of punters pick up the 2019 London Marathon odds on Mo Farah at Bet365 simply because it's becoming part of the fabric of British sports. Like a flutter on the Grand National, a wager on the Eurovision Song Contest or betting on the gender of a Royal Baby taking advantage of UK gambling laws to bet on Mo Farah winning things is just part of being British. Like eating baked beans and believing they actually taste nice.
2019 London Marathon

TamiratTola – 25/1
MosinetGeremew – 22/1
Daniel Wanjiru – 18/1
GhirmayGebrselassie – 16/1
Wilson Kipsang – 12/1
Abraham Kiptum – 10/1
TolaShuraKitata – 7/1
Mo Farah – 9/2
Eliud Kipchoge – 4/6
2019 London Marathon Odds On Mo Farah 9/2 At Bet365
Not that Eliud isn't the better wager if we're honest about it. Remove all the jingoistic rubbish and whilst those 2019 London Marathon odds on Mo Farah are hugely tempting to the heart, the brain might just object. Perhaps it would point out that Kipchoge ran a staggeringly quick 2:01:39 in Berlin last year shattering the world record by over a minute and he's likely to blitz the rest of the field in London to take a fourth victory this year in London. The man is a marathon machine.
London Marathon 2019

Inaugurated – 1981
Edition – 39th
Distance – 26.2 miles (42.2km)
Location – Central London
Course Record – 2:03:05
Holder – EliudKipchoge
Entrants – 40,000+
The "national treasure" status then make the 2019 London Marathon odds on Mo Faraha bit bookies lure and there will be many who'll bite at the bait on the net at the likes of Bet365, one of the best online betting sites in the UK right now. However, for those actually looking to make a little for their bankroll rather than follow the crowd,the better wager is definitely staking all you can on Eliud Kipchoge to once again romp home to a fast victory on The Mall this weekend.
GAMBLING News -
November 2022