If you look at the less popular sports in the online betting market, you can often run into events of betting on Australian football. You might find it under the name of Aussie rules and Australian rules football at the online bookmakers. Few sports are as rough and fast-paced as football under Australian rules. It is neither rugby nor American football, but the blend of the two, so if you have never bet on this sport before, you should definitely read our article about Aussie rules betting guide!
How to Start Betting
Although the popularity of Australian football betting has grown significantly, it is still a less monitored and followed sport, so if you delve a little into the possibilities of the Australian football rules, you can very quickly have an advantage over other bettors and bookmakers. The betting options are very similar to the other sports and, as they play it almost exclusively in Australia, due to the time difference by the time you wake up, you already have the necessary statistics and results. 
Don't think that this market is more complicated than any other, but you have to learn the rules first. For a less popular sport in other parts of the world, like Australian football, it is crucial to find the best Aussie rules bookmakers. Due to its less-known state, there can be differences between the odds of a given event. You will find Australian football offers on most betting platforms but register on more sites and choose the better option. You can check all wagering websites at online sportsbook sites in Australia!
Aussie Rules Betting Guide
Suppose you got the urge to bet on Australian football, yet how do you start? It is definitely the first step to becoming aware of a significant portion of Australian football rules. Without them and the terminology, you cannot even understand the statistics. In addition, it is advisable to watch a few matches in advance. You can always find streams about the games on the Internet.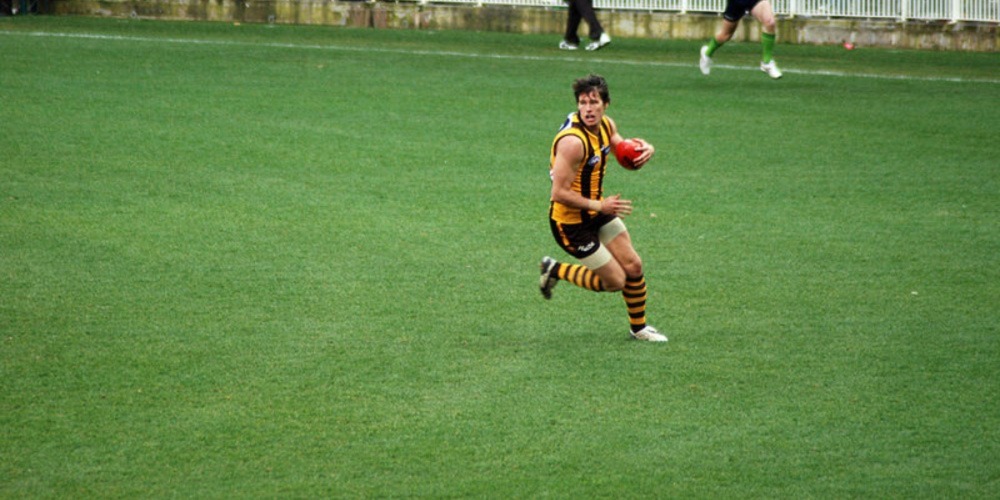 It may be hard to find a game in the Australian time zone, so it's not easy to follow them live, but it also has the advantage that by the time you wake up, your winnings and lots of new stats will be waiting for you to analyze. Like in American football, it is crucial to track the state of teams and players in Australian football betting, which can give you an advantage over other bettors and bookmakers.
Australian Football Betting Types
At first glance, some betting markets may seem unfamiliar with Australian football, but let's not be intimidated. Most of them have different names but are pretty much the same as the sports markets you know. It's by no means worth getting into betting without studying these markets better, so here's a little overview of the Australian football betting markets available and an Aussie rules betting guide to help with the details.
Though, you can also check out the 2023 European Rugby Champions Cup Betting Odds and Predictions. The most popular betting market in Australian football is betting on the ultimate winner and live betting in particular. The outcome of a match can change in a matter of seconds. Betting on the point difference is also very common among Australian bettors. There are various forms, where you can predict the score difference between the two teams. 
Of course, the handicap is also available, just like in American football. So let's say one of the teams will start the match 10 points behind, although that also means it has far more chance to win. Handicap is about giving an advantage or disadvantage to a team to help the one you bet on. For more details, go to 888sport Sportsbook and, for comparison, read our article about Rugby World Cup 2023 Odds and Betting Preview!
Aussie Rules Betting Guide
The betting market for guessing the results is also easy to understand. Basically, you can predict whether the total score for a given match will be below or above a certain number. That is Over/Under betting. That's still just the surface, as you have a wide variety of betting options. For example, you can place a bet on the time of the first goal or wager on different options for the first quarter or the first half. Check out the complete list at 888sport Sportsbook!
Long-term markets are also very often available to bettors. Usually, you can bet on the final winner of the league or the best player. You can also try to name the player who scores the most, and we haven't talked about live betting yet. Live streams make betting really exciting in this extremely fast-paced game! For live broadcasts, go to online sportsbook sites in Australia!
Live Betting on Australian Football
Surprisingly, although there are live betting options, they are less popular in Australia, and non-Australian bettors go for this option. This is mainly due to certain restrictions on online betting on the continent. Although, live betting offers great opportunities to maximize your profits. If a team with a better chance plays against a less likely one, based on the statistics and the shape they are in, and the first two goals are scored by the less likely team, then let's say the initial odds of 1.5 can jump up to 1.8. 
That's when you should get into the betting scene. Two goals in Australian football isn't an irreversible difference at all. In addition to Australian football rules, it's worth browsing the team stats as there are always teams that are much stronger in the second half than in the first, for example. As we have mentioned, statistics serve as the starting point. You can learn enough information from them and Aussie rules betting guides to place winning bets. 
Aussie Rules Betting Guide
Australian football is unfamiliar to many people outside of Australia, but in recent years, thanks to online bookmakers, it has become increasingly popular. Due to its rules, since the game is a combination of soccer, rugby, and American football, we advise you to check out their betting guides, too. You will need every piece of information you can get, so you have plenty of opportunities to choose from at 888sport. 
The most significant piece of advice, before embarking on betting on Australian football, is to know the Australian football rules. For instance, which players play in which teams, how certain teams perform in which halves, etc. In our Aussie rules betting guide, you will find tips for betting on Australian football. For example, if a tournament is coming to an end, it is worth betting on a player who scores the most goals because a few matches before the end, you can see who is the most likely to win the category.
Pay close attention to the odds and you're timing because when bookmakers first publish them at the online sportsbook sites in Australia, you can usually get even better money for some outcomes than later on. It seems risky, but with the help of a simple Excel file or another statistic tracking method, guessing the first scorer or the outcome of a given match is an exciting and promising form of betting. Feel free to try this tool.