Lotteries are the most widespread form of gambling. Sometimes, you'll find national lotteries even in countries where other forms of gambling are strictly prohibited. However, with a smartphone in your hand or a computer on your lap, you can enter a new realm of lottery betting. Betting on lottery events is not a new invention. Yet, most people are still ignoring this fantastic opportunity in favor of simply playing the lottery.
Higher chances to actually win on the lottery
There's a huge difference between playing the lottery and betting on the lottery.
The above statement is true, but there's a bit more to it. When you choose to play lottery in the classic way, you are basically buying a chance to win one of the jackpots (depending on the lottery you are playing.) If you guess all the numbers correctly, you will end up with a life-changing lottery win. However, the chances for that are rather small. Let's take Powerball as an example: your chance to win the Powerball jackpot is 1 in 292,201,338. Of course, it's perfectly fine to dream big. And the high you feel during the draw is incredible, right?
So, what is the other way to play lotteries? There are numerous big online sportsbook sites in the UK and all around the world, that offer odds for various lottery events such as the color of the first ball, the lowest drawn number, and much more. Essentially, you can bet on more than just a single event, which would be the jackpot. However, we have to keep it real: betting on these events will score you much less than a jackpot win would. On the other hand, your chances of winning a smaller amount are much higher. Plus, you have more control over your bet and spending. With a steady stream of smaller wins, you can accumulate a great balance.
Playing the lottery vs. Betting on the Lottery

| | Playing the Lottery | Betting on the Lottery |
| --- | --- | --- |
| Plan | short term | long term |
| Wins | bigger possible win | smaller but steady wins |
| Chances | extremely low | higher |
| Bet type | only one type of bet (jackpot) | more events to bet on (color, first number etc.) |
| Price | fixed price | bet amount is up to you |
Which ones are the best international lottery betting sites in 2019?
We present you three trustworthy sites where you can bet on lotteries. All the available bets at these sites belong to the second category. With these offers, you bet on the lottery.
We'll start with the best online sportsbook site for international lottery betting. Established in 2011, 1xBet Sportsbook has its proprietary software, which is easy to manage. At 1xBet Sportsbook's lottery section you'll can bet on Russian, Belgian, Canadian, European, French, German, Greek, Chinese, Spanish, Ukrainian, and American lotteries. You can bet on events such as the divisibility of the drawn number, total odd drawn numbers, or successive numbers to be drawn.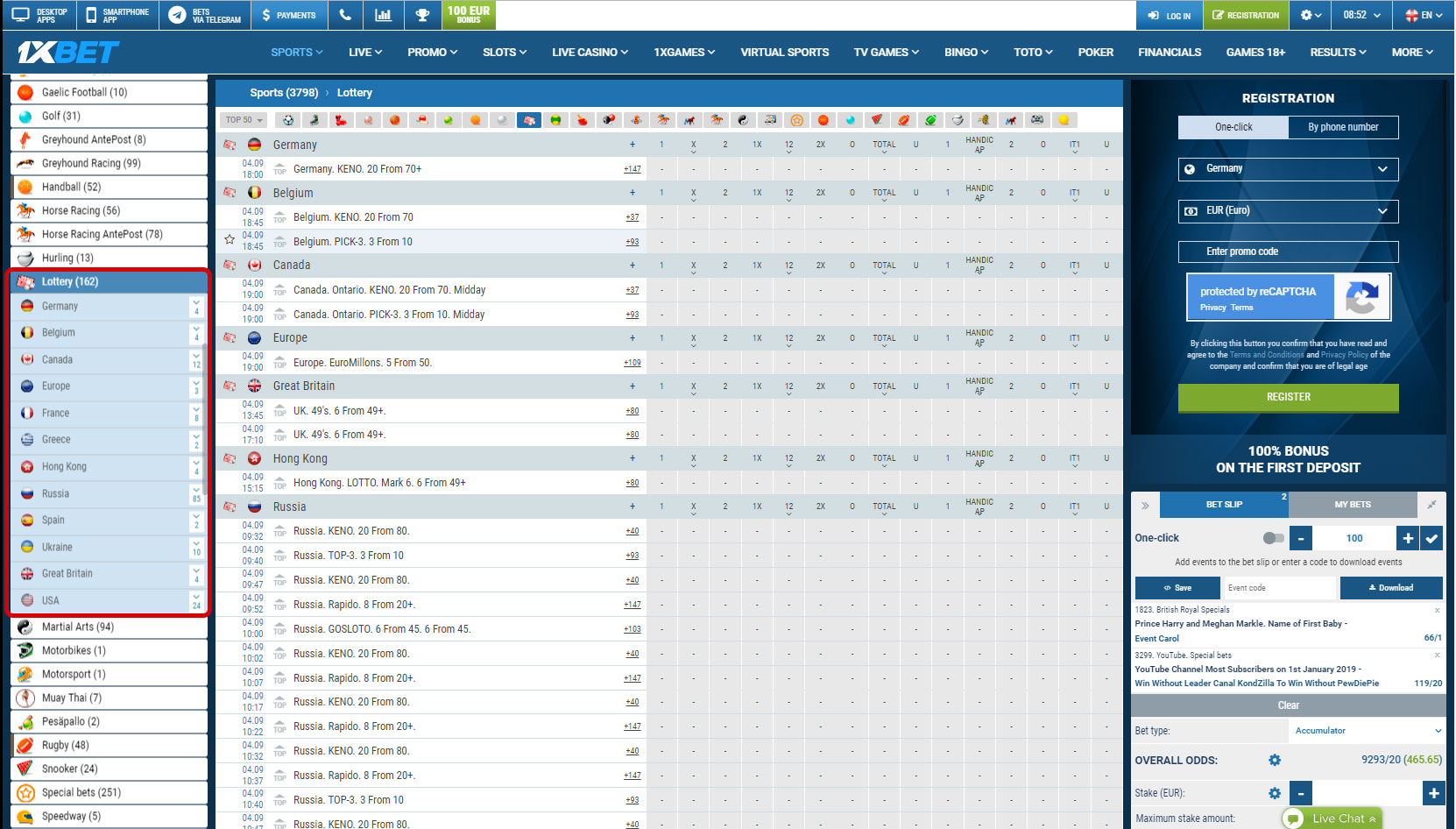 Intertops Sportsbook doesn't need an introduction, their player base speaks for itself. They don't have the widest selection of international lotteries to bet on, but the one they have is what most players are looking for: Powerball. As of now, you have two events to bet on: the powerball number, and whether it's will be an odd or even number. If you are searching for Powerball betting only, Intertops Sportsbook is the site for you.
Bet365 Sportsbook offers a satisfying selection of international lottery bets. Besides the Irish, Spanish, New York, Canadian, German lotteries, their specialty are Australian lotteries: OZ, Powerball, and the Australian Lottery. You can choose between events such as the bonus ball color, first drawn number, or the total value. What's special about Bet365 Sportsbook, is that you can play the lotteries with bets: you can choose numbers as you would when playing the lottery in the classic way.
Learn about live draw lotteries if you don't like to wait for lottery draws!