If you take a deeper look, you'll see how outdated the concept of classic, national lotteries is. In 2018, when you can play millions of games on your smartphone and see results in real-time, the only advantage classic lottery holds is the jackpot. We will not downplay the importance of this advantage: a huge jackpot will remain attractive, forever. But the odds of winning that jackpot – especially when there's only one draw per week – are not very good.
That's why most people claim to target smaller wins on lotteries: they know that winning the jackpot is not the most realistic of all dreams. Now, if someone is content with smaller wins they could just go and play live draw lotteries without the ties of a strict schedule. Why? Because live draw lotteries happen every 3-10 minutes, therefore, you can play whenever you feel lucky and you'll see the results almost instantly:
In 10 minutes you can

Check when's the closest draw
Choose your numbers
Watch the draw
See the results
As you can see, the concept of these live draw lotteries is much more suitable to our current way of consumption. Does this mean that classic lotteries are worthless? Not at all. National lotteries and smaller, instant-win draws can co-exist in perfect harmony. Both concept has pros and cons:
Comparison of Classic and Live Draw Lotteries

Classic Lotteries
Live Draw Lotteries
PROS

huge jackpot
familiarity
money goes to your country

Frequent draws, 24/7
Wherever you want
availability of better odds
flexibility of bet amount

CONS

only weekly draws
lower odds
very few bets (mostly 1)
no flexibility

smaller jackpots
you need a phone or computer
takes some getting-used-to
It's time that we show you a few of the best options out there. Below you'll get a list of lotteries that are available at 1xBet Casino or Vbet Casino. Other online casino sites in the UK might have some Keno or Lotto titles, but their selection is usually very limited.  If you are planning to become a regular, I'd suggest you set up an account with 1xBet Casino, as there you will have access to all the best live draw lotteries.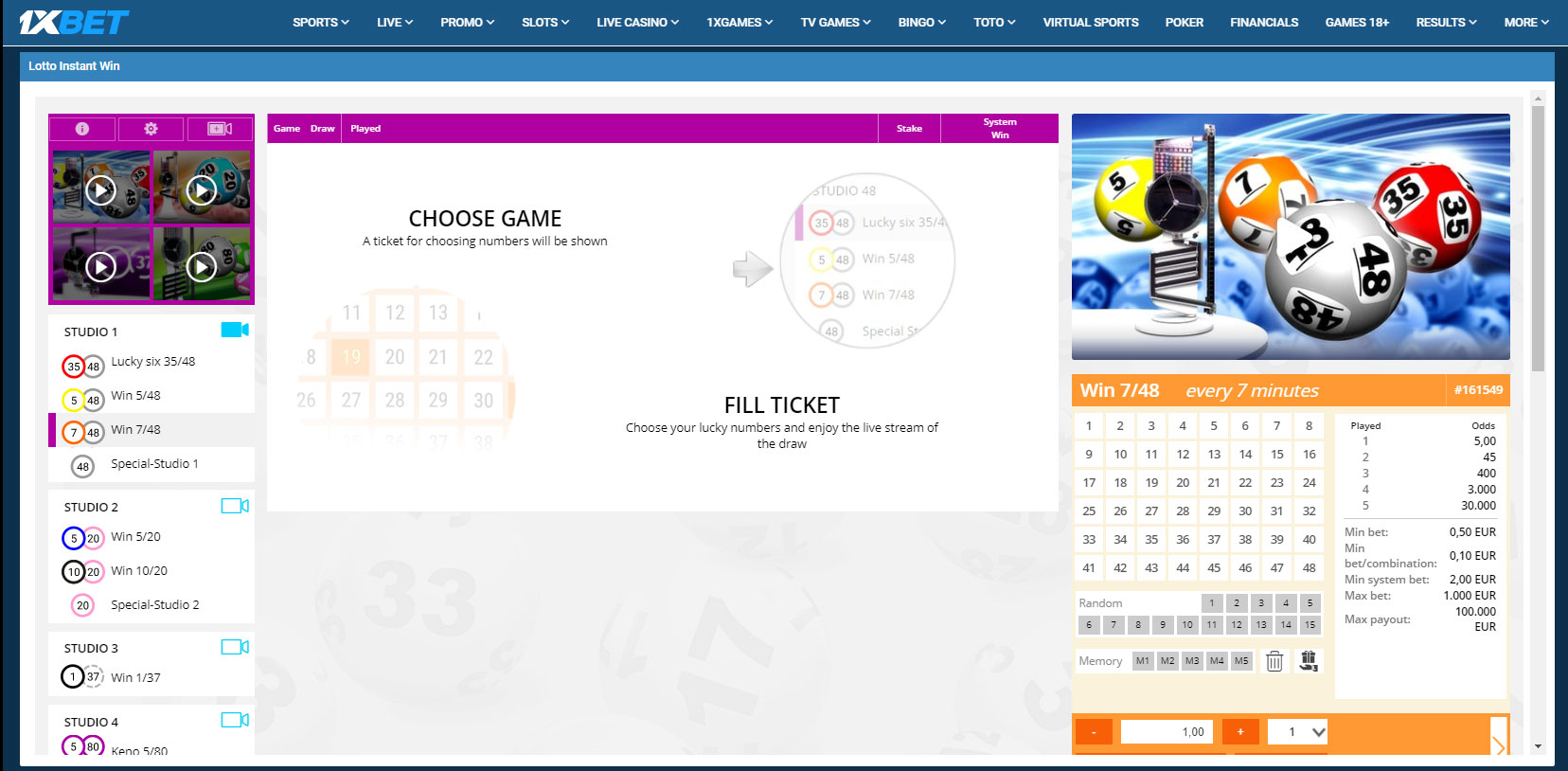 Lotto Instant Win is not a single lottery game; it is more like a platform where you can choose from 4 studios, and 17 games. In this section we'll look only at the most popular of these lotteries, but keep an eye on our gambling news if you are interested in more. Lotto Instant Win can be found under 'TV GAMES'.
Win 5/48
Win 5/48 is a modern take on classic lotteries. The rules are as simple as it gets: choose 1-5 numbers, place a bet, and watch the draw. There's a draw every 7 minutes, 24/7. If all your numbers get drawn you'll win your bet amount multiplied by the odds assigned to the amount of numbers you played. The minimum bet is €0,50, and the maximum payout is €500. (This game is available in 7/48 version as well.)
Lucky six 35/48
Lucky Six 35/48 is also a popular live draw lottery at 1xBet Casino. You'll find this title in Studio 1. Let's take a look at the official description of the game:
In game Lucky Six we draw 35 balls out of 48. In order to win, you need to guess 6 numbers from the 35 drawn numbers.
You can choose a minimum of 6 and a maximum of 15 numbers. You win if you hit 6 out of the 35 numbers drawn from the drum. However, there's one additional rule: "the winning amount depends on when the balls were drawn, that is when the 6th ball was drawn for the minimum win." To get a better grasp of this game, you should take it on a test drive at 1xBet Casino. The minimum bet is only €0,50 or €0,10 per combination. The maximum payout of this particular lottery is €100.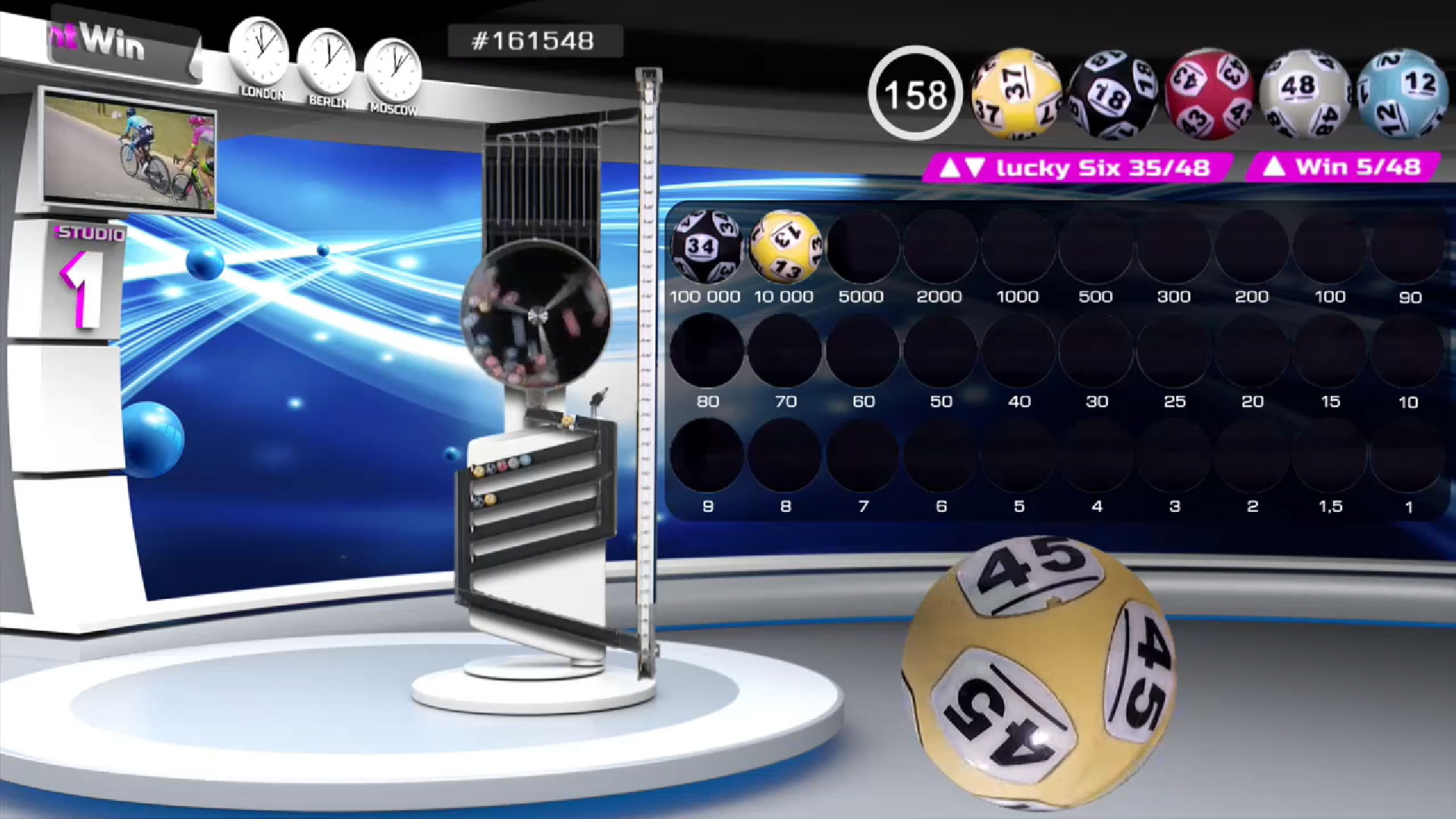 If you play Lucky Six 35/48 all your tickets will automatically play in a separate "extra win" jackpot game. This jackpot is won if the last 6 number drawn matches with your numbers.
Special bets in Lotto Instant Win:

Bet on colour of the first ball
First drawn number to be over/under 24,5
Sum of first 5 balls
Colour completed
GamingZion has a dedicated article for Ezugi's Bet on Numbers lottery. If you want more details, please, check it out. Generally, Bet on Numbers is also a classic lottery (6/49) with a twist. You can make three general types of bets:
Bet on numbers
Bet on colours
Bet on sums
Obviously, the possible wins are different for each.  The multipliers are shown next to each event. For example, a bet on the "colors of the FIRST TWO balls dropped shall be RED" will multiply your bet with 3.5. There are so many betting options, that this game will keep you entertained in a long term. Draws are held every 3 minutes, 24/7. The minimum bet amount is €0,10 while the max is €5. In all honesty, the maximum bet restriction is rather tight.
Bet on numbers' interface is very straightforward. You get a visual bar to see the time left until the next draw. The available bets are well-organized and it is extremely simple to learn how to use it. What's more, the draws are overseen by a live dealer.
Conclusion on Live Draw Lotteries

As you can see there's more to live draw lotteries than schedule. You also have different betting options and multipliers. If you like lotteries in general, these can be ideal for some recreational gambling on the go.
If you are looking for new ways to bet on lotteries, make sure to check out our article about the The Top International Lottery Betting Sites in 2018!