Best Spanish Athletes Of All Time
Who are the most iconic Spanish athletes?

Learn to make money with these pro competitors!

Check out our article about the best Spanish athletes of all time!
Every nation has athletes they are proud of. Some have become world-famous based on their performance and managed to work their way up the career ladder. They are now faces of global brands and celebrities. Being a professional athlete is tough, but being a famous pro athlete is a whole new level. Though, except for the media attention, they have earned privileges the average people only dream about. However, the road to becoming the best Spanish athlete of all time is challenging.
Fernando Alonso
Fernando Alonso, a two-time Formula One world champion, turned 40 last year. The Spanish word-class athlete is a unique competitor in the car racing world, not only because of his impressive talent but also because of his complex personality. At three, he was already driving his father's mini go-kart. His father originally intended the little vehicle for his sister, but, thankfully, she was not interested in the four-wheeler. In retrospect, that's how it was supposed to happen. He had competed in local races from the age of five, and his God-given talent was already so evident that the family could always count on the help of various sponsors and managers. They paid for the ever-increasing cost of car racing because it's not exactly a cheap sport!
He added go-kart victory after victory in his home country, then internationally. Then became a champion in the Euro Open by Nissan series at the age of 17, attracting the interest of F1 teams. He is a dividing competitor in Formula One and has been in the last twenty years. However, without a doubt, he is one of the best F1 drivers ever. For many reasons, Fernando Alonso's career seems like a series of missed opportunities rather than successes. His talent and abilities could have given the Spanish driver much more than two world championship titles. One of the best Spanish athletes of all time said that he is satisfied with his career because he has achieved much more than he had hoped for at a young age. In the new technical era that begins in 2022, the time for the Spanish car racer may come again. Check out his odds at 22Bet Sportsbook and learn more about the 2022 F1 world championship!
Best Spanish Athletes Of All Time – Rafael Nadal
His uncle, former professional tennis player Toni Nadal, discovered Rafael's talent for tennis and introduced the barely three-year-old Nadal to the basics of tennis. Toni Nadal was Rafa's coach for a long time. Nadal competed in two ITF junior races.
In 2002, at the age of 16, he played in the semi-finals at the Boy's Singles tournament in Wimbledon in the first ITF junior tournament of his life. A year later, he won every match for Spain in the junior Davis Cup against the US, his second and final appearance in the ITF junior competitions. According to online sportsbook sites in Spain, at the age of 17, Nadal was ranked in the top 50 of the ATP World Ranking. He won his first Grand Slam tournament in 2005 in Paris. 
The 18-year-old Mallorcan guy, who defeated first-ranked Roger Federer in four sets in the semi-finals, might not have thought in his wildest dreams that one day he would be the most successful male tennis player and one of the best Spanish athletes of all time. Nadal just proved at the Australian Open that he was not only a defining athlete in a legendary era but also one of the leading figures. After five and a half hours of play, at the age of 35, after two injuries, Nadal won again. Just a few months ago, they joked with Federer that they would both end up with crutches, and then he drew up backup energy. We can only talk about him in superlatives. The style, the elegance, the determination to fight that he possesses cannot be taught these qualities must be born with. You can't make a mistake by betting on him at 22Bet! 
Seve Ballesteros
The five-time Major tournaments winner, which is the equivalent of the tennis Grand Slam, Seve Ballesteros, retired from professional golf in 2007 due to chronic back pain.
Then he was diagnosed with cancer. Although golf was never one of the most popular sports in Spain, Ballesteros was among the nation's greatest athletes. He won his first major European competition in 1976 at the age of 19 and his last, his 50th, in 1995. In 1979 Seve was the first non-British, European golfer to participate in the Ryder Cup. In 1985 he played a massive role in defeating the United States. After he retired in 2007, he designed golf courses. He has received chemotherapy for a long time, in addition to a series of surgeries. Seve Ballesteros died in 2011, at the age of 54.
Pau Gasol
If we need to sum up Pau Gasol's career now, it would sound like this: he was one of the best Spanish athletes of all time due to his NBA career. He announced his retirement in 2021. He had the ability to be the most significant player in a team, as with the Memphis Grizzlies, but he was humble and clever enough to assist Kobe Bryant for the Lakers. As for the national team, he was a member of the Spanish Golden Generation. This means that he was one of the players to start playing basketball due to the Barcelona Olympics, which resulted in 23 successful years. He made his first appearance at 20 and played his last game at 41, giving an All-Star performance in 15 of his 18 NBA seasons. No wonder he turned up on our list! Just to mention some of his titles, he is a 2-time NBA champion, 3-time Spanish champion, 1-time Spanish Cup winner, 1-time world champion, etc. You can find all his achievements at online sportsbook sites in Spain!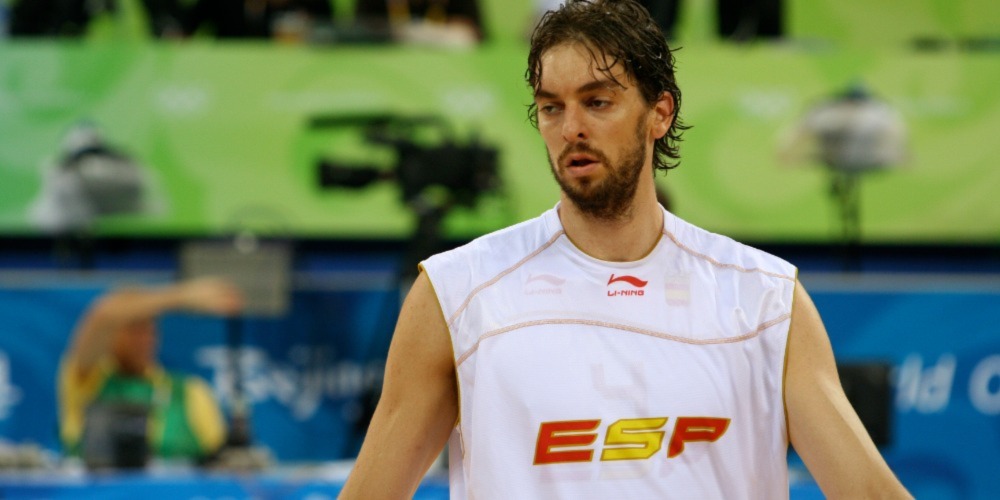 Not only does he have killer skills on the basketball court, but he has a good head on his shoulders. He is one of the most intelligent players in the league's history, serving him well in his off-the-court projects. He went to medical school because he wanted to discover the antidote to HIV but eventually chose basketball. Gasol is passionate about art, especially opera, has his own foundations, charities, and is the ambassador of several major nonprofit world organizations. He supports hospitals, children with learning disabilities, and helps starving African children, but also stands up for women's equality. He certainly is an athlete to look up to!
Best Spanish Athletes Of All Time – Carolina Marín
Badminton is also among the reflex sports, like table tennis, where Asians have dominated the court for decades. At the World Cups, World Championships, and Olympics, mostly Koreans, Indians, and Chinese players stand on the podium. That's why it was such a surprise when Spanish Carolina Marín became a world and Olympic champion. That was the first time when Spain, with its not-so-old badminton tradition, produced a world champion. One of Marín's role models is Rafael Nadal. They even have some things in common, like both of them are left-handed and collect victories like they were stamps. She is very determined to master what Asians know. She also trained with a former Thai world champion and played in the Indian league. At the Rio Olympics, she won a gold medal. With 410 wins and 116 losses, she is the sixth in the world rankings.
Andrés Iniesta
The 37-year-old football player Iniesta, who played 131 times for the Spanish national team from 2006 to 2018, is a nine-time Spanish champion with Barcelona.
However, his achievements don't end there. He is also ​​a six-time King's Cup, seven times the Spanish Super Cup, four times the Champions League, three times the European Super Cup, and the world championship winner. Due to injury, he had to miss some of last year's season, but you can check out his odds for this season at 22Bet!
Best Spanish athletes of all time – Raúl González
You probably know that Spain is famous for Raul Gonzalez was born on June 27, 1977. He was one of the most famous Spanish players in a club like New York Cosmos and Reál Madrid. Gonzalez played in Real Madrid for 16 years and became very popular during those times. His most successful season was in 2000/2001 when he scored 32 goals. Interestingly, in his last season in Real Madrid, Gonzalez scored only seven goals. Then he signed to Germany, where he became a celebrated star again. He scored 19 goals in his first season and 21 goals in his second. The 41-year-old athlete and former striker legend is one of Real Madrid's most successful players, with only Cristiano Ronaldo scoring more than his 323 goals. He retired and trains the Real Madrid Castilla now.
Iker Casillas
Iker Casillas is one of the best goalkeepers of all time. That makes him one of the best Spanish athletes of all time, as well. The Spanish player won the World Cup and the European Championship with the national team. He also became the Spanish champion five times and won the Spanish Cup twice, along with three BL victories. Casillas last played in April 2019 and was hospitalized with a heart attack in early May. He won three Champions League goblets, five league titles, two Copa del Reys, four Spanish Super Cups, two club world championship trophies, and two European Super Cups with Real Madrid. Casillas was also the team captain until his departure in 2015. As the leader of the Spanish national team, he was also a world champion and a European champion twice in a row. Casillas was one of the team's most iconic captains, representing the legendary club with his examples. Currently, he is training goalkeepers.