Some fans really love football, I mean football is their life and would do anything for their loved club. They follow the team everywhere, even abroad, support them constantly, but also give voice to their disappointments. And the craziest football fans are not afraid to get into fights with other fans or even the police before, during or after a game. 
Sectors are full of young and powerful guys with flags, banners, and often pyrotechnical materials. Surely everyone has seen a picture like this of the ultras. Big international football organizations, like UEFA and FIFA, are trying everything to cut back football hooliganism. But violent atrocities are still happening all around the world. We can judge these fans and their behavior, and certainly, we don't agree with any kind of violence, but without them, the sport just wouldn't be the same. 
Craziest football fans in Europe
Mediterranean people are famous for their hot temperatures, and intense behavior, but they are not the craziest fans in football. Of course, the fans of Italian clubs like AS Roma and SS Lazio, Inter and Sicilian club Palermo are also famous. But fans from other countries are overtaking them in the craziness.
Fearsome Turkish fans 
First, we have to mention the fans of Turkish clubs, Besiktas, Galatasaray, and Fenerbahce. The three clubs from Istanbul are constantly fighting with each other for the championship. This historical fight just seems to motivate the fans even more. Probably Besiktas is the most feared of them. The fans and the whole atmosphere has made an impression even on Manchester United's boss Sir Alex Ferguson. He said Besiktas fans were the loudest he has ever heard. 
Galatasaray's stadium is simply called hell which explains why not many clubs want to travel to Turkey for a game. Sadly the support of the fans can turn sometimes to deadly violence. As online sportsbooks in the UK were reporting about it, two Leeds fans were killed by Turkish fans in 2000 during a UEFA cup match of the English team with Galatasaray. But Turkish fans had clashes with PSG fans as well in 2001. Top teams like Real Madrid, Juventus or Manchester United were all defeated here. This year the team wasn't performing that great in the Champions League though. They finished fourth in the group, with only two points from 6 games. Galata are only 6th in the Turkish Super Lig, with the odds of 9.00 to win it at bet365. 
Violence at the Balkan
Surely we don't need to explain why Serbian fans are here. The constant background of wars and conflicts affect football a lot. Some ex-military men were getting huge influence within the fans. The craziest fans of Red Star Belgrade are called Delije (Heroes), who are making a disturbance and fights anywhere they go in Europe. But the biggest game they are waiting for the whole season is the Eternal Derby, the game against arch-rival Partizan Belgrade. Huge flare displays, enormous noise, and fanatical atmosphere, this is an experience many fans from abroad travel to.  The next derby will be on the 1st of March. So there is still time to get your ticket or just make a bet on it.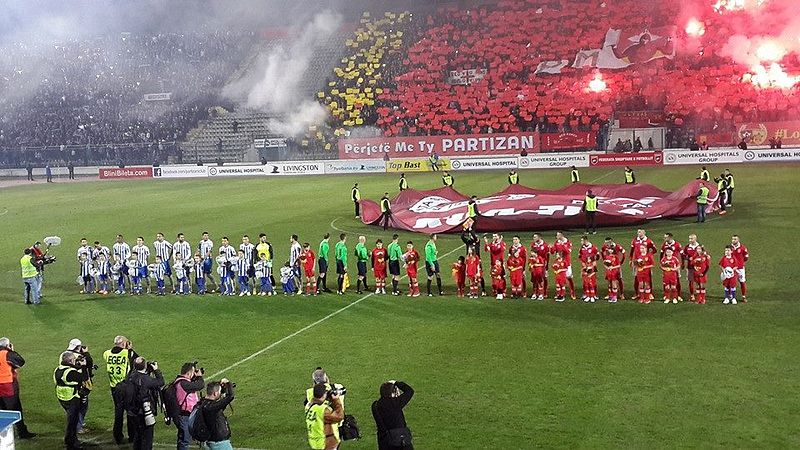 Heated games in Central Europe
The fans of German club Borussia Dortmund are less violent but more original compared to others. They have a standing section called Yellow Wall, who loves to make special displays for everyone's amusement. They even went to their biggest rival, Bayern Munich's stadium and change the lights to their club's ones, yellow and black. 
In neighboring Poland, fans are less friendly, especially the fans of Wisla Kraków. They are known about their brutality in the whole of Europe.  They often use weapons like machetes and baseball bats, and the number of murders can be linked to them from the fans of a local rival, Cracovia. But disturbing events often happen during other Polish games as well. A Polish cup game between Legia Warsaw and Lech Poznan had to be stopped due to smoke in 2016, while in 2003 a game between Slask Wroclaw and Arka Gydnia had to be halted after a riot erupted. 120 people were arrested by the police who had to stand steady even when rocks were thrown at them.
European home of football hooliganism 
But to find the origin of the extreme behaviors, we have to first go back in time to the 1970s, 80s, and travel to the western part of Europe, to the United Kingdom. During these years violence was part of the football games in England until leaders at the top decided on a crackdown on it. Also after the Heysel disaster in 1985 where 39 Juventus fans died during their clashes with Liverpool fans, English clubs were banned from European competitions for five years. Thanks to the strict measurements football hooliganism have almost disappeared in the UK. 
Now the situation is much better in the UK, with only some occasional disruptions. Most of these can be linked to one of the most notorious English clubs, Millwall FC and its fans. They are called the Bushwackers, and they love to get into fights wherever they go. Their recent biggest act was a riot with West Ham fans and the police in 2009, where the fight went on for five hours. Online sportsbook news in the UK was also reporting that a man was stabbed during the fight, but luckily his injuries were not serious.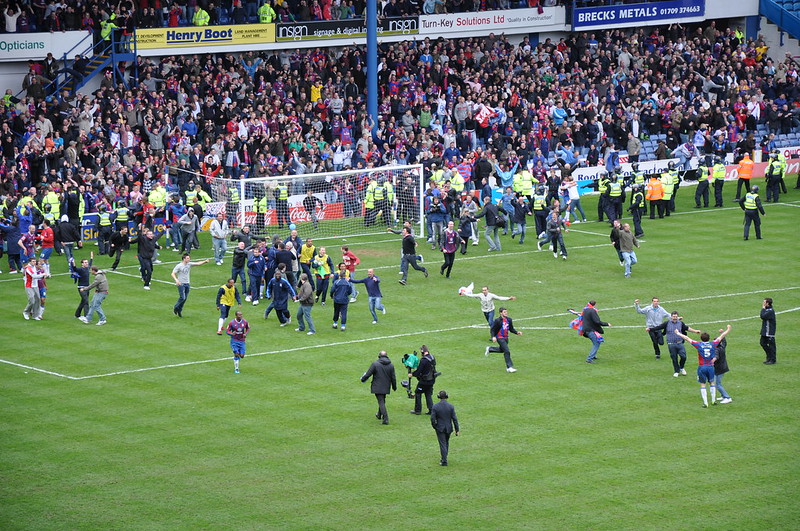 The craziest fans of the world
All of the mentioned fans seem crazy and scary as well, but the cream is just coming. The fans in South America, especially in Argentina are the craziest football fans as most people would agree. Boca Juniors has the biggest fanbase, and to keep them under control seems to be a difficult job. They often invade the pitch and get into fights with other fans. The biggest clash is between Boca and River Plate, which is known as Superclasico. Many consider this game as the biggest derby in the world. Fans on both sides sing chants aimed at their rivals, jump at the same time and violence between them or with the police are common factors as well. 
The worst tragedy happened in 1968 when 71 fans were killed in a gate crash, something similar to the Hillsborough disaster in the UK. In more recent times, one of their games in 2015 had to be halted as a Boca fan ran to the pitch and sprayed the players with pepper spray. While before another match, River fans attacked the bus carrying Boca players. If you want to get experience, you'll never forget, many travel agencies are offering tickets to the game. But if you prefer to watch from home, you can make a bet on bet365 for all Argentine Superliga games.