Daniel Ricciardo's first season with Renault was the worst in his entire career. The Aussie driver was once again out of the title contention, failing to issue a challenge even in the midfield. Despite the disappointing debut campaign, he remains optimistic over the upcoming season. Let's check out Daniel Ricciardo's special bets and see whether they live up to his predictions.
The Renault driver has had a formative experience following the departure from Red Bull in 2018. Now that he can't afford the luxury of a superfast car, discipline is what drives him forward. Is it enough to score several podium finishes a year? Recently released odds by online sportsbook sites in Australia cast doubt on such prospective. What has sparked such hawkish predictions?
Daniel Ricciardo Special Bets

| | |
| --- | --- |
| Daniel Ricciardo to score a podium finish in 2020 | 2.25 |
The start of the downfall
It seems almost surreal that Daniel Ricciardo was once hailed as the next Formula 1 champion. With a brilliant career kickstart, the sports critics expected the Aussie driver to lead Red Bull into a new era. He possessed speed, mentality, racecraft to challenge the leading drivers and he often did. He was ahead of the second Ferrari driver and that speaks highly of his talent. However, the arrival of Max Verstappen changed the team dynamics and diminished his position.
In the middle of the 2018 season, online sportsbook news in Australia reported about Ricciardo's departure. It was unexpected and many experts questioned his decision to swap Red Bull for Renault. Nevertheless, the West Australian was adamant to leave and start anew. It was not easy by any means and far from fruitful.
Ricciardo's debut marked with two consecutive retirements due to mechanical issues. He was practically stuck in the midfield or the back of the track the whole season. His best performance of the season came at Italian GP, which saw him end up in the fourth position. That means, no pole positions, no podium finishes, no victories were scored. That's appalling and feeds 1xBets Sportsbook tipsters' predictions over his chances at success in 2020.
The Italian GP, Mexican GP and race in China (if it takes place) might bring Ricciardo out of the drought. Those have tracks, which are usually challenging for both Ferrari and Mercedes drivers. That's if he has a mental space for the new magnitude of a testament.
The rivalry may sabotage Daniel Ricciardo special bets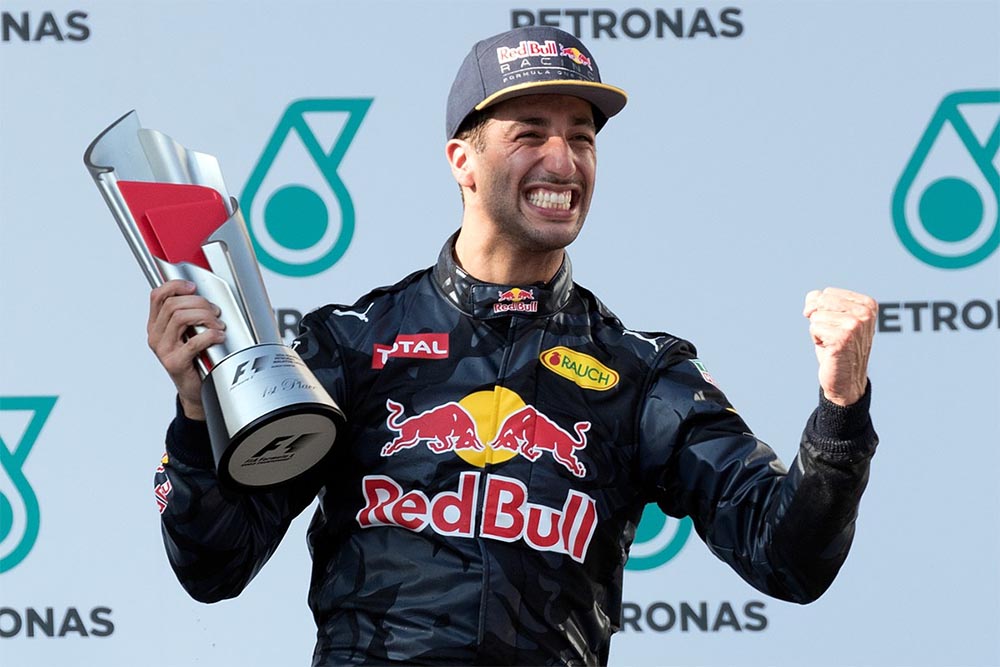 If 2019 seemed a tough season for Ricciardo, then the forthcoming one might be a complete failure. Young aspiring drivers, hungry enough to knock Hamilton off his throne, have joined the grid. You could clearly see the new era of Formula 1 superstars forming.
The Aussie's former teammate Max Verstappen is among the biggest threats on the track. He has developed self-control and learned to use his skills properly. If Ricciardo struggled to beat him on a Red Bull car, then Renault colors him as an avid underdog. Hence, the 2.25 odds rate at 1xbet Sportsbook on scoring any podiums in 2020.
Charles Leclerc is another youngster to fear on the grid. His rookie season with Ferrari saw him win two races and score eight podium finishes. The Monegasque quickly took over the team leadership and climbed to the top 4 of drivers' standings. There's no doubt he will enter title contention right away this year. Ricciardo will need all his skills and experience to take advantage of Leclerc's slip-ups.
Nobody has canceled Hamilton-Vettel rivalry either. These two will fight tooth and nails for another go at the championship title. Finally, there is Esteban Ocon, who just recently joined Renault. He is young, fast and uncompromising on the track. Those qualities have served for numerous rows and ended his friendship with Pierre Gasly.
Ocon will most certainly challenge Ricciardo and try to outpace him on every turn. Their partnership will turn to rivalry and take a center stage at the 2020 season. Therefore, the Aussie will need more than luck to bid for a place in the top three. If you are willing to take up on Daniel Ricciardo special bets, make sure to check our latest review about 1xBet Sportsbook.