Explore Daniil Medvedev Grand Slam Odds for 2020 Campaign
Posted: February 17, 2020
Updated: February 27, 2020
Daniil Medvedev bids to surpass Roger Federer in ATP rankings

Bookies contemplate Medvedev's chances at Grand Slam tournaments in 2020
Image source: robbiesaurus from Smithtown, NY, USA / CC BY-SA via Wikimedia Commons
Daniil Medvedev was hands-down the most progressive player last season. Since Wimbledon, he had won three tournaments and ended up a runner up on another three occasions. However, he is yet to secure a victory in major tournaments and bookmakers contemplate whether he will this year. Let's have a closer look at Daniil Medvedev Grand Slam odds.
The Russian tennis player is considered one of the best players in the world these days. His 2019 stellar campaign also makes him the leader of the ATP's next generation. With the new season at the outset, Medvedev has vast chances at his disposal to extend his success to Grand Slam events. Several online sportsbook sites in Russia even have a respective market in place.
Daniil Medvedev Grand Slam Predictions

| | |
| --- | --- |
| Daniil Medvedev to win Grand Slam tournament in 2020 | 7.80 |
| Daniil Medvedev to win Roland Garros in 2020 | 24.00 |
| Daniil Medvedev to win the US Open in 2020 | 10.00 |
What are the Daniil Medvedev Grand Slam odds for the 2020 season?
Ranked as world №5, the Russian player got closer to the "Big Three" who currently occupy the top ranking positions. Some online sportsbook news in Russia even credits him to leapfrog Federer this year, if he masters the remaining tournaments.
However, Medvedev's popularity is decreasing, scaling down his bid on majors. He is rather creative on the court, has good speed and excels from the backcourt. However, some experts are skeptical about his chances at Grand Slam tournaments. Particularly, 1XBET Sportsbook tipsters doubt the 23-year-old will change the "Big Four" tune in the near future.
So far the Russian seems at his best on hard courts, thus Australian Open and US Open were his best shot at majors. Unfortunately, he has only succeeded in the fourth round of the Melbourne tournament, failing to outscore Stan Wawrinka. That means the Flushing will be his odds-on attempt.
Overall, the American leg of the ATP tour will expose Daniil's skillset, much the same as last year. In fact, he was one step away from securing his first title in the American major in 2019. Rafael Nadal was the one to cease his progress in the final round. Obviously, he was not ready to carry through with the challenge.
Three titles and three finals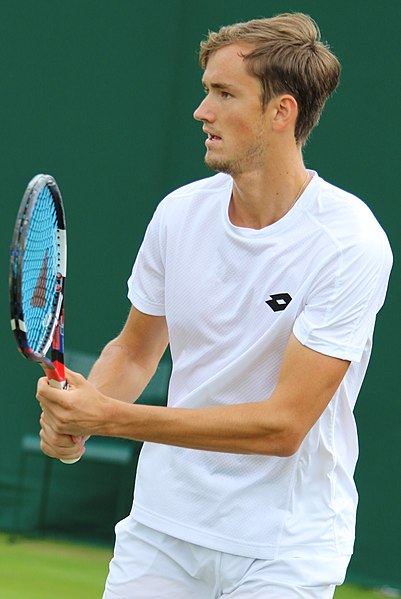 With gerontocracy prevailing in men's division, it's hard to remember the last time a younger player winning in major tournaments. Sooner or later someone will break the pattern. Despite 7.80 odds to score a major in 2020, Medvedev seems like he will be no respecter of reputation.
Exceeding Alexander Zverev, Dominic Thiem and Stefanos Tsitsipas, the Russian proved to be the best NextGen alumni. His campaign was more impressive than Zverev's breakthrough in 2018. Nevertheless, this year will be challenging in more ways than one. Thiem is aggressively progressing through the current season. He will be the biggest threat on Roland Garros and number one contender to upset Nadal's winning streak. Seeing as Medvedev failed to advance further than the first round at the French Open, his bid this year is scaled at 24.00 at the 1XBET Sportsbooks.
Danya's biggest advantage is his insane consistency. He was the runner-up in Citi Open, Rogers Cup and US Open, losing in the last two competitions to Rafael Nadal. The Spaniard seems to be a hard nut for him to crack.
Medvedev also succeeded in Cincinnati, St. Petersburg and Shanghai tournaments, starting a unique streak of reaching six consecutive tour-level finals. Only four other active players can boast about such a record and those are the "Big Four" members.
The 23-year-old might mistrust his abilities to win a Grand Slam title, but he has the potential to kick start a challenge for majors. If you take upon Daniil Medvedev Grand Slam odds, make sure to check our review about 1XBET Sportsbook.
GAMBLING News -
November 2022