Image source: Peakpx
Gambling was not a female-friendly activity in the past. Throughout history though, there have been many women whose names have become legends of gambling.  In this article, we will be talking about famous female gamblers who have lived very exciting lives. 
"Poker Alice" is one of the most famous women gamblers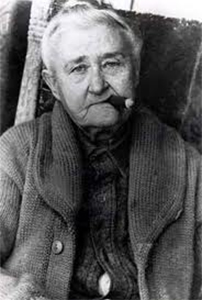 Alice Ivers, also known as "Poker Alice" is one of the most interesting figures in gambling history. She was not only a very famous poker player in the Old West but also a bootlegger, a brothel owner, and a three-time widower. She always carried with her a .38 revolver and you couldn't catch her without a cigar in her mouth. 
It comes obviously from her occupations that she had a pretty interesting and eventful life.     
Alice was born on February 17, 1851, in Sudbury, England. Shortly after her family moved to Alice's family then moved to the eastern United States. 
Alice first stepped into the gambling world during her first marriage to mining engineer Frank Duffield, to whom she married in her late teens. 
In Colorado, Lake City, where they lived Alice was visiting gambling halls with her husband who liked to play. Soon she mastered all the playing techniques and was playing along with him.  
However soon Frank died in a mining accident, and Alice started to play poker not only for fun but to support herself. Not long after she became very famous around gambling tables with her master full game and was named Poker Alice. She was very good at counting cards and odds. Also, Alice was famous for her looks. In fact, she was a very fashionable woman. She was spending a good part of her poker winning on the trips to New York to buy new dresses. 
Alice was a very interesting woman, indeed. Though she was operating a brothel, she didn't let the girls work on Sundays for religious purposes.
There is also a fascinating story about this. When a group of soldiers tried to break the rules and force the girls of the brothel to work on Sunday, Alice shot one of them and injured another. 
She won more than $250,000 in her lifetime, which is over 6 million in today's money.
Lottie Deno
We couldn't write about the famous female gamblers without mentioning Lottie Deno – another poker legend from the Old West. In fact, according to some, in the late 1800s, Lottie was the most famous poker player in Texas. 
She got her nickname during a card game when one of the players accused her of cheating, saying that she should call herself "Lotta Dinero". "Dinero" is Spanish for money. It eventually shortened and became Lottie Deno. She got many other nicknames, like "Mystic Maud" and "Queen of the Pasteboards". We bet that nowadays she would have been the queen of online poker sites in the US, as well. 
Lottie was born Charlotte Thompkins in Warsaw, Kentucky, in 1844. She was from a rich family and her father was a horse breeder and a gambler. In fact, she traveled a lot with her father and he taught her the secrets of gambling. After her father died in the Civil War and her family lost everything, Lottie began traveling and gambling on riverboats along the Mississippi River.
Soon, she married a gambler, Frank Thurmond. Together they were operating gambling halls in Kingston and Silver City, New Mexico. 
Later in her life, she quit gambling and led a pretty calm life. However, her name stayed vivid as one of the best poker players in the history of Texas. 
Eleanore Dumont  
Another prominent name in the gambling history Eleanore Dumont is one of the first professional blackjack players in America. She was born in New Orleans, Louisiana in 1829 as Simone Jules. Her success as a gambler began during the California Gold Rush. Elanore arrived in San Francisco in about 1849 and started working as a card dealer at Bella Union Hotel. She got a reputation as a very elegant, patient woman, who never lost her cool. She was traveling a lot from place to place mastering her gambling skills in different cities of America. 
Soon she settled in Nevada with the name of Elanore Dumont. She opened a gambling parlor here called "Vingt-et-un", which means 21 in French. Interestingly, no women except herself allowed in her parlor. And she only let well-kept men in.  However, not long after, she started to travel again, moving and testing her luck from one city to another. During her eventful life, Eleanore was also a brothel owner. In fact, she kept brothels in many cities she traveled. 
The last stop of one of the most famous female gamblers was in California, Bodie. She committed suicide after losing lots of money in a game.
Don't forget to check on online gambling news in the US to read more stories like this.