Floyd Mayweather Wants $600 Million to Un-Retire
Mayweather wants the lions share of the pot

Nurmagomedov declares his willingness to fight

The taxman is at the door
Like Floyd Mayweather, if you're thinking of asking the boss for a pay rise, then make sure you're not afraid to go all in. Don't hold back…know your worth and ask for the moon. For example, this boxer doesn't mess around and isn't nervous about asking for his perceived worth. He's asking for a mere $600 million.
Introduction: Floyd Mayweather Wants $600 Million
Floyd Mayweather is the man! Yes, he's willing to come out of retirement again. No, he will not do it for peanuts. If this fight being lined up does go a head, then it'll be the boxers third time coming out of retirement. He last match was against Conor McGregor in 2017, when the boxing great beat the Irishman in a cross-over boxing match. Because Mayweather is an undefeated GOAT with a record of 50:0, there are any number of contenders coming out of the woodwork to try their hand at beating the champion. As reported by online sportsbook news in the US, there has been talk of a McGregor rematch. Along with Manny Pacquiao and UFC superstar Khabib Nurmagomedov. This latter name appears to be the likeliest match-up.
Am I Worth it? Hell Yeah!
Nurmagomedov is a mixed martial arts fighter who also has an impeccable record of 28:0 wins, with 10 decisions and 10 submissions. But just like McGregor in 2017, Nurmagomedov has never boxed. So he'd better start practicing if he wants a chance of winning. It goes without saying that such a match would generate hundreds of millions of dollars. Through pay-per-view, gate receipts and sports betting, through sites like Intertops. But Mayweather will only drag himself out of bed if he received the lion's share of the monies. After all, as Floyd Mayweather says of himself, he's a boxer but primarily a businessman. So anything he does, then he's looking to be paid handsomely. "For myself, the number is $600 million," Mayweather told The Mirror newspaper. "If I'm going to go out there and risk it, it'd have to be worth it." He added, "I'm a businessman. If it makes money, it makes sense."
Let's Have Both Boxing and MMA Please
Nurmagomedov presently holds the longest winning streak in MMA. The Russian said that he'd recently been offered $100 million to fight in Saudi Arabia. He also stated that he would be more than happy to take on Floyd Mayweather, but with one main condition. In his own words, "Mayweather is a very big name. And right now, I have a big name, too. We can fight but we need 11 rounds of boxing and one round of MMA. Let's go," Nurmagomedov declared. Right now the fight is just a pipe dream, though there is talk of a behind the scenes meeting of the different camps. After-all, that's a lot of dough to leave on the table.
Floyd Mayweather is a Top Earner
According to Forbes Magazine, Floyd Mayweather was the top earning athlete of 2010 – 2019 decade. Totting up all his income for that period gives you a number of around $915 million. Not chump change. To give you an idea of how much that is compared to other sports peeps, during the same period, Lionel Messi took home ($750 million), tennis star Roger Federer ($640 million) and LeBron James ($680 million). In Messi's case he really did take it all home, as he absent-mindedly forgot to pay his taxes. Today the boxers net worth hovers around the $550 million mark. Or dies it?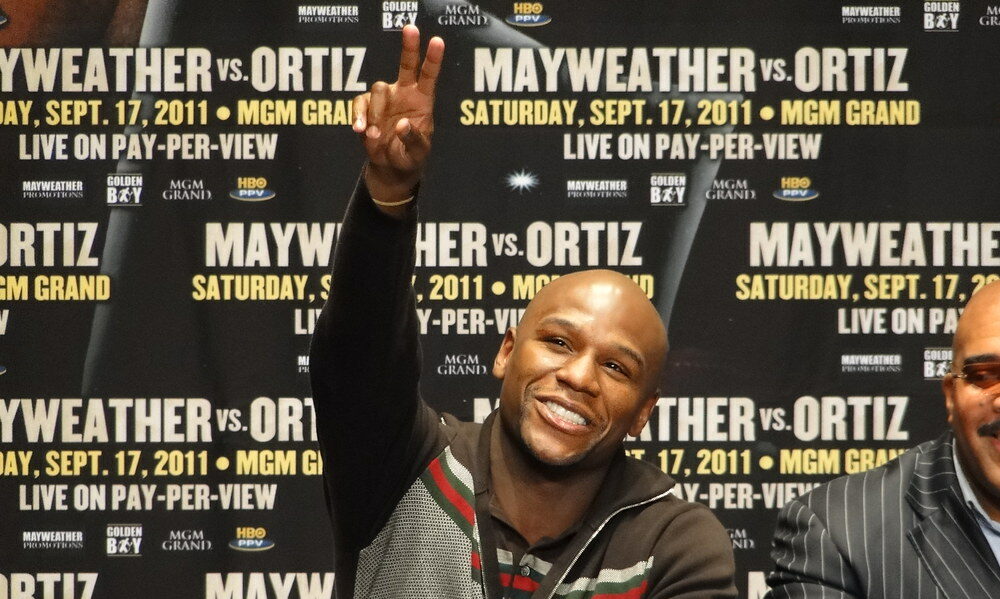 50 Cent Sees Things Differently
Formally best bros, Rapper 50 Cent claims that the boxer is just all talk. After having a huge tiff and falling out, 50 Cent says that in reality the boxer is flat broke."It's fight, get the money, spend the money, fight," 50 Cent told New York City radio station Hot 97. "With the lifestyle, that money's gone. Trust me. It's like if you call him, he'll be at your local nightclub because he needs that action right now." One thing is for certain though, and that's Floyd Mayweather being a notorious gambler and show off. It's certain the he knows all of these online sportsbook sites in the US. He loves to show his big wins on social media, but never shows his losses. According to online sportbook news in the US, his out of control gambling habit has cost a huge chunk of his fortune and overall wealth.
Floyd Mayweather Can't Escape the Taxman
Back in 2014 everyone remembers how Mayweather, with great fanfare, dropped $13 million on the Denver Broncos winning Super Bowl XLVIII. Unfortunately they lost to the Seattle Seahawks. There's probably some truth in 50 Cent's assertion. In 2017, the boxer asked the US Internal Revenue Service for a breathing space over unpaid back taxes amounting to $29 million. He was asking for extra time to pay from the upcoming McGregor fight. The government granted his request and he paid the IRS after the fight.
GAMBLING News -
December 2022