Footballers Who Peed or Pooped Themselves During a Match
Salford City FC goalkeeper Max Crocombe was sent off because of urinating during a match

Even Sergio Ramos had to rush into the toilet during a league game

German legend Jens Lehmann managed to hide behind the advertising hoardings
When you've gotta go you've gotta go. It can be hard to solve the toilet situation sometimes, and it's even harder when you're a player on the pitch. You can end up getting a red card, or a praise – it's up to your luck. Here are some cases of footballers who've peed or pooped themselves during a match.
When we've looked around among the online sportsbook sites in the United Kingdom, we've checked back on our latest review about 22Bet Sportsbook. Inspired by their special bets, we prepared something quite unusual for you.
Yes, everybody's human and nature could call anyone at work. When you've gotta go you've gotta go. It happens even if you're a rich and popular football star. We could also say…shit happens. However, it's way easier to handle such calls in an office than on the pitch. We've now collected some embarrassing cases of footballers who've peed or pooped themselves during a match.
Footballers Who Pooped in 2020: The Epic Story of Dier and Mourinho
Imagine yourself playing for José Mourinho's team. You know, thought guy, strict, you need to follow all the rules. You're having a great game but your stomach starts to hurt, you can feel it. You need to do something about it. There is nothing else, you have to go. So you go. You pull down your pants and you sit down. Neve rfelt so relaxed in your life: you're saved. It lasts for one second only. José Mourinho is right there, in front of your door, yelling at you: HURRY UP, YOU HAVE A GAME TO PLAY. Relax is gone. Pleasure is gone. Everything is gone. Only duty is there for you. So you finish and go back. You win the Man of the Match Award and you reward it to the real hero of the day.
https://www.instagram.com/p/CFvEreDhmm3/
Peeing on the pitch could lead to a red card
Salford City FC has been getting more attention lately. We've already written about the club that's being owned by Manchester United legends and how they're climbing the English football league system. However, this time, papers were writing about their match for a different reason.
Salford were playing against Bradford in the Horsfall Stadium in October, 2017. In the 87th minute, the away team's keeper, Max Crocombe was sent off the pitch, completely out of the blue. Supporters were fuming as they had no idea what happened. Eventually, the Twitter page of Bradford City gave everyone an answer:
"We can confirm that Crocombe has been sent off for urinating during the game. We are not joking. #greenarmy (1-2)"
It's true. Minutes before the end of the game the lad went for a wee on the pitch. The stewards told him not to do it, but it was too late. We feel for the goalie, imagine how desperate he must have been at the time! What's more, the red card was only the beginning.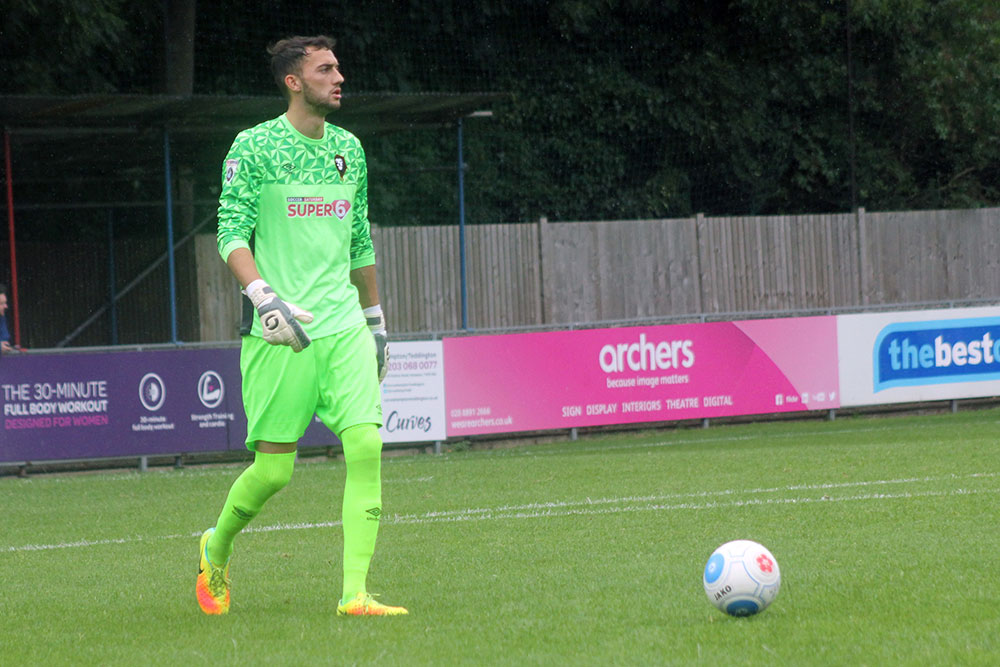 He ended up suspended for 3 matches, while a spectator made an official complaint, and the incident was reported to the police. Crocombe apologized to everyone, claiming it won't happen again. We are wondering, how can one promise that though? He didn't plan this occasion either; or did he?
Even the most famous footballers have to go during a match
Peeing Masterclass: Ronaldo behind the ball
Crocombe probably just wasn't cautious, or famous enough. For instance, there is Ronaldo – the chubby one the Brazilian one, the Fenomeno. He was playing for his country against Hungary at the 1996 Olympics in Atlanta.
The South-Americans had the lead, but Madar equalized for Hungary. While everyone was looking at the happy Hungarians, Ronaldo sat down in the middle of the pitch. He covered himself with the ball, and took a leak. It was a lot smarter than fighting with the steward for sure. He admitted everything at the press conference after the game, but people didn't even bat an eye. He's Ronaldo, he does whatever he wants.
Footballers who peed: Lehmann handled it expertly
Then there's the case of Jens Lehmann. The former German international was playing for Stuttgart in the Champions League, when the incident happened. He jumped over the advertising hoardings for a quick pee, then – in a blink of an eye – jumped back in the pitch. The referee didn't even notice. "I thought he handled it very expertly, it was a tricky situation" – Stuttgart's director of football later said. Some receive praise, some receive a red card.
Sergio Ramos almost became one of the footballers who pooped themselves
However, when talking about footballers who've peed or pooped themselves during a match, we must mention the most obvious cases too. Sometimes, players have the opportunity to do a runner to avoid disaster. Last year, Real Madrid captain Sergio Ramos disappeared for a few minutes during a league game against Eibar. It almost went unnoticed, but at the press conference, Zidane revealed his secret.

"Ramos sh*t himself a bit, so he went to the bathroom for a moment." – he told the reporters. Later, the defender wrote about his incident in an Instagram post:
"Nature calls. Out & back in. Reload. Team goal. Back home. Let's keep it up."
Puncheon gave inspiration to the Spanish legend
Southampton's Jason Puncheon didn't get away with that so easily. He disappeared from the pitch for a few minutes, and when he's returned from his toilet break, Southampton fans were already singing about the events. "He went for a sh*t, Jason Puncheon, he went for a sh*t" – they chanted.
After Puncheon scored later in a game against Man City, he pretended to wipe his butt as a part of his celebration. His fans immediately came up with another chant:
"He sh*ts when he wants, Jason Puncheon, he sh*ts when he wants!"
Gary Lineker pooped himself in the middle of the pitch
Gary Lineker has become a famous TV presenter recently and he's also an enthusiastic Twitter user. But, as we all know, he was a great player back in the day. He also had a great career as an England international.
However, he did have dirty moments. In addition, we're not talking about rolling in the mud after a strong tackle in Leicester. In fact, his case is probably the most famous.
"I've never admitted to it, but it's true. It was a World Cup game. It's filmed, I've seen it but unless you know (what was happening) you wouldn't know. I was poorly at half time but I carried on. The ball went down the left hand side, I did try to tackle someone, I stretched and then I relaxed myself. I was very fortunate it rained that night and I could do something about it. You can see me rubbing the ground like a dog; it was the most horrendous experience of my life." – Gary Lineker on his incident at the 1990 World Cup match against Ireland
At the Best Bookies, You can Always Bet on Footballers who Peeds
There are embarrassing situations in everyone's life – you might say silly things or even bet on silly stuff at 22Bet Sportsbook (Spurs to win the FA Cup, what was I thinking…). Or, you know, poop yourself. At the end of the day it doesn't matter whether you're the Average Joe in a 9 to 5 job, a goalkeeper in a semi-pro club, or a World Cup legend: sh*t can happen.