The Golden State Warriors have become a household name in Basketball worldwide. Just like the Chicago Bulls did when they had Michael Jordan in his prime. Their popularity is because of their star players. However, Kevin Durant and Klay Thompson will be free agents at the end of the season.
As UK news media reports there has been an ongoing feud between Draymond Green and Kevin Durant. Will this affect Kevin Durant's future at the Warriors? The management of the Golden State Warriors will clearly want to re-sign MVP award-winning player.
Kevin Durant on a long-term contract will be ideal.  As well as keeping their tenacious defensive player Draymond Green. Yet, when it comes to Kevin Durant's future he has been quiet. He has given no indication where he would like to go. He will certainly think about the offer from the Knicks. The ongoing beef with Draymond Green would not convince him to stay.
For example, in the game against the Atlanta Hawks. Kevin Durant was free for a clear pass to take the offensive advantage. Yet defensive player Draymond Green decided to go towards the basket himself. Warriors coach Steve Kerr downplays incidents like these.
Is Kevin Durant's future at the Warriors?
Before Kevin Durant joined the Warriors, they were a good team. Certainly, they will still be a good team without him. However, it was the combination of Kevin Durant and Steph Curry that made the team great! Yet, Durant maybe never felt as appreciated as his teammates, who won the first championship before he joined. A trade to the New York Knicks would make him the main star on the team. He will surely be loved by all New York Knicks fans including his dad.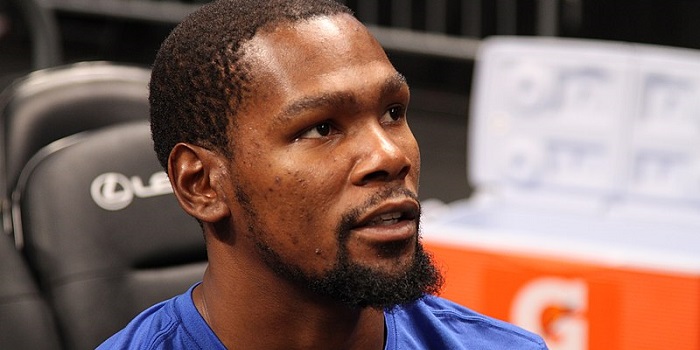 According to online sportsbook news sites in the UK, Golden State Warriors could have a weakened team if any of their star players leave. They will certainly do what they can to make Kevin Durant happy enough to stay. Especially if Klay Thompson leaves as a free agent. They might trade in another star player while Durant might head to one of their rivals such as the LA Lakers or New York Knicks.
Who would replace Kevin Durant?
Online sportsbook sites in the UK report Anthony Davis as the perfect replacement for Kevin Durant especially if he builds chemistry with the other players. Anthony Davis is the star player and talisman of the New Orleans Pelicans like Kevin Durant once was for Oklahoma City Thunder. But Anthony Davis is 5 years younger than Durant who is currently 30 years old. Durant deciding to leave means Golden State Warriors will use the opportunity to try to get a trade in for Davis. While Davis would love to play in a team where getting to the NBA Championships is almost guaranteed.
Should Warriors consider trading Draymond Green?
Draymond Green was suspended for his behaviour when he intentionally didn't pass to Durant. Some might think it would be better to keep Durant and let Green go. But what they don't realize is that he is a team leader and the defensive stronghold of the team as well as a skilled playmaker. Yet, Green will be 30 in 2020 and might not be as effective as he has been in recent years. Facing facts, Green cannot be at Golden State forever.
Do you think both Draymond Green and Kevin Durant will be at the Golden State Warriors next season? Betting odds for Yes are +155 while the betting odds for no are -225.