Little Big US Charts Predictions 2021
Posted: September 14, 2021
Updated: September 14, 2021
Little Big musicians shot their first video purely for fun

The work turned out to be so in demand that they had more to do immediately

In this article, we will look at Little Big US charts predictions
Sometimes success comes when you don't expect it. This is exactly what happened to the Little Big music band. The musicians shot their first video purely for fun. Indeed, they ridiculed the stereotypes about Russians on April Fool's day. The work turned out to be so in demand that they had more to do immediately. In this article, we will look at Little Big US charts predictions.
Little Big has plenty of ideas: their viral content, coupled with great dance music, is consistently popular. The true spirit of punk in freedom of self-expression, the combination of the aesthetics of disgusting and beautiful, banter over the world around us, self-irony, and obsessive melodies – this approach to creativity was appreciated not only by domestic but also by Western listeners. It got to the point that such an informal group got invitation to Eurovision-2020. The competition was later canceled. However, Little Big did not lose anything from this. Indeed, even online sportsbook sites in the US are talking about them. 
How It All Started
The leader of the group, Ilya Prusikin, wanted to be an artist from the age of six. Therefore, he stubbornly walked towards his dream all his life. However, it was not immediately possible to realize it. Only the acquaintance with clip maker Alina Pyazok determined the future fate of the musician. Together they created Little Big. Again, they did not have much money, but they wanted to implement the idea. So they came up with "Every day I'm Drinking" – caustic ridicule of stereotypes about Russians. Prusikin added music to the Fruity Loops program, and Eldar Dzharakhov helped with the lyrics. The video was filmed with the last money – it took about 30 thousand rubles for everything. "Ilyich" and two girls with achondroplasia aggressively read a text about vodka, balalaika, and bears, and all this was accompanied by a trash video on the relevant topic.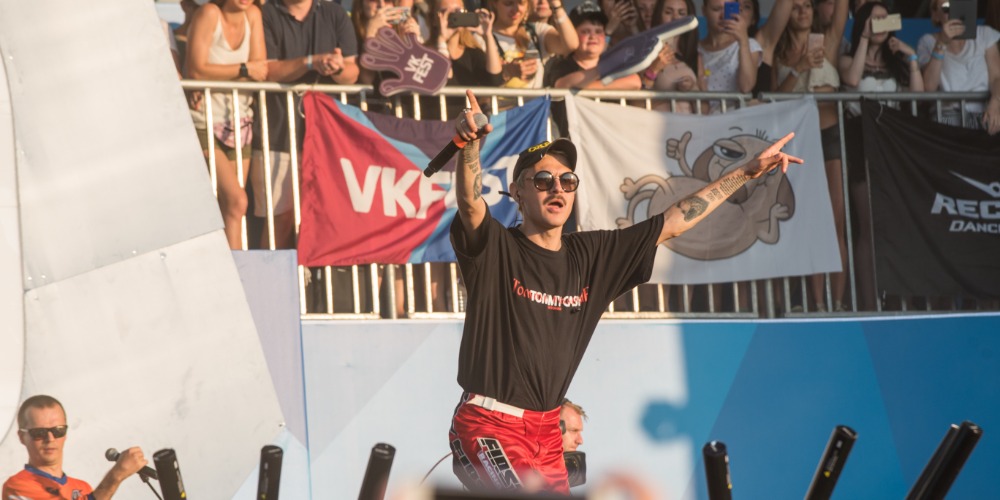 The work appeared on April 1, 2013. Fortunately, success came instantly: a band that did not formally exist yet was called to open up for Die Antwoord, a band with a similar style and concept. I had to urgently write songs, shoot new videos and prepare for the show. Then Little Big could not even imagine that they would make money on their work – everything seemed to be a continuation of an April Fool's joke. However, the  1XBet Sportsbook already offered the odds of the band's success with Little Big US charts predictions.
Little Big US Charts Predictions Journey
Ilyich and the company invited musicians from Jane Air, a quite successful alternative rock group of the 2000s, which is still active. First, bass guitarist Sergei "Gokk" Makarov came as a DJ to play rave for pleasure. Later he invited Anton Lissov, as his energy suited the group perfectly. Now the clown with black lips was also singing: the vocalist of Jane Air fit into the project as well as possible.
Little Big are rock musicians who created dance music for fun. Moreover, it suddenly turned out to be more in demand than their main projects. Like Prusikin, Jane Air has also always loved sarcasm and dark humor. Lissov notes that even their first hit "Junk", a song about the effects of drug addiction, is ironic enough. And the video turned out to be funny. Therefore, the musicians were close to the concept of Little Big, participation in such a project did not cause any contradictions among them.
Conquering the World
Little Big is a band whose music videos are just as important as the music. It's not that easy to come up with a viral video sequence, because you can't say in advance what will shoot. However, Prusikin and Pyazok do an excellent job of this, giving out one hit after another. The group's creativity is filled with excellent black humor, it amuses people and diverges into memes. But, according to Little Big themselves, this does not mean that they are doing frivolous things. Using satire, you can talk about really important topics and express yourself. For Ilyich humor is the best way to convey your idea succinctly, concisely, and clearly. Especially when it comes to music videos.
For example, "Big D*ck" is a mockery of the pop music industry, where all the videos are absurdly sexualized, and the artists are measured by "show-off". Pruskin was seriously annoyed by this situation. Thus, everything turned into rather aggressive humor. The clip turned out to be very inventive for the Little Big US charts predictions. It is filled with sexual images and hints, which formally seem to remain within the bounds of decency. However, the viewer is perceived exclusively as vulgar.
More About Little Big US Charts Predictions
The video clips became an excellent way for the group to speak out about something important. Therefore, they quickly moved away from the initial ridicule of stereotypes about Russians. However, several works on this topic at the very beginning helped them to become famous abroad. It's funny, but foreigners read humor even better than compatriots. The Western listeners understood that this was all banter and not a real portrait of the country's inhabitants. However, in Russia, some were offended. They say: "What will they think of us after such songs?"
As a result, throughout the world, they thought only good things and accepted Little Big with a band. Moreover, the group gathered full houses at performances abroad. Already in the first European tour, the musicians visited 21 cities, and they were especially warmly received in France, Belgium, and Switzerland. Now they are conquering the US market as well as online sportsbook sites in the US. 
Was Eurovision a Joke?
Over time, not only the style of the group changed but also its members. One of the vocalists, Anna Cast, left at the very beginning, and Olympia Ivleva – in 2018. The singer was tired of the exhausting touring life and chose to leave the group. She was replaced by Sofya Tayurskaya, who has long been involved in recording albums. Her voice and charisma became an integral part of Little Big. Indeed, the line-up changes did not make the group any worse. The musicians continued to show themselves from different sides. In the song "Punks not dead" they reminded them that heavier music is still close to them. 
Besides, the hooligan images of the participants looked appropriate in the video. They also called the rapper Lizer to get out of the coffin. Indeed, the group simply does not have uninteresting episodic roles. By the way, this clip is one of the most expensive at the moment. The next two works took the group to a new level. After "Faradenza" and "Skibidi" they even got on the radio, although before they were always considered "non-format". All in all, Little Big began to conquer America, Australia, and Japan, and its popularity grew rapidly. The videos remained funny, but the aggression diminished in them. Indeed, ordinary listeners perceived such Little Bigs much better. Moreover, it got to the point that they won the Children's Television Award in Belgium. The musicians themselves were surprised and amused. Thus, they got ready for Little Big US charts predictions.
Contest Winners
Little Big has garnered attention in a variety of ways throughout its history, but Skibidi's viral dance has broken records with 504 million views. The heroes of the video repeat memorable moves in a variety of life circumstances so effectively that it is simply impossible to sit quietly in front of the screen. Over time, no one could ignore Little Big. Moreover, in 2020 they went to Eurovision to represent Russia. It was not possible to pass the selection on the first attempt. In 2019, Sergey Lazarev was chosen instead of the shocking group.
The musicians were not particularly sad, and in 2020 they sent a new song just for fun – this time successfully. As a result, they had to prepare for the competition on a tight schedule. Decided to go along the proven path of "Skibidi". They came up with a viral dance again and performed it with an imperturbable expression on their face. However, since the contest didn't take place, the band didn't present their song to the European fans. Learn more about Russia's Eurovision 2021 Odds from our article.
Little Big US Carts Predictions: Conclusion
Little Big is one of the few Russian teams that have managed to gain recognition all over the world. Their songs would be enough for dozens of "one hit" bands. However, they continue to release tracks that instantly fly all over the Internet. Musicians do what they really believe in, and people like it – that doesn't happen often. Indeed, each clip is a provocation and a satirical statement, real art, and a talentedly embodied idea. Watching Little Big is no less interesting than listening. Thus, even if you don't like a rave, it's worth getting to know their work. Few can boast of such original and thoughtful videos.
Recently, Little Big, American singer Oliver Tree and Estonian rap artist Tommy Cash have presented a joint video "Turn It Up". Throughout the video, the camera seems to shake – it moves up and down, rhythmically following the song. The leader of the Little Big group, along with foreign performers, wears multi-colored terry robes and pajamas. Wake up, wash, have breakfast, clean up – and go to the party! Little Big, Oliver Tree, and Tommy Cash's collaborative single "Turn It Up" appeared on September 2. This is the second collaboration between a Russian rave group and foreign rappers. In 2015, the artists presented the song "Give Me Your Money", which became one of the main hits of the punk band.
Oliver Tree moved to Russia a few months ago, and on September 30 a joint mini-album "Welcome To The Internet" with Little Big will be released. The single "Turn It Up" is the first single since the upcoming release. Soon the US Charts will talk about this single. Meanwhile, 1XBet Sportsbook is already predicting this success. Learn more about How to Bet on Celebrities and Win. Good luck!