Love Is In the Air: The Most Famous Sports Couples
Posted: February 17, 2020
Updated: February 18, 2020
Athletes from the same sports can get to know each other easily

They often get married or engaged but split up later

The pair of Lindsey Vonn and Tiger Woods was world-famous
Image source
We know Valentine's day has just passed, but we still feel the aftershocks of all the chocolate and flowers. Even the most famous athletes can't ignore love and many of them have a famous pair with similar interests. Let's see the most famous sports couples of all time, whose relationships are (were) in the focus of the people's attention.  
Interestingly tennis is a sport where we can find most of the sports couples. Sometimes both of them are from this sport, like  Andre Agassi and Steffi Graf. But strangely tennis players – golf players combinations are quite common as well. But we can also find couples with different sports backgrounds. Like Tiger Woods and Lindsey Vonn or track star Sanya Richards and her husband, Super Bowl winner Aaron Ross. Some of these relationships are still going strong while some of them belong to the past. But at the time of their relationships, they were all a great topic for every sports fan. 
The most famous sports couples in tennis
First and foremost we have to mention two of the greatest tennis players, whose relationship no one was really expected. 22-time Grand Slam winner Steffi Graf and American Andre Agassi, who also had 8 GS wins. While we didn't know too much about Graf's personal life, she seemed to focus only on tennis. Agassi had many affairs including Barbra Streisand and Brooke Shields who he married as well. But after 2 years dating, Graf and Agassi married in 2001, and they are still together with two children.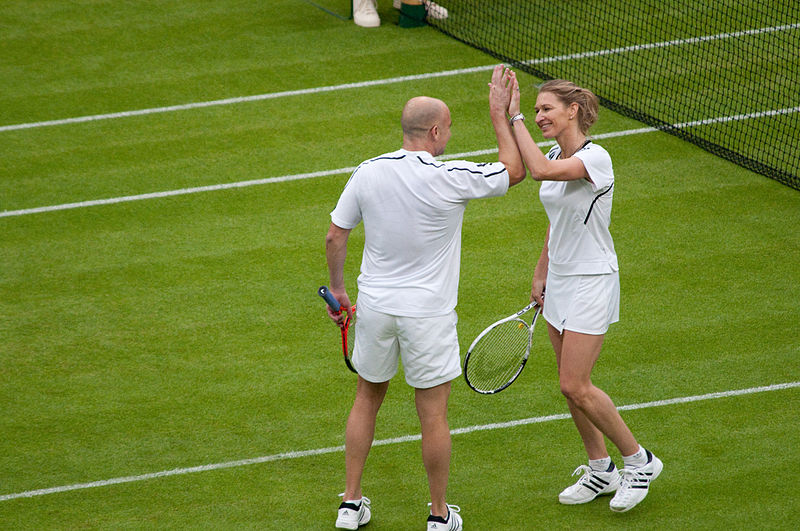 Steffi Graf and Andre Agassi are one pair since 1999 Chris Eason from London / CC BY
The relationship of another tennis couple, Chris Evert and Jimmy Connor didn't take that long. The stars of the 1970s were engaged only for a short time and broke up after. Evert couldn't resist athletes later either. First, she married skier Andy Mill, then his best friend, Australian golfer Greg Norman. But their marriage only lasted 15 months.
Tennis player and former world No1 Caroline Wozniacki and golf star Rory McIlroy almost got married as well. They got engaged in 2013 but McIlroy canceled the wedding off in 2014 as online sportsbooks in the UK were also reporting. Both of them married someone else since. The Danish beauty is married to ex-NBA star David Lee, while Rory is the husband of a former PGA employee. Wozniacki is retired now but McIlroy is still competing. You can find his odds for the next tournament on Unibet. 
Famous sports couples from the US
Many people were surprised to hear about the relationship between golf legend Tiger Woods and similarly famous American ski queen, Lindsay Vonn. They were together for three years between 2013 and 2016. Eventually, they split as they wanted to focus more on their sports career. Well, Vonn has retired since but Woods is playing in great form again. His odds to win the Masters in April are 11.00. 
Mia Hamm, a two-time Olympic and World Cup winner soccer player married the baseball player Nomar Garciaparra in 2003. They met on a celebrity soccer shootout, where Hamm beat her future husband. Then they became friends and started dating in 2001. They have twin girls and a son now, who might follow their parents' steps one day.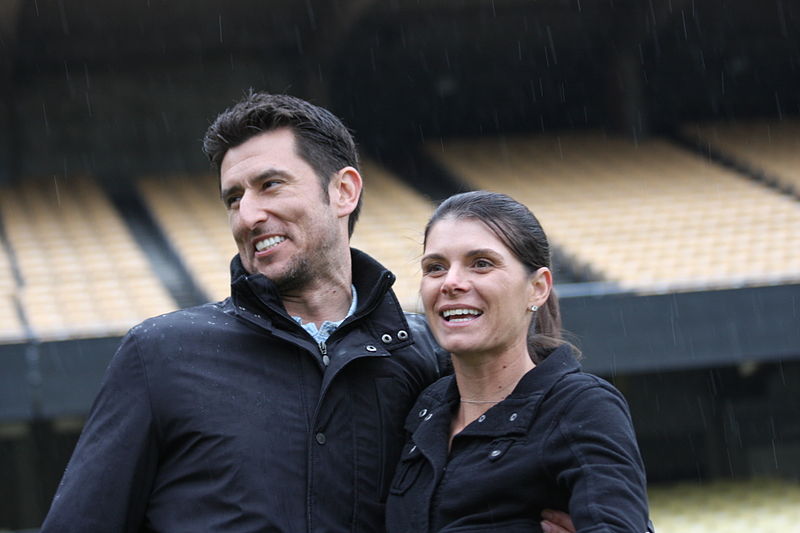 American soccer player Mia Hamm and baseball player Nomar Garciaparra are married since 2003
Rob Poetsch / CC BY/
In the world of athletics, we can find several examples. One of the most famous sports couples in the US is the pair of track champion Sanya Richards-Ross and NFL player Aaron Ross. While Richards is a four-time Olympic champion, Ross won two Super Bowls with the New York Giants. Their romance is a very traditional one. The two of them met at the University of Texas in 2003 and got married in 2010. They got their first child in 2017. The only extreme thing might be a reality series about their life called Glam and Gold which was made and broadcasted in 2013. 
Couples from the same sports background 
Certainly, coming from the same background can help you to meet and get on well with your other half. Ice was a major factor in another couple's life, American figure skater Kristi Yamaguchi and NHL player Bret Hedican. They met in the 1992 Winter Olympic Games and got married in 2000. The marriage must have inspired Bret as he won his only Stanley Cup in 2006 playing for Carolina Hurricanes. The team is not very likely to win the cup this season, their odds is 22.00 at Unibet. 
Gymnastics was the common point in both Romanian Nadia Komenechi's and American Bart Conner's lives. They married in 1996, 20 years after they first met. The couple still spends much time together and with the sport after running together a gymnastics academy and being involved in Special Olympics.  
One of the most famous sports couples of recent years though must be a cycling one, the couple of Laura Trott and Jason Kenny. Both of them won two gold in track cycling at the 2012 London Olympics and they increased the number of their medals in 2016 when they were already engaged. The 'golden couple' as online gambling sites in the UK were also calling them got married not long after the Games in 2016. Their son was born in 2017, but his Mum was already back in track next year, winning two gold medals in the European Championship. 
GAMBLING News -
December 2022