He's well ahead in the series so far having won four of the seven races so far, but this year it's not going all the way of Repsol Honda and as the travelling circus that is Moto Grand Prix moves on to Assen Marc Marquez's 2019 Dutch TT odds are suspiciously tight. At 2.00 he's not as good a wager at bookies like 1xBet, one of the best online sportsbook sites in the Netherlands at present, as some of the other entrants who could well find The Cathedral favors them instead.
Marc Marquez's 2019 Dutch TT odds are a surprise to no one. Perhaps one of the most talented riders ever to grace a saddle his skills are unquestionable however that didn't stop him crashing out in Austin nor being very fortunate Jorge Lorenzo took out three of his rivals in Catalunya. Indeed if there's one hallmark of the season so far for the Honda rider it would be luck, since his lead is perhaps just a little greater than it should be, and some cracks are beginning to show.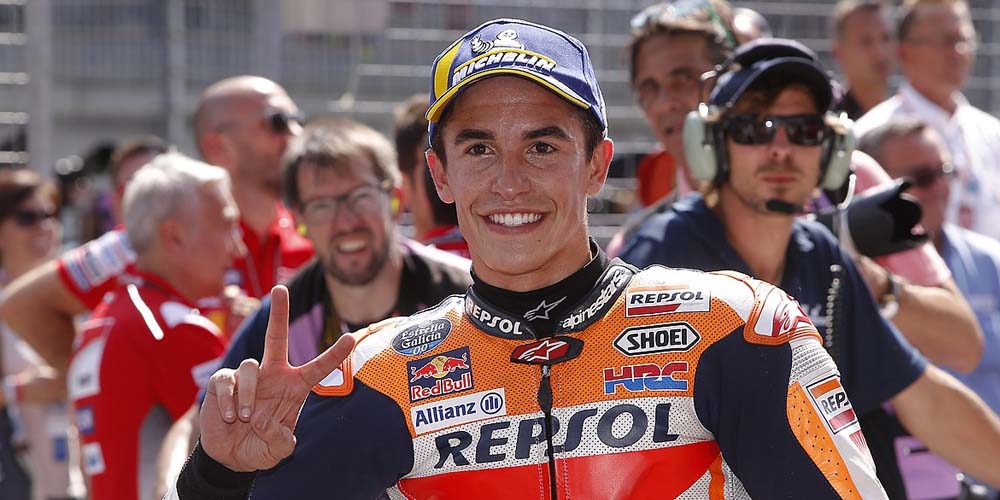 He might be 37 points ahead, making him an obvious bet on sports in the Netherlands this weekend, but if there's one thing Catalunya proved it is that at this level it might not be your own mistakes that cost you position or points. There's a lot of aggression out on the tarmac this season and Marc Marquez's 2019 Dutch TT odds might not mean much if it's all elbows at Haarbocht, the ridiculously tight turn one at Assen named after a nearby forest, and he gets edged off or out.
1xBet Sportsbook Welcome Bonus gives away 100% up to €100 on your first deposit. Click here to claim your deposit bonus and bet on MotoGP Dutch TT at 1xBet Sportsbook!
 Catalunya Crash Just Heaps On Opponents Pressure
 Naturally, the post-mortem after Catalunya was quite polite. The worst his fellow riders would say was that Lorenzo couldn't have been "clearheaded" at the time of the accident, but it did hand an easy win to Marc. Andrea Dovizioso, one of those scythed down in Spain, will be looking to bite into that Championship lead at Assen, and he gets an understandable 15/2 to get the win and despite Marc Marquez's 2019 Dutch TT odds he may well snatch a victory if his Ducati holds up.
Dutch TT

Date – June 30th
Track – TT Circuit Assen
Location – Assen, Netherlands
Type – MotoGP/Moto2/Moto3
Length – 4.545km
Turns – 18
Laps – 26
Of course for fans it'll be Valentino Rossi people will be keeping their eye on. He loves this circuit and at 6/1 is second favorite at 1xBet to take the win this weekend despite the poor luck and technical problems that have seen him to just fifth place in the championship at the moment. If there's anyone who can challenge Marc Marquez's 2019 Dutch TT odds it's The Doctor, and after two retirements in a row he'll be extremely hungry to do just that in Sunday's big race.
Marc Marquez's 2019 Dutch TT Odds Only 4/5 At 1xBet
 Alex Rins gets 8/1, quite a way behind Marc Marquez's 2019 Dutch TT odds, despite now being third in the championship and DaniloPetrucci (currently fourth) a distant 16/1 at 1xBet, which frankly is probably spot on. One to watch however will be Maverick Vinales who, at 9/1, is another rider looking to make up for lost chances and silly mistakes made earlier in the year when they blaze away from the line in Assen this weekend. He's got the skills if he gets the chance.
Marc Marquez's 2019 Dutch TT odds and record, then, make him the obvious choice if you're going to wager on this famous motorcycle race at 1xBet, one of the best online betting sites in the Netherlands today.However, it can't be overstated just how much, after the calamity in Catalunya, the rest of the riders will think the gloves are off and not everyone will come out of that first lap still on their machines. This is going to be a superb example of motorcycle racing.