It's almost time for football fans to have a sigh of relief because Spanish football is back on 12 August. Read through our LaLiga week 1 betting predictions for insight on every single match happening between 12 and 15 August. For last season's top four clubs, we included extended predictions and more detailed descriptions.
LaLiga officially returns on 12 August. The 2022/23 season will begin with an Osasuna – Sevilla match at 21:00 local time. The first week or match day one will have nine further matches. We'll briefly discuss the potential outcome of these matches and mainly talk about the favorites to win. Along with our LaLiga week 1 betting predictions we'll also do initial betting tips for certain matches.
The Opening Event Will be in a Smaller Stadium This Season
Osasuna will face Sevilla in El Sadar in the season opening match. As of 4 August, Osasuna have played five pre-season friendlies and still have one more left. Out of those five matches they only managed to win two. But those two wins came against Huesca, and more notably, Feyenoord. Osasuna are still missing Kike Saverio who isn't expected to return before the start of November. With their current squad, the home ground advantage, and their pre-season performances, Osasuna have about a 30% chance to win, according to online sportsbooks in Spain.
It's no secret that Sevilla are the favorites going into this match. The club has finished in the top four for three consecutive seasons now. Generally speaking, Sevilla have been performing pretty well under Julen Lopetegui. The team had its ups and downs in the pre-season friendlies.
They drew with Tottenham, beat Sporting on penalties, and hammered Angers in a 6-0 win. Then the tables turned, lost 6-0 to Arsenal and 1-0 to Leicester. Sevilla brought in Marcao for only €12 million and sold Koundé, Diego Carlos, and more for a combined income of €87.50 million. Financially, they have one of the best transfer windows so far. Their 40% chance to win on 12 August seems a bit too low, however.
Celta vs Espanyol – Week 1 LaLiga Betting Predictions
We're expecting Celta to win their Week 1 match against Espanyol. It's also a high-possibility scenario that at least two goals will be scored during the match.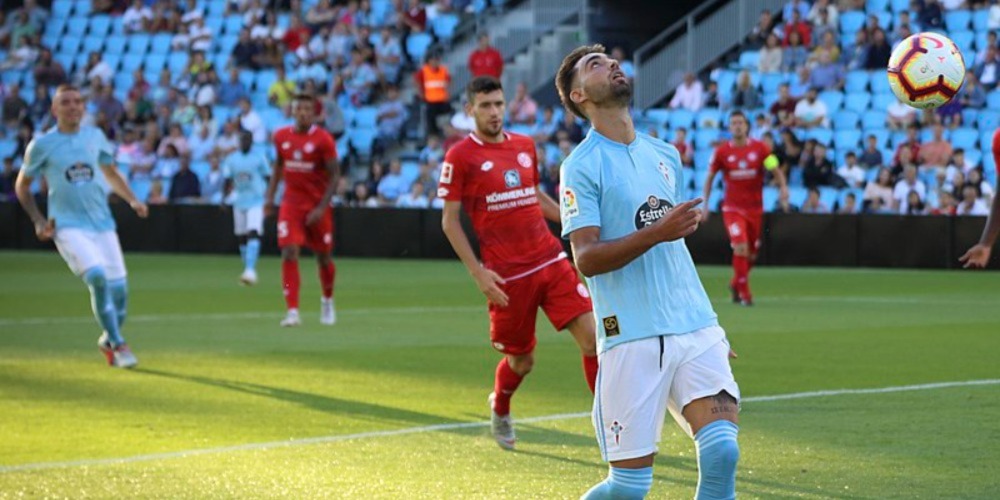 However, history shows that matches between these two usually end up in a draw. But a home team win is still more likely this around. There is almost a 50% chance for that to happen. In comparison, both a draw and a win for the visiting team has a possibility of around 25%.
Despite the Home Ground Advantage, Valladolid Might Have a Hard Time Against Villarreal
Seeing how Villarreal won the Europa League two seasons ago and were in the Champions League last season, it would be hard to not pick them as the favorites here. Even with the home ground advantage, Valladolid are a bit outmatched but the situation is not that bad. The visiting team has a chance of around 50% to win while the home club is just below 25%. Additionally, a draw is also moderately possible with a 27% chance, according to online sportsbook news in Spain. Naturally, we're picking Villarreal as the winners here.
Barcelona are Heavy Favorites in our LaLiga Week 1 Betting Predictions
Barcelona possibly pulled off the greatest summer transfer window this year and there are still a few weeks to go until the deadline. Their pre-season friendlies haven't turned out bad either. 6-0 against Inter Miami, 2-0 against NY Red Bulls, 1-0 against Real in Vegas. Their 1-1 draw with Olot was a bit weird but the match didn't have stakes anyway. Barca also drew with Juventus but they were dominating the match in every statistical category. When they face Rayo at Camp Nou on 13 August, they will have the obvious advantage.
LaLiga's week 1 betting predictions estimate Barcelona's chances of winning to be around 80%. A draw has around 13%-15% possibility, and Rayo winning is less than 10%. Rayo Vallecano, a small club in comparison to Barcelona, went undefeated this pre-season. They even drew with Man United, although that doesn't sound that difficult in 2022. Speaking of United, you might also want to check out our Premier League week 1 betting predictions.
Cádiz vs Real Sociedad – Will the Home Team Avoid Relegation Again?
This is somewhat a similar situation to the Osasuna – Sevilla match. The visiting team is usually in the top six by the end of the season. Comparatively, the home club is around the middle of the table. Not this time, however. The gap between these two was 11 places last season. Cádiz avoided relegation by just one point. Even with all this, their chances to win during the first week of LaLiga are around 30%. Real Sociedad's winning chances are 40%. The rest of the numbers are in favor of a draw. However, we pick Real Sociedad to win this match.
Long Time No See – Girona Take on Valencia in Week 1 of LaLiga
Girona got relegated from LaLiga after the 2018/19 season. It took them four seasons to come back but they're here. The odds however are not with them against Valencia. Sites like 22BET Sportsbook estimate Valencia's chances to win to be above 50%.
The remaining 50% is split between a draw and a Girona win, with the latter's numbers being lower. It's been a long time since these two faced each other in LaLiga but we're going with Valencia in our week 1 betting predictions.
Almería and Real Madrid Receive the Sunday Night Spotlight
The champions of Spain and Europe will take on Almeria on 14 August and their chances to win are pretty good. Online sportsbook sites in Spain give Los Blancos a 70% chance to win on Sunday. Real only won once in this pre-season, against Juventus. Realistically speaking, the majority of LaLiga teams facing Real or Barca are going to be the underdogs. This is obvious for Almería as well. Real only added Tchouameni and Rüdiger this summer and on paper, they're supposed to have improved.
These two sides met in 2015 the last time. For this match, we're expecting Madrid to win by at least two goals. It's also highly likely that Ancelotti will experience new tactics or lineups. The 2023 LaLiga odds also favor Real Madrid, as they're expected to win back-to-back. We expect Real to be on the top of the table by the end of next week.
Mallorca Looks Outmatched Against Bilbao
Mallorca are a club that see more LaLiga 2 or Segunda División action. In the past decade, they barely played in the first division. They have seen a lot of relegation and promotion in consecutive seasons. However, they managed to stay in LaLiga in the 2021/22 season so credit is due.
The problem for them is that Bilbao are usually in the top 10 each season or even in the top 6. They also play at home on 15 August. Their chance to win is around 60% while Mallorca's is around 15%. Surprises can happen but we're sticking with Bilbao on this one.
Getafe vs Atlético Madrid – Betting Predictions for Week 1
Atlético will visit Getafe during the first week of LaLiga and are expected to win. At least 50% of online sportsbook sites in Spain favor the visiting team. As of 4 August, Getafe only won one of their five pre-season matches so things aren't looking that good for the home club. Atlético only had two pre-season friendlies so far and won both of them. Even though the last match was close between these two, Getafe somehow always ends up at the bottom.
Betis vs Elche is Another One-Sided Match in Week 1 of LaLiga
Betis is another club that often is underrated. They won the Copa del Rey last season and finished 5th in LaLiga. Elche on the other hand usually move between the middle and the bottom of the table. And During week 1 of LaLiga, they don't even play at home. Funnily enough, the last time Betis hosted Elche they lost 1-0 to the visitors. This time, however, we're picking the Copa del Rey champions to secure 3 points in the first week of the league. Their chances to do so are nearly 70% with 10%-15% favoring Elche.