PSG are ready to lock down Neymar to a new long-term contract, putting an end to the player's links to Real Madrid, for now.
Neymar's father assures his son's commitment to PSG
Real Madrid president Florentino Perez has long been an admirer of Brazilian superstar Neymar, and it's thought they almost had him in the summer of 2013, but instead, the proposed deal proved too difficult so he moved to their arch-rivals Barcelona instead.
It's widely believed the switch to PSG – for a world-record fee of €222m in 2017 – is a stepping stone that's intended to facilitate a smoother move to Real Madrid, per online sportsbook newss in France.
But it seems that a proposed transfer to the Bernabeu will have to be put on hold for a little while longer, as Neymar's father (his agent) has come out saying he has commenced talks with PSG about a contract renewal.
"Neymar is in the second year on his contract, so he has three more to run," Neymar senior commented. "We are already discussing an extension with PSG."
"His name has been the subject of rumours since he was 17 – from the moment he took his first professional steps. Neymar has only experienced two transfers in his life, but he has known speculation for 10 years."
"The probability that he does not leave (PSG) is great. People say: 'Neymar is in every transfer rumour that concerns a big club in each window.' This reflects that his career is being handled well – he is always one of the (important) names."
Since moving to Paris, Neymar has put on occasional bursts of his brilliant talent but has failed to make a real impact, due to injuries. His first season saw him score 28 goals, while in the second he found the back of the net 20 times. And the reason why PSG paid Barcelona a world-record transfer for Neymar was to win the Champions League – a competition they have been eliminated from in the round of 16 in both seasons since; he's been at the club.
Mbappe on Real Madrid's radar?
With Neymar looking to stay at Parc des Princes for the time being at least, Real Madrid are shifting their focus on PSG's second star, who just won the 2018 World Cup with France. According to providers of online sportsbook sites in France, Real Madrid are preparing an astonishing bid of €280m for Kylian Mbappe, which is around €100m more than what PSG paid for him in total.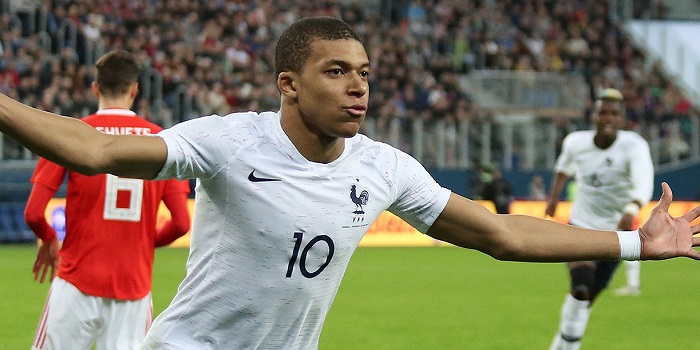 Having arrived at the club at the same time (summer of 2017), the 20-year-old forward has already outdone his Brazilian teammate, mainly because the latter has been sidelined with injuries in both the first and now the second season going.
Mbappe bagged 21 goals in 44 appearances across competitions in his maiden campaign, but this season he's managed to outdo himself by striking the net 31 times in 35 outings so far. He could potentially reach the 40-goal mark, although there's limited time on the calendar. But considering that Neymar is out, he's the team's main goalscoring threat, so all the goals will be flowing through him.
The Brazilian superstar turned 27 in February, while the Frenchman graduated from being a teenager last December. This is a huge aspect Real Madrid will be considering in their pursuit of the pair.
Neymar still carries that bigger status and it's unsure how much further he can grow or whether he's reached his pinnacle, while Mbappe, on the other hand, is a World Cup winner and his peak yet to be reached. The youngster is 'value for money' and can definitely represent the future for Real Madrid.