"This victory here, is the beginning of the end for Donald Trump." Bernie Sanders told an ecstatic crowd after winning on Tuesday. Sure, the margin was by no means as large as he'd have liked. Barely over a point ahead of Pete Buttigieg, Sanders didn't get the knock-out blow he'd have liked. Still, the odds on the Democratic Nominee being Sanders did bump quite a bit after the results. This will not have pleased many moderate Democrats who see Sanders as dangerous.
"We are putting together an unprecedented multi-generational, multi-racial, political movement." Sanders assured the crowd. "No matter who wins we're going to unite together. Unite together and defeat the most dangerous President in the modern history of this country." Which won't actually make any of his rivals feel any better. Uniting under the radical Bernie banner is not on their agenda. The odds on the Democratic nominee may now favor Sanders at online sportsbook sites in the US like Bovada, but obviously some Democrat voters still don't. 
Bernie Favorite To Win Nomination But Not White House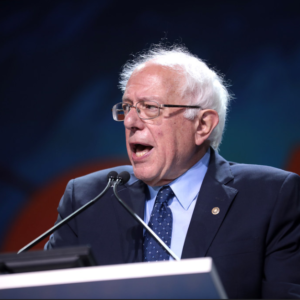 These will be the Democrats backing former South Bend mayor Pete Buttigieg. His youth and vitality, coupled with a far more moderate stance on the issues, had put him in good stead. It's a stark contrast with Sanders and one chiming with a lot of Democrats. They fear it is too easy to label Sanders. So it is too easy for Trump to counter him at the polls. Bernie might see  6/5 odds at Bovada Sportbooks on the Democratic Nominee as a good sign, the 4/1 he gets to actually win in November, less so.
Democratic Nominee 2020

Elizabeth Warren – 25/1

Amy Klobuchar – 14/1

Joe Biden – 10/1

Pete Buttigieg – 11/2

Michael Bloomberg – 2/1

Bernie Sanders – 6/5
The Democrats are fighting an uphill battle and they know it. Many Democrats do not believe this is the time for a radical agenda easily derided by the opposition. They feel a more moderate approach with less baggage could be the winning formula. Perhaps that's why the odds on the Democratic Nominee shifted so much on Amy Klobuchar. She got a very creditable third in New Hampshire, and anyone who likes to bet on sports in the US might want to check out her prices.
Get All The Odds On The Democratic Nominee At Bovada
Going into New Hampshire Klobuchar was barely a 33/1 shot at the nomination. After the results came out the odds on the Democratic Nominee shifted hard. She has 14/1 odds at Bovada Sportsbook and moving up. That's worth a punt. Unlike Joe Biden and Elizabeth Warren, both of whom failed to get the votes they wanted. To wager on Warren or bet on Biden is now a seriously poor choice. Biden has slipped from 9/1 to 10/1, Warren from a 16/1 chance to an unlikely 25/1. Their race is over. 
Presidential Election Odds

Amy Klobuchar – 30/1

Joe Biden – 25/1

Pete Buttigieg – 16/1

Michael Bloomberg – 11/2

Bernie Sanders – 4/1

Donald Trump 4/7
Andrew Yang knew his was and suspended his campaign. Biden and Warren will have to face facts and do likewise soon. The lurking hulk of Mike Bloomberg still awaits in the shadows. No one is sure what he'll do to the odds on the Democratic Nominee once he starts running. He's 2/1 right now, ahead of Pete on 11/2, but the definite threat on Super Tuesday to Sanders. Mark you, taking advantage of US gambling laws to back Bloomberg might be to bet on an utter dystopia.
We take a look at the odds on the Democratic Nominee now New Hampshire has given us some real facts to work with.