Predictions for gambling in 2020
Updated: February 21, 2020
2020 is a year of mergers and acquisitions

Emerging Markets Boost iGaming Market Expansion in 2020

A major player will emerge in block chain & digital payments sector
Gambling will quickly become highly competitive.  Undoubtedly, operators are already beginning to segment their activities and focus on a certain direction. As for predictions for gambling in 2020 European customers will require betting operators to present more detailed products. In this regard, experts are confident that in sports betting, the quality will be of global importance. To withstand high competition, operators will begin to adopt and adapt proven and high-quality technologies. These high-quality technologies are already used in online sportsbook sites in the UK.
We already see that Europe increased pressure on existing and newly regulating markets. That is why there is an increasing number of European operators looking to the US. According to predictions for gambling in 2020, the US market will remain a haven for operational profitability. With access to cost-effective capital and vibrant capital markets, 2020 could lead to some mega-mergers.
iGaming industry growth for the last decade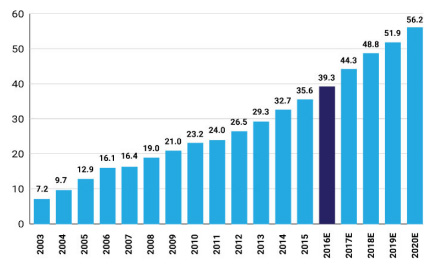 However, the gambling industry has grown in recent years. According to Slotegrator experts, it is noted at 8-10% per year. Online gambling is now experiencing a real peak in its development. We analyzed some online sportsbook sites in the UK and came to the conclusion. This situation will last in 2020 at least the same pace. Moreover, Slotegrator experts do not exclude that the increase can reach indicators of 11-12% annually.
Consider the growth rate of the online gambling industry using various statistical indicators.
Predictions for gambling in 2020. What will happen next?
In the period until 2020 and beyond, the global gambling industry will survive a full redesign. According to our predictions for gambling in 2020, the online gambling sector will only grow. All the greater emphasis will be placed on the mobile direction.
You can also check the benefits of gambling 2020, as mobile gambling and social forms of gambling are gradually replacing desktop games. The industry is trying to adapt to current trends.
Hundreds of operators are working to implement support for live casinos and live games in their applications and mobile versions.
In addition to this information, we can say that it seems the classic land-based casinos in the future will become something exotic. The share of the online sector is growing too fast. Nevertheless, ground-based establishments can still recoup in this battle. If they start to innovate and dilute the classics with something fresh and interesting.
Well, customers just have to watch all these changes. Moreover, they can take advantage of the era in which we live.
GAMBLING News -
December 2022