However, Manchester United's #1 has failed to prove his qualities so far at the World Cup 2018. Should David De Gea be left out?
Online sportsbook news sites in Spain were extremely hopeful ahead of the World Cup 2018. However, their optimism was reduced when Rubiales sacked Spain manager Julen Lopetegui just before the tournament kicked off. And Spain's chances are getting worse and worse now seeing the performances by their best goalkeeper.
Is De Gea a top goalkeeper?
David De Gea is one of the most talented goalkeepers and has by far the best technique in this position. Talking about solely skills and reflexes and the likes, only Manuel Neuer can be mentioned on the same page as the Spanish goalkeeper. However, football is not only about technical skills and abilities. Football is about much more than that.
Mental toughness in football can be much more than technical skills. If it was only up to technical skills, we should have looked at Quaresma as the best player of all time, and Neymar should be owning this World Cup 2018 tournament. Neither of those is the case, so there must be more to it.
Does De Gea have what it takes?
Manchester United fans can say all they want, but the thing is the following: David De Gea has never been tested on the highest of levels. He has years of experience in the Premier League, which is one of the best football leagues in the world, but that's not the same. De Gea has no real experience in the Champions League nor the World Cup, not the Euros.
You can be great in the league when there is 38 games to be played. If you make a mistake, nothing happens. You have 37 other matches to make others forget about your mistakes. That's not the case when it comes to the tournaments where a perfectly concentrated mind is worth much more that technical skills.
And I'm talking about the Champions League and the World Cup. When making one mistake could cost your team or your nation the entire tournament. David De Gea is being tested in these very days and he has been failing horribly.
Spain is against De Gea
As you can see from the memes above and below, the Spanish media tries to hide their pain by laughing at it. But also there is truth behind every joke. After two matches, De Gea was the only goalkeeper at the World Cup who failed to save at least one shot. After 3 matches and 270 minutes, Spain conceded 5 goals from 6 shots on target. It's unacceptable at this level.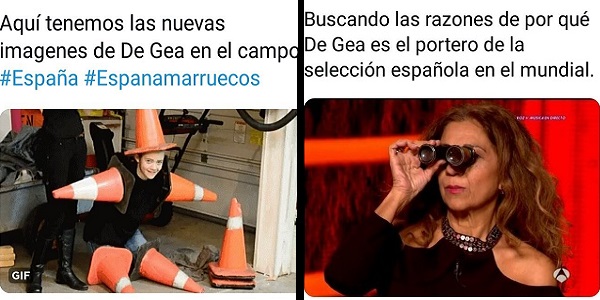 Basically, every shot that finds the target, is a goal. David De Gea has managed to save only once, while he had 6 tries. And okay, Cristiano Ronaldo's free kick and the penalty is not De Gea's fault, but we've all seen Ronaldo's second goal. That's solely De Gea's fault and his lack of concentration. De Gea left out of the starting line up could actually be the best thing to happen to Spanish football at this tournament.
Should Hierro pick Kepa instead of De Gea?
De Gea left out of the Spanish national team was impossible to imagine only a few weeks ago. However, as a result of his pathetic form in Russia, it is a serious issue and the Spanish press actually wants Hierro to make a change. Spain conceded 3 against Portugal and 2 against Morocco. To be fair, we must mention that they kept a clean sheet against Iran.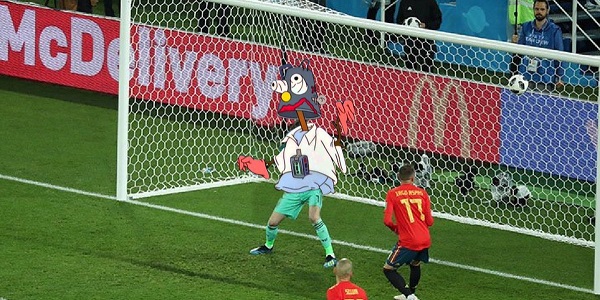 However, the defensive line and the goalkeeper has been hugely underperforming. Piqué and De Gea are the weakest lines in the Spanish machine and Hierro is thinking about replacing them. Nacho Fernandez could take over Piqué's position as the central back, while Bilbao youngster Kepa could be in goal.
Do you think Spain should make these changes before the World Cup Round of 16 against Russia? Should they give another chance to De Gea, or is it time to let go of him? Leave a comment below to let us know what you think about the Spanish goalkeeper crisis!