Top Tennis' Murder Stories That Shocked the World
The first Irishman to reach a final in Wimbledon later became infamous for murder

An ATP tennis coach was charged with murder and is currently serving a sentence

Tennis' murder stories involve the superstar Serena Williams
Tennis is considered to be one of the classiest sports ever. However, not many people might know its connections to the most fatal of crimes: murder. As the new season has started, this article will explore a few of tennis' murder stories.
Tennis' history dates back to the Medieval Period. The French and British royalty played a similar sport called Real Tennis, which was very popular. In the 19th century, the modern version of the game appeared in England with Lawn Tennis. Since then, the high society would gather in British clubs for tea and for some good action on the court.
In this way, tennis is known for its attachment to money, but also for its psychological demands. These two attached might explain some of these unfortunate stories throughout the years. However, misfortunes have also been the reason for some of these events.
The most famous of the tennis' murder stories
Vere Thomas "St. Leger" Goold was an Irishman from a wealthy family. In the 1870s, he started to prove himself as the best tennis player in all Ireland. However, he gained international recognition for something a lot less aristocratic, after murdering a lady.
In 1879, he became the first player from the island to reach a Wimbledon's final.  However, his bohemian lifestyle led him to easily lose the match against Reverend John Hartley. Online sportsbook news sites in the UK mention that he was still hungover. After the event, his career started to see a downfall as his addiction to alcohol and opium grew.
https://www.youtube.com/watch?v=-QndPTfeq5k
His wife Marie Giraudin and he had many unsuccessful businesses which led to a vast accumulation of debts. In 1907, they met Emma Levin, a wealthy Swedish widow who became a close friend. She lent them money, but, when she went to recollect it, they murdered her. The case became known as "The Monte Carlo Trunk Murder" and drew a lot of international attention.
Vere Goold served life imprisonment in the Devil's Island, in French Guyana, until he killed himself one year after the sentence.
The former tennis coach of a high-profile ATP player who killed a multimillionaire
In 2016, the ATP circuit was caught with shocking news. Mark de Jong was accused of murdering the millionaire Koen Everink.
The former tennis coach of Dutch player Robin Haase was the last person who had seen the businessman.  Mark de Jong allegedly owed a large sum of money to Everink and, unable to pay him back, stabbed him dozens of time. Everink's 6-year old daughter, who was in the house, found the body.
Initially, de Jong claimed his innocence, but, last year, the court sentenced him to 18 years in jail.
Two of the biggest stars in tennis had to grieve their sister's murder
Serena and Venus Williams were faced with an unfortunate event in 2003 when their sister was murder.
Yetunde Price was a nurse and also her sisters' personal assistant. On the night of 14 Septemeber 2003, Robert Edward Maxfield shot her in the South Central suburb of Compton. The murderer belonged to a street gang who thought that she and boyfriend were part of a rival gang.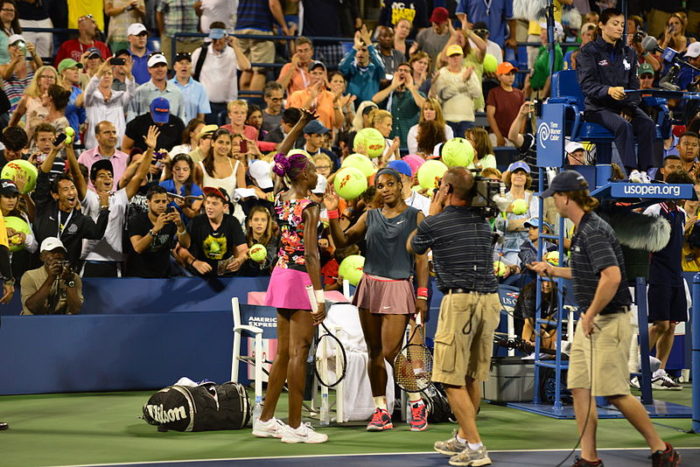 In 2006, the court sentenced him to 15 years in prison. However, he was released on parole for "good behavior" last year. Serena Williams stated that she learned about this 10 minutes before playing against Johanna Konta. The match became the biggest defeat of her career, lasting 52 minutes and with Williams winning one game only.
A tennis referee who saw her career almost end because of a murder conviction
Louis Goodman is an American tennis referee who, in 2012, was accused of beating her husband of 50 years to death with a coffee mug. At the time of her arrest, she was officiating qualifying matches at the US Open.
However, the 80-year-old man was legally blind and her lawyers claimed he fell down the stairs while alone at home. 
She was soon considered innocent, but the effect the case had on her career spanned throughout these recent years. She lost work because of it. This way, Goodman sued the Los Angeles County coroner's office and is now trying to get her reputation back.
Bet on this year's champion in Wimbledon
In July the 1st, Wimbledon is back and let's hope there won't be any breaking news regarding a murder. We already made our predictions to the female winner and you can already place a bet for the winner of the Grand Slam on the men's side.
According to online sportsbook sites in the UK, it looks like the unstoppable Serbian Novak Djokovic (13/8) will be repeating his 2018 victory, especially after winning the Australian Open earlier this year. However, Roger Federer – 8-time Wimbledon Champion – might have a comeback to his all-time favorite court and his odds of winning are 4/1 at BetVictor.
Bookies are not so positive about Rafael Nadal, as his odds of 8/1 at BetVictor are a bit lower as compared to his main competitors. Yet, there is always a place for surprises in sports and the young star Alexander Zverev (12/1) might be getting his first Grand Slam if he keeps up with the good season.