Top YouTube Betting Channels that Offer Useful Information on Sports Betting
Updated: January 15, 2020
YouTube channels offer professional expertise

One can find useful information on gambling in YouTube
Nowadays there is a huge base of information available about anything in various forms. The betting is no different. If you prefer reading there are many books or blogs on gambling. Well, if you start with this one you will stick to it. But, if your favorite way of getting information is listening there are the podcasts. At last, if watching is your way instead of listening or reading the Top YouTube betting channels are just for you.
In fact, YouTube is one of the absolute favorite websites in the world. YouTube is a platform for sharing music, funny or informative materials and so much more. Surely, it is home to plenty of betting channels. The free website hosts hundreds of betting bloggers. Many online gambling sites in the UK and famous names have their own YouTube channels. Further, there are also some small channels which stand out with interesting material.
Bwin is among top YouTube betting channels
Bwin is a big name in online gambling. Its YouTube channel with more than 84,400 subscribers gathers together one of the world's biggest online gambling communities. 
Owned and operated by the famous sportsbook and online casino, the channel has a variety of different playlists by football clubs, countries, etc. 
With more than 500 videos channel has 46 990 646 total views Bwin is a big fish in the virtual ocean.
Richard Dwyer
Northern California based lawyer Richard Dwyer's YouTube channel gives betting advice since 2013. Dwyer's channel gives betting tips, picks and predictions on all sports, but his specialty is boxing. 
Over the years Dwyer's channel's popularity grew and now he has 15,800 subscribers.  
Moreover, Dwyer has two different sports-betting free websites. 
Kev's Picks
You can get the best of the sports betting world from Kev's Picks YouTube channel. With more than 35,700 subscribers Kev's pick is one of the most popular YouTube betting channels out there.  
He gives wagering tips on upcoming sports events and also gives an analysis of betting strategies. Moreover, there are discussions on many different topics, from basic sports betting to whether you can make a living as a professional sports bettor.
This channel is well worth your time if you're serious about sports betting. 
Betfair is in five of top YouTube betting channels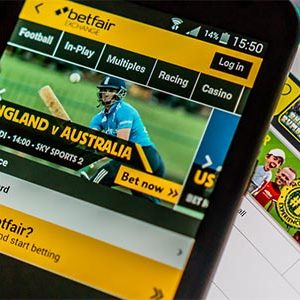 Betfair's YouTube channel offers diverse video content for people who are interested in the gambling industry and want to get a greater insight into how to place more successful bets. 
Its YouTube videos allow bettors to benefit from insider tips on football matches and horse races. Moreover, there are even tutorials to help newcomers to understand the world of betting and how to place profitable bets.  
With more 32,100 subscribers, Betfair's channel is among the Top Five.
VIP Sports Las Vegas
In this channel sports betting expert, Steve Stevens gives sports betting picks, also there are discussions of news and rumors about the sports betting industry.  
Steve Stevens claims to have won more money betting on sports than anyone and thinks himself as the "bookie killer". Moreover, he was featured in the CNBC reality series Money Talks about professional sports betting.
In his channel, Steve openly shares his bold opinions on the sports betting industry. Because of this, he has as many critics as he does supporters among the sports betting community. With its 15.100 subscribers, VIP Sports Las Vegas is one of the top YouTube betting channels. 
Don't forget to check online gambling news in the UK to know all new about the sports betting world.
GAMBLING News -
November 2022