A scene from the Game of Thrones episode Battle of Bastards (Image source: Bago Games – Flickr)
Game of Thrones has come to an end. Now, many fans are turning their attention back to the sixth novel of A Song of Ice and Fire series. A million-dollar question on the lips of every fan is when will The Winds of Winter come out? The bookies expect it to be complete in 2019, according to The Winds of Winter betting predictions.
George Martin has previously teased that the sixth installment of the A Song of Ice and Fire series might arrive in early 2019. However, online sportsbook news sites in Ireland have it that the 70-year-old author is not done writing The Winds of Winter book yet. Some even suspect that Martin still has thousands of pages left to write.
The fans have been waiting for what seems like an eternity, or in fact eight years so far to get the sixth novel. With the end of GoT, fans became more insistent on the author to finish his book as soon as possible. Martin refuses to give an exact date, but he assured the readers he is focusing on completing the book. If this is the case The Winds of Winter betting predictions indicate that the book might come out in 2019.
If you wish to bet on The Winds of Winter release date, the odds are 6.00 at 22BET Sportsbook for the book to come out before August 31, 2019. Whereas, they are 2.7 for it to be published before December 31, 2019.
George Martin offered to finish his book in New Zealand
George Martin has thanked Air New Zealand on his Not a Blog Site for inviting him to the country. The Airline offered him wine and six Kiwis per square mile of gloriously empty terrain to help him finish the book as soon as possible. He replied that he is going to visit the World Science Fiction Convention in Wellington, New Zealand in 2020. However, he did not confirm whether he will travel this year and whether he tends to complete his novel there.
What took him so long?
George Martin's fifth novel A Dance of Dragons was completed in July 2011. Afterwards, he announced that he will write another two volumes to fulfill the series, The Winds of Winter and A Dream of Spring.  Back in 2011, it was estimated that The Winds of Winter would take Martin around three years to write. Yet, in 2016 he confirmed that he had missed the deadline with his publisher. Last year it became clear that the book is not complete yet. Since then George Martin has remained silent on when he will finish the sixth novel.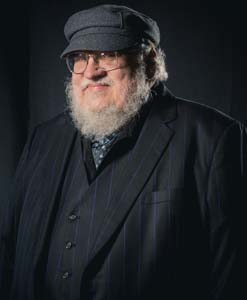 Online sportsbooks in Ireland suggest that George Martin was distracted by several spin-off books and TV shows. After 2011, Martin wrote the Tales of Dunk and Egg and Fire & Blood.  He has also been very busy in producing several shows at HBO. Currently, there are five upcoming shows at HBO written by George Martin, two at Hulu, and one on the History Channel. With so many projects, it is hard to imagine George Martin finding enough time to finish his book if not pressured by the fans.
Winds of Winter betting predictions: The series might end differently than GoT
On his goodbye post to the HBO show, George Martin said "The Winds of Winter is very late, I know, I know, but it will be done. I will not say when, I have tried that before, only to burn you all and jinx myself… but I will finish it, and then will come A Dream of Spring".
He also added very vaguely on whether A Song of Ice and Fire will end differently than GoT "Well… yes. And no, and no, and yes… How about this? I will write it. You read it. Then everyone can make up their own mind, and argue about it on the internet".
The last thing we know is that his two books will fill 3000 manuscript pages. Before placing any bet, have a look at our review about 22BET Sportsbook to see all The Winds of Winter betting predictions.