At the end of a successful and long career, every athlete hopes for a nice farewell. But unfortunately, it doesn't always happen. From being sent off on your last game to being knocked out in the first round of your last world championship, it can even happen to the most famous sportsman. We collected the worst sporting farewells which were also the most memorable as well. 
2020 PDC World Championship was the last one where five-time world champion Raymond van Barneveld would play. Surely he dreamt of a better finish, even getting to the final for the last time in his 35-year long career. But sadly it didn't happen, he lost in the first round of the tournament against American Darin Young. What happened to Barneveld is a great example of how any athletes' last appearance can turn into sour instead of joy. 
Worst sporting farewells probably happened in football
Zinedine Zidane is one of the best football players in the world, but many people are remembering him for different reasons. In the last game of his career, France played against Italy in the final of the 2006 World Cup. Everything was fine until the extra time when the famous incident happened between Zidane and Italian defender Marco Materazzi. After his headbutting, Zizu was sent off, France lost the penalty shootout which their captain couldn't even watch. Quite a shameful way to end a career for a Ballon d'Or winner. Hopefully, there won't be any similar incident in Euro 2020 which you can already bet on at Unibet.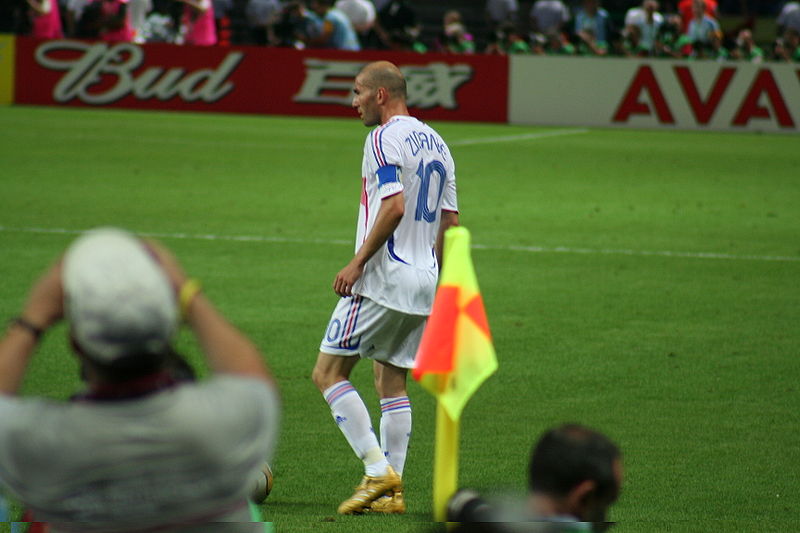 Zidane's last game wasn't a triumph [David Ruddell [CC BY]]
Another great footballer, Liverpool legend Steven Gerrard's final game wasn't one to remember neither.  Gerrard was a true leader but couldn't win any Premier League title with the club. They were very close to it in the 2013-14 season, but after Gerrard's huge error, they lost the title. Neither he nor the club could recover from this disappointment next season. Gerrard announced that he is leaving the club at the end of the season. On his final game, the Reds lost 6-1 against Stoke City and only finished sixth in the league. It was a sad end for his remarkable career at the club. But if you're a Liverpool fan, you can bet on the team winning the Premier League title this season. Their odds are only 1.12 at Unibet. 
Some of the worst sporting farewells happened with the best athletes
Staying with real sports legends, even the fastest man in the world, Usain Bolt had a disappointing end of his career. As online sportsbooks in the Uk were preparing for his last finals and more gold medals, it just wasn't meant to happen. Bolt was taking part in his last World Championship in London in 2017, after winning 11 world champion titles. At first, he only finished third at the 100m final behind American sprinter Justin Gatlin and Christian Coleman. And then came his last run, the 4x100m relay.  Jamaica was in third place when Bolt got the baton, but after a few meters, Bolt fell into the ground after pulling his hamstring. Everyone was shocked to see such a dramatic end to his career. 
Even 'The Greatest' had a sad end of his career
The greatest boxer of all time, and by many people rated as the greatest athlete as well, Muhammad Ali had an awful last match. During his career, he won 56 from his 61 fights, including 37 knockouts.  He was a three-time WBA heavyweight and a two-time WBC heavyweight champion. He had announced his retirement in 1979, but he came back in the following year to face Larry Holmes. Which proved to be a huge mistake, as he wasn't the same boxer at that time. He was totally out of form, weakened by the medicine he had been taking. Holmes easily won the game, resulting in one of the worst sporting farewells of all time.
Here Ali was at his prime on this fight in 1966 Image source:[PA]
Too late retirements
There were some athletes, who probably pushed their retirement too late. This happened to the magical basketball player, Michael Jordan, who played for most of his time for the Chicago Bulls, helping them to six championship titles. He retired in 1999 but chose to come back for two more seasons, which he spent at Washington Wizards. He played his last game on the 16th of April in 2003 scoring 15 points in a game his team lost against Philadelphia. No one was really celebrating him, so there was not much sense in his return.
Looks like some athletes simply just can't get away from the sport while others are so desperate for a good finish of their career, that it simply won't happen. If you want a better end yourself and win some money, just check the latest betting options at Unibet after reading our review about Unibet sportsbook.