Thanks to the ever-improving health system, new vitamins and training systems, professional athletes are able to extend their sporting careers. It has become a normal thing to see an athlete in his/her 30s, 40s competing in major competitions. From athletics to football, athletes are pushing their retirement dates further but the oldest Olympians in the world are coming from a much earlier era.  
In certain sports, which are physically very demanding, like tennis or gymnastics, we can't really expect very old athletes. But even here there are some examples, who extended their career and kept going for a long time. But in sports like shooting, equestrian or archery, age doesn't matter that much. If you are still fit, you can compete with the younger opponents. The recent athletes have just done that and showed great examples for the future. 
Oldest Olympians in the world were over 70
For most of us, it seems impossible to be active in our 70s, apart from maybe some little jogging or walking in the park. But these athletes showed it is possible to compete at a high level still at this age. Like Japanese Hiroshi Hokatsu, who competed in dressage, an equestrian event at the 2012 London Olympics at the age of 71. He first took part in the Olympics in 1964, then he had a break of 44 years. He returned in 2008, at the age of 67, and finished 9th in the Dressage Team Grand Prix.
Another equestrian was even older than him when he took part in the 1936 Olympic Games in Berlin. Austrian Arthur von Pongracz was 72 when he competed in dressage and achieved his best result, a 4th place in the Men's Team Dressage. The best but probably not the oldest equestrians will compete in the 2020 Olympic Games as well. Find all the odds for them at bet365.
Silver medal at the age of 72
The oldest Olympian in history so far is Swedish shooter Oscar Swahn, who was 72 years and 281 days old when he took part in the 1920 Olympic Games. He totally deserved to be there, as he got the silver medal in the double-shot running deer contest. Luckily it didn't include real animals, only deer-shaped targets, which participants had to shoot from a distance of 110 yards. Swahn was one of the best in the event, after winning three gold medals and a bronze medal in the previous Olympics. 
Oldest female Olympians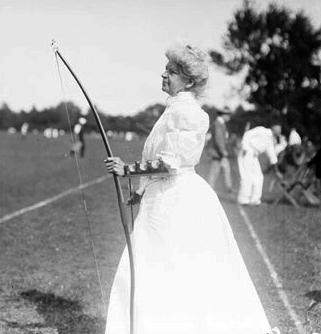 Women athletes are not far behind men in the age contest. Though it's not proper to talk about a lady's age, surely British rider Lorna Johnstone wouldn't mind it mentioning. She was 70 years old when she was competing in the 1972 Olympics, becoming the oldest female Olympian. 
Sadly Johnstone didn't manage to win any medal.  Not like American Lida Peyton Eliza Pollock, who was 63 when she won the gold in the team event during the 1904 Olympic Games archery competition. If you check the picture, it's hard to imagine how they could compete in such nice dresses, she didn't look her age that's for sure.
The oldest female athlete to win an Olympic medal
The oldest female athlete to win an individual Olympic gold medal is a British archer, Sybil Newall, who won her medal at the age of 53 in the 1908 Olympics. 
But we also have to mention some athletes from the modern era, whose performances also deserve our recognition. Australian dressage rider, Mary Hanna was 61 in Rio, while Canadian Lesley Thompson-Willie was strong enough at the age of 56 to be a member of the women's eight rowing team and compete against the best.
You should find the odds for all rowing events on bet365 before the Olympics. 
Middle-aged athletes in the most demanding sports
Becoming 40 is a turning point in most of our lives, and it has become a borderline for many top athletes as well, meaning the end of their career. But we can find some ironmen and women who are still competing in their 40s in the toughest sports like athletics or gymnastics and winning against much younger opponents. 
Even online sportsbooks in the UK were not giving much chance to British runner Jo Pavey's win at the European Athletics Championship in 2014, but she got the gold at the age of 40 after only 10 months of giving birth to her second child. American middle- and long-distance runner Bernard Lagat was 41 at Rio, and finished 5th in the 5000m, after winning several medals before. Gymnastics is probably even tougher for mature athletes, as normally very young girls are competing. So the appearance of Uzebeistan's 41-year-old Oksana Chusovitina was an amazing thing, her result was not bad either, finishing seventh in the vault. 
One of the most famous women tennis players, Martina Navratilova retired at the age of 46, while similarly famous John Mcenroe was also 46 at his retirement. Hopefully, we can see today's greatest players, Federer, Nadal and the Williams sisters for a long time. First definitely at the Australian Open, make a bet on bet365 for your favorite now. 
The oldest athletes
Probably I should have started with these amazing athletes, but here they are now. The oldest athletes of the world who are still active. Marathon runner Fauja Singh is from India, who was running his last registered marathon at the age of 100. Though he hasn't raced since 2013, he still walks five miles each day. Female runners are represented by Ida Keeling, who completed a 100m race at the age of 100. Only a few years younger was Canadian Olga Kotelko, who was setting up 30 world records in different events like 100m, 200m and 400m sprints just as in high and long jumps. She was 95 at that time, sadly she died soon after her records.
IAAF Masters race for older athletes where age doesn't matter Ken Stone / masterstrack.com [CC BY-SA]
But the proud title holder of world oldest athlete is Polish Stanislav Kowalski, who is 109 years old and still competes in sprinting, shot put and discus during World Masters Athletics events. Though online gambling sites in the UK are not offering odds for these events, you can find many other options to bet on. And who knows, they might become available sooner or later as the athletes still keep on racing at higher ages.