Camp Nou surely won't be this empty. Image source: Luis Miguel Bugallo Sánchez (Lmbuga) [CC BY-SA 3.0] via Wikimedia Commons
Barcelona are hosting the Italian giants Inter Milan on October 02 for their Champions League second group match. In our Barca vs Inter betting preview, we look into why Barca are massive favorites to win this round.
All eyes will be on the Group of Death 'F' as the Champions League resumes on October 1-2. The heavyweights Barca and Inter have ended up in the same group for the second year, striving to qualify for the knockout stage. Last year, Barca had an upper hand over Inter, winning 2-1 at home and clinching a 1-1 draw at San Siro. As online sportsbooks in Spain suggest, the Catalans are the massive favorites, with their almost perfect record in UCL at home. Whereas, Inter have won only one of their last six outings in the Champions League. Therefore, a win for Inter will be the biggest surprise, as per our Barca vs Inter betting preview.

Bet on the 2019/2020 Champions League winner!:
Last time Barcelona lost in UCL at home was in 2013
Barca faced a tough UCL opening against Borussia Dortmund but came away with a point. Their goalkeeper Marc-Andre ter Stegen made an incredible save to a penalty by Marco Reus, earning Barca a point from a goalless draw. In La Liga, Barca face a setback since the beginning of the season, as they lost twice, drew once, and won three games. Besides, their boss Ernesto Valverde faces immense pressure, despite winning the double in his first year and a league title in his second one. Therefore, he needs to impress in the Champions League, otherwise, he will be out at the end of the season.
Despite struggling this season and being humiliated by Roma and Liverpool in the last two UCL editions, Barca still hold some impressive numbers. They have won 29 out of the last 32 Champions League matches at home. The three games, they failed to win, have ended with a draw. Last time, Barca lost at home was in May 2013 by Bayern Munich who went all the way to win the Champions League. Based on these stats, 1xBET Sportsbook favors Barca to win with 1.61 odds.
Inter Milan stronger but still unable to conquer UCL
Inter have 18 Italian Championships and 3 Champions Leagues. Their last Champions League and Serie A titles were in 2010. Afterward, they just stopped delivering trophies. This season, Inter have a new boss Antonio Conte and several impressive signings Romelu Lukaku, Diego Godin, and Alexis Sanchez. Above all, they got rid of Mauro Icardi. Thus, Inter enjoy a perfect lead of 12 points in Serie A, with a very strong defensive line.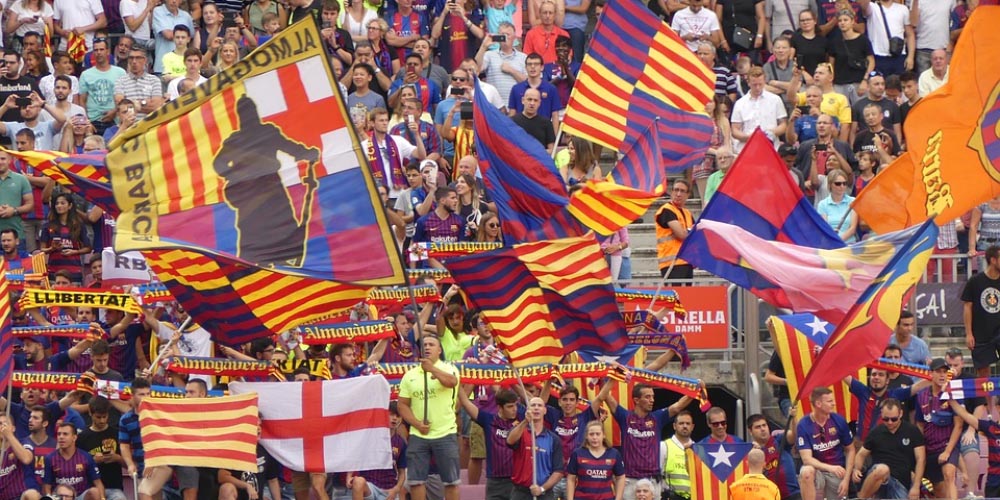 Nevertheless, they are still unable to conquer the Champions League. In the matchday 1, Inter could not do better than a 1-1 draw against Slavia Praga. With that draw, Inter failed to win their last five UCL games. Therefore, it is no surprise that online gambling sites in Spain consider Inter as the underdogs against Barca with 5.65 odds.
The potential result: 2-1 for Barca
How do we anticipate the result in our Barca vs Inter betting preview? Well, Barca have scored at least two goals in their last ten of eleven UCL games at home. They also kept a clean sheet in four of their last six at the Camp Nou. Whereas, Inter failed to keep a clean sheet in each of their last five UCL outings. Besides, Inter failed to find the back of the net in three of their last four away UCL games.
Barca's playmaker Lionel Messi has picked up another injury during the 2-1 home win over Villareal. In addition, Barca's defense remains unsettled. On the other side, Inter have conceded just two goals in five games this season, with the help of the Slovakian powerhouse Milan Skriniar. As such, we expect Barca to dominate but without plenty of goals. So, we give it 2-1 for Barca, and you can bet on that with 7 at 1xBET Sportsbook.
If you are looking for the best football odds, look no further and check out our review about 1xBET Sportsbook.