We all know that heavy, wrinkly feeling that is the very own of overly ripe or almost rotting tomatoes. Now, imagine throwing that fruit at your worst enemy, best friend, or just a random, unsuspecting person… Well, that dream could become reality! All you need to do is get your subject to participate with you in La Tomatina, the Spanish tomato throwing festival. This juicy event is traditionally held on the last Wednesday of August, which in 2018 falls on the 29th. There, you can bombard your victims with squished tomatoes and leave without punishment.
Since 2013, La Tomatina is not a free event. Participants can choose from various ticket bundles, that include accommodation in the small town that hosts the event: Buñol​, Spain. At La Tomatina Tours, the cheapest bundle costs £175. This option includes entry tickets and three days at a 3 star hotel.
La Tomatina Schedule
Before the festivities kick off, ginormous quantities of tomato are dropped at the town centre, Plaza del Pueblo. The throwing begins between 11-12 am, when a brave soul decides to pick up a piece and throw it at someone. The whole shebang lasts for about an hour. After that, throwing is prohibited and the cleansing of the streets begins.
The tomatoes come from Extremadura because they are cheaper there. Tomato News reported that the 2018 season resulted in 2 million tonnes of tomatoes in Extremadura, a 4% drop from 2017.
Free spins instead of tomato juice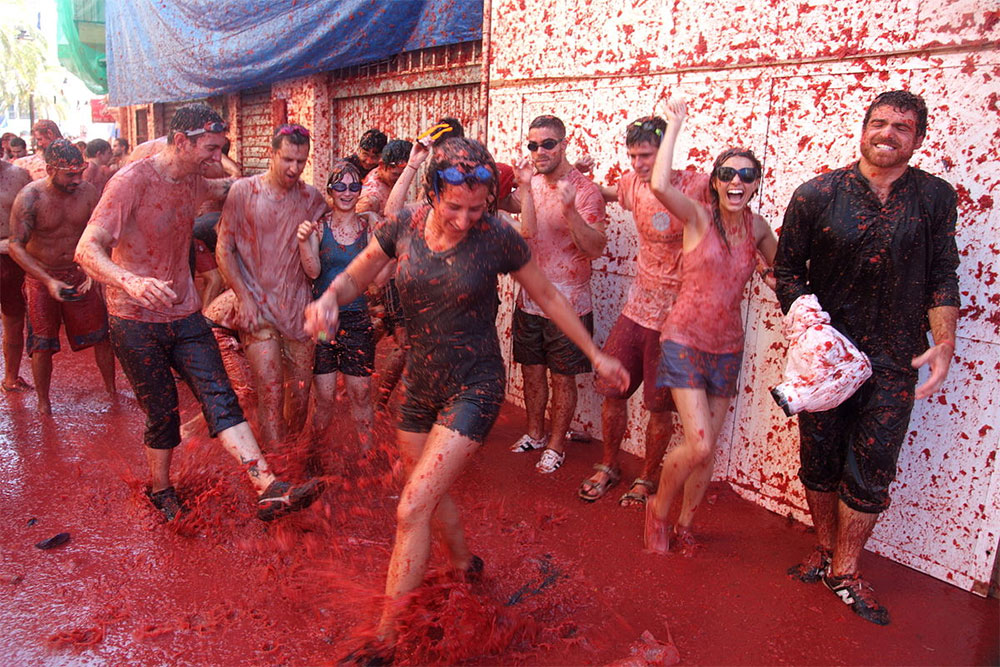 Since today is the 29th, you have probably missed this year's La Tomatina. Before you start planning and sending invitations to your mother in law or ex, take some time to wind at Omni Slots. On this special occasion they are offering a special bonus. While you make your first bet today, choose the La Tomatina Bonus to score a 25% max. €200 match bonus and 20 free spins for the "At The Copa" slot on the 30th of August!
Min. deposit amount: €30
Available on August 29th, 2018
Free Spins are valid until September 2nd, 2018
payout: €250
Bonus T&C apply!