Croatian captain Luka Modric reassures fans that Cristiano Ronaldo will likely be playing at the Bernabeu next season, online sportsbook news report.
Is Ronaldo staying put, for now?
Since the club season ended, speculation has been rife about Ronaldo's potential transfer to another unnamed club, after he spoke about Real Madrid's spectacular four Champions League triumphs in the last five years in the past tense. "It was beautiful in Madrid," said the Portuguese captain, which immediately got picked up as a signal he could be on the move out of the Bernabeu.
Some pointed that this is just a ploy for him to get an increased contract extension from the club, as he's been known to do that in the past after suggestions emerged he could go back to Manchester United (in 2013) and even PSG (in 2015).
But Ronaldo's Real Madrid teammate Luka Modric has said the Portuguese captain is going nowhere soon, as he's the biggest star of the club and according to him, the world as well.
"Let's see what happens," said the Croatian captain. "I don't think he's going to go and I would like him to stay because he's the best player in the world. He means a lot and hopefully he will stay."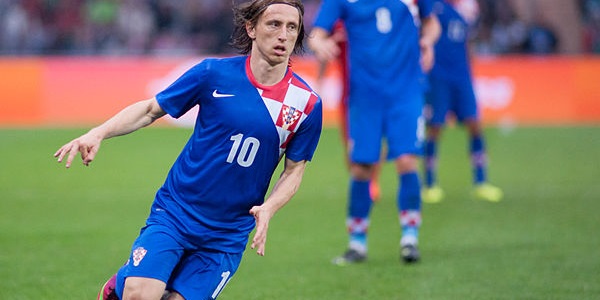 "I think he's going to stay, that's my opinion. It would be very good if he stayed because I can't imagine him in any other European team."
Ronaldo has made a total of 438 appearances for Los Blanbcos, scoring a massive 450 goals in the process so far – this averages to over a goal per game which is unheard of for a striker. It's evident that if he were to leave it would be a big loss for the club.
Still no official news about the speculated transfer to Juventus
But recently, Juventus – who have been serial champions in Serie A for the past seven years – have been linked with former Manchester United forward. Supposedly, the Italian giants are ready to shell out over €100m for Ronaldo, who turned 33 years of age in February this year – if this move were to materialize it would essentially see Real Madrid recoup all of their money on him as they paid a then world-record fee of €94m in 2009 to acquire his services.
But it also begs the question whether it's worth spending that much on a player that's no longer reaching his peak but rather is on a downward slope. Nonetheless, Ronaldo really seems to take exceptionally good care of himself and his body, so it wouldn't be a surprise to see him play for the next four years at the level that he's played at until this point.
Even though he hasn't managed to score over 50 goals for Real Madrid over the last two seasons – like he has in the previous six years before that – Ronaldo is still producing staggering numbers considering his age, as he found the back of the net 42 and 44 times respectively over the last two campaigns, per online sportsbooks in Portugal.