…because those World Cup betting specials will actually be special World Cup odds to bet on!
While online sportsbook news sites in Russia try to write about the chances and the performances of each team, Bwin Sports came up with a different idea: they decided the best way to catch others' attention is by launching unique betting options. That's what they tried to achieve with their World Cup betting specials. Did they succeed?
World Cup betting specials every day!
First and most importantly, we need to see that there are new World Cup betting special odds every day. You can pick daily bets, such as, will there be a penalty tomorrow? The odds for Yes, there will be a penalty on any of the 3 matches are 1.40, while the No market goes at 2.70. And this is only one example from the several World Cup special betting odds!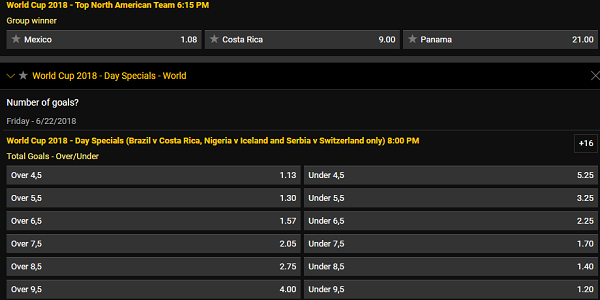 You can bet on Neymar and Haris Severovic to score the same amount of goals for 3.25. If you think the Brazilian will score more goals against Costa Rica than the Swiss against Serbia, you can pick Neymar for 1.80. But you can race Coutinho against Sigurdsson as well: who will score more tomorrow? The Icelandic against Nigeria, or the Brazilian against Costa Rica? The odds favour the Barca player with his 2.40 odds, but the tie is the most likely outcome (2.35).
Bet on daily total goals!
Tomorrow there will be 3 matches to be played. It will be Brazil against Costa Rica, Iceland against Nigeria and Serbia against Switzerland. Do you expect matches with tons of goals, or do you think most teams will pay special attention to perfect the defensive work? Quite the dilemma.
However, online sportsbook sites in Russia did make their decisions: Bwin Sports believes that there will be at least 5 goals in total at the 3 matches as the odds for this are 1.13. However, they expect at most 9. The Under 9,5 market goes at 1.20. Do you think these matches will be full of goals, or do you agree with the betting sites' expectations?
Continental World Cup betting special
Continental World Cup betting specials are also available, meaning you can pick the best team from certain continents. For example, which North American team do you think will go the furthest? Mexico is the bookie-favourite with their 1.08 odds, but if you expect another Costa Rican surprise like in 2014, or a Panamanian miracle, you can get 9.00 and 21.00 odds respectively.