After a two year wait, Doha will host this year's world top sprinters. Christian Coleman is a favorable bet on Doha World Championships to claim the 100m gold medal. This means that 2017 100m defending champion Justin might have to let go of his 100m world title.
The men's 100m discipline at the Doha World Championships will be a two day event running from 27 to 28 September 2019. First, sprinters will go through the preliminary round, then heats. Afterwards, the semi finals and semifinals will be held on 28 September. For more Doha World Championships betting opportunities be sure to read our article on the women's 100m race.
On Unibet Sportsbook, you can bet on Doha World Championships 2019 100m hopefuls such as:
| | |
| --- | --- |
| Christian Coleman | 2/1 |
| Andre De Grasse | 6/1 |
| Justin Gatlin | 8/1 |
| Asafa Powell | 66/1 |
| Yoshihide Kiryu | 250/1 |
Christian Coleman, the man who beat Usain Bolt returns to the World Championships stage in search for 100m gold
Christian Coleman is one the top 100m players to bet on Doha World Championships 2019. Coleman currently has the best odds of winning the 100m discipline with odds at 2/1.  He was the 2017 World Championship 100m runner up losing to Justin Gatlin by 0.02 seconds.
However the 23 year old must be proud knowing that he beat the great Usain Bolt. At the same time, Coleman also made a name for himself by ending Bolt's 45 race winning streak. According to Unibet Sportsbook, Coleman could step up from silver and claim gold this year in Doha.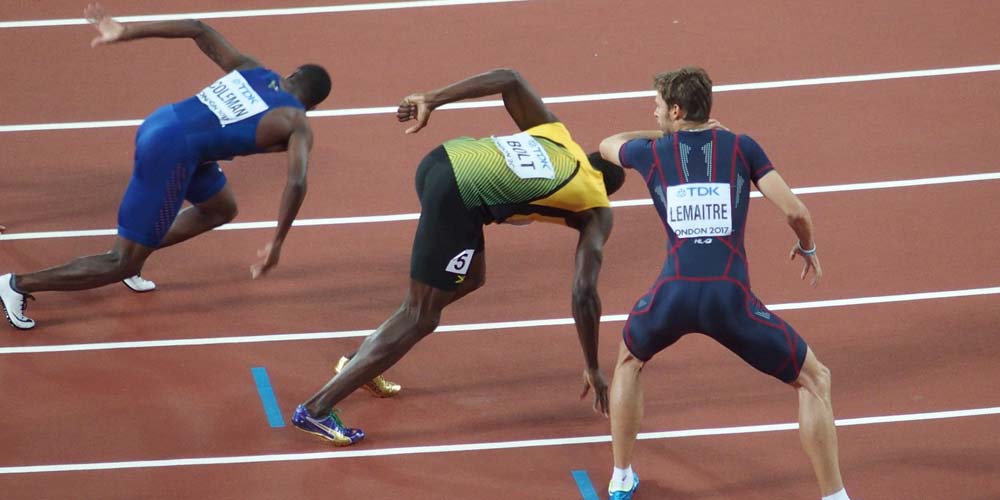 Additionally, Coleman's impressive performance at the 2019 IAAF Diamond League in Shanghai makes him a safe sprinter to bet on. The IAAF Diamond League debutant finished the 100m race in 2nd place with 9.86 seconds. Coleman has been dubbed the next Usain Bolt, and a win in Doha might just certify that.
2015 bronze medalist Andre De Grasse ready to make a comeback following 2017-2018 injury setbacks
Andre De Grasse also stands a considerable chance of claiming his first 100m World Championships gold medal with odds at 6/1 . On Unibet Sportsbook, you can bet on Doha World Championship 2019 hopeful to claim his first 100m win.
3 years ago, De Grasse was predicted to be a dominant sprinter on the world stage. During this time, the Canadian won silver for 100m race at the Olympic Games. Additionally, he claimed bronze at the 2015 World Championships and gold at the 2015 Pan American Games. However, due to a hamstring tear De Grasse couldn't compete at the 2017 London World Championships.
Read more about Doha World Championship 2019:
Unfortunately, the injury persisted cutting his 2018 season short excluding him from major competitions such as the 2018 Commonwealth Games. Consequently, De Grasse had to watch as other names in the sport flourished such as Christain Coleman and Noah Lyles. The sprinter has a lot of catching up to do if he's to remain relevant meaning a win in Doha is crucial.
Reigning 100m world champion Justin Gatlin looks to extend hold on title  
American sprinter Justin Gatlin will be eager to remain the world 100m championship. However, he stands a small chance to repeat his World Championship winning ways according to Unibet Sportsbook. You can bet on Doha World Championship 2019 contender to defend his 2017 100m gold medal with odds at 8/1.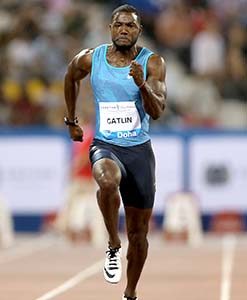 Fortunately for Gatlin fans, the 37 years is showing no signs of retirement. Winning gold at the 2019 World Championships in Doha will remind the athletics world of his commitment to the sport. However, if Gatlin fails to defend 100m title, a podium finish is still will still be in reach.
He also has a good 100m record to back up his title winning aspirations. He claimed gold at the 2004 Olympics Games, bronze in 2012 and silver at the 2016 Olympics. At the World Championships, he was a gold medalist in 2005 and 2017, and a silver medalist in 2013 and 2015.
Asafa Powell is one the risky 100m players to bet on Doha World Championships 2019
According to the online sportsbook news in the UK, Asafa Powell (66/1) might consider retirement at the end of 2019. The former world 100m record holder has been quiet in recent years making him an unlikely sprinter to bet on Doha World Championships 2019.  
Unfortunately, his odds on Unibet Sportsbook also mean that a podium finish is highly doubtful. The Jamaican was last a medalist at the 2009 World Championships finishing 3rd in the 100m race. Additionally, he last won gold in the discipline at the 2006 Commonwealth Games. However, it's expected that Powell will claim a top 10 finish in the 100m race at the 2019 World Championships.
2019 100m Asian Championships winner Yoshihide Kiryu won't repeat his success at the World Championships
Yoshihide Kiryu will enter the 2019 World Championships in Doha in hopes of claiming his first 100m gold medal. However, with high odds at 250/1, Kiryu will be a high risk bet on Doha World Championships 2019. Unfortunately,  his 100m win at the 2019 Asian Championships won't be enough to claim a podium finish in Doha.
However, you can still bet on Yoshihide Kiryu to defy his bad odds of claiming 100m gold on Unibet Sportsbook. Be sure to read about Unibet Sportsbook, one of the leading online sportsbook sites in the UK.