Our intention was to introduce the most memorable and weirdest haircuts in football history. Stay with us and laugh at the wannabe bastards. Oh, and also, let's not forget to hail the legends who turned ridiculous hairstyles into a myth.
Football players are always admired by women because they are known for being muscular and handsome men with great sense of style. Their hairstyle usually follows the latest fashion, and the same goes for their clothing style. The most popular players of this kind used to be David Beckham, and Cristiano Ronaldo has taken his place now that the Englishman has retired.
Alves keeps shocking the fans
Ronaldo's triangle became legend
Even Beckham made mistakes in fashion
However, there are some who are overly confident and believe that they have the same sense of stlye so they try to look unique and amazing. Yet, their efforts become ridiculous and a target of many mean jokes. We have collected some of these football haircut style failures, enjoy!
Daniel Alves is always ready to surprise his fans
The star right wing back of FC Barcelona and Brazilian national football team has always been ready to shock the audience at many celebrations and events wherever he attended. He became famous first because of his class on the football field. Later on, because of his lack of class out of the field.
According to online gambling sites in Brazil, the wing back has once again shocked everyone who have seen him playing in the last game. He made a new haircut just before the Copa del Rey final against Athletic Bilbao, which his team won by 3-1 so the new style has brought luck for him and his side.
Ronaldo's haircut became legendary
Ronaldo Luiz Nazario de Lima was a legendary football player. He was one of the best strikers who have ever lived as he was perfectly skilled, fast and powerful. Throughout his career he played for both Barcelona and Real Madrid, and of course he was key member of his national team, Brazil.
In most of his career, he was bald. However, just before the Wold Cup in 2002, he decided to put a little style in his haircut. He was still bald-headed. Yet, he left a weird triangle shape of hair on the top front part of his head. The Phenomenon just came back from a serious injury of several months. It didn't stop him from leading his team to World Cup victory. Ronaldo was one of the most important players in Brazil's triumph, scoring 8 goals – 2 of them against Germany in the final. The weird footballer haircut became legendary, thousands of kids copied him after the summer of 2002.
David Beckham also made mistakes in style
David Beckham was Manchester United's legendary player who has became one of the most popular persons in the football world. Part of his fame was due to his incredible skills of free kicks and assist, but being handsome also played an important part in his great success to becoming the most marketable football player, according to UK gambling news.
Usually he was known of being stylish and elegant, but of course he is not perfect, he was also capable of making many mistakes in his choice of haircuts. Who wouldn't remember his hydrogene-blonde hair when he attended Real Madrid's training? Or the time when he grew his hair and tied it up with two tiny ponytails? But he also had strange wannabe punk haircut with sidecuts, among many others. He definitely has one of the weirdest footballer haircuts ever.
Taribo West makes the weirdest haircuts
Taribo West has never really been a world class player. He was never among the best football players. Nevertheless, he was important member of the Nigerian national football team. He played for smaller clubs and never really was a key figure. At his peek, the defender played for Inter and AC Milan.
Most people knew West by his weird hairstyles. He was the easiest person to spot on the field. The most memorable haircut of his great collection is when he had very short hair and three pony tails. Two on the sides on the top of his head and one on the back of his head. Imagine all this, colored in green! Spectacular view to watch during watching football.
Mario Balotelli likes to be in the center – even with weird footballer haircuts
Mario Balotelli is also not among the world class players. He has started as a great young talent. However, his confidence and his lack of professionalism was his Kraken. It became impossible for him to be the player that so many expected him to be.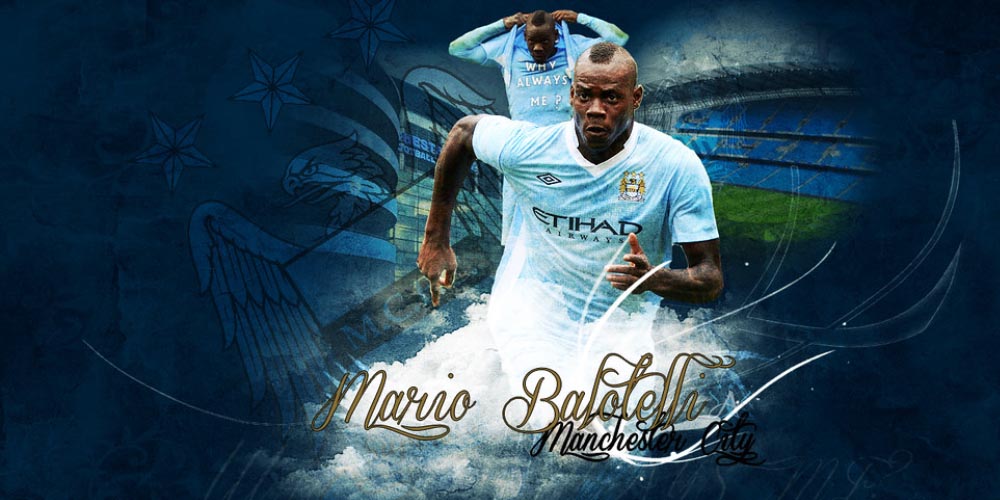 However, mobile betting sites report that Balotelli will still be a famous player – if not because of the constant class of his performance, then his unique looks and style on the field. Do we remember when he made a letter "M" in the back of his hair? Or those weird zigzags in his sidecut? And the list goes on and on…