2022 World Cup Betting Predictions: Top 7 Teams to Win You Some Extra Cash
2022 World Cup betting predictions expect Brazil to win

France, Germany, Holland & Portugal are the top candidates

We should expect the refs to push Qatar quite far...

Check out the best 2022 FIFA World Cup odds at GamingZion!
The winners of 2019 Copa América are the biggest favorites according to the 2022 World Cup betting predictions. Image source: Palácio do Planalto via Flickr
The tournament may or may not be held in Qatar, but it is happening in 2022. You already know the best teams who could win it. We'll talk about the best underdogs who could make you rich if you choose to bet on them. Check out our 2022 World Cup betting predictions!
2022 World Cup is still 3 years away, but already there are more scandals around the event than any other tournaments had before. Online gambling sites in Germany are still not writing enough about the fact that FIFA was bribed to let the most important footballing event to be held in a country with no football culture. Or proper World Cup-quality stadiums. And cities. Maybe a climate that is acceptable for playing football.
Bet on 2022 World Cup winners:

| | |
| --- | --- |
| France | 7.00 |
| Brazil | 8.00 |
| Germany | 8.00 |
| Spain | 8.50 |
| England | 11.00 |
| Belgium | 12.00 |
| Argentina | 13.00 |
| Netherlands | 15.00 |
| Italy | 17.00 |
| Portugal | 26.00 |
| Croatia | 41.00 |
| Chile | 51.00 |
| Colombia | 51.00 |
| Uruguay | 51.00 |
| Switzerland | 51.00 |
| Mexico | 81.00 |
| Denmark | 101.00 |
| Serbia | 101.00 |
| USA | 101.00 |
| Ivory Coast | 151.00 |
| Qatar | 151.00 |
| Japan | 151.00 |
| Algeria | 151.00 |
| Egypt | 151.00 |
| Poland | 151.00 |
| Ghana | 201.00 |
| Romania | 201.00 |
| Greece | 301.00 |
| Australia | 301.00 |
| China | 301.00 |
| Hungary | 501.00 |
| Costa Rica | 501.00 |
| Saudi Arabia | 501.00 |
| Finland | 1001.00 |
| New Zealand | 1001.00 |
| Kosovo | 1001.00 |
| Canada | 2001.00 |
| Iraq | 2001.00 |
| Malta | 2001.00 |
When logical reasons fail to matter…
However, instead of reason, it's always the money that talks, so Qatar gets to be the host, still. Even after several FIFA officials were proved to have taken bribe money in exchange of voting for Qatar to host the World Cup. Even former UEFA-president Michel Platini was taken into custody for similar reasons. However, Qatar will organize the tournament. Here are our 2022 World Cup betting predictions.
World Cup predictions #7: The refs will support Qatar…
Qatari football is on the rise ever since they bought won the prestigious opportunity to host the World Cup in 2022. They had a fantastic performance at the AFC Asia Cup 2019 – Qatar won the tournament for the first time in history. The Qatari team was even invited to Copa América 2019 where they were insignificant, but it was a great lecture against better teams. Qatar might learn a valuable lesson thanks to that experience.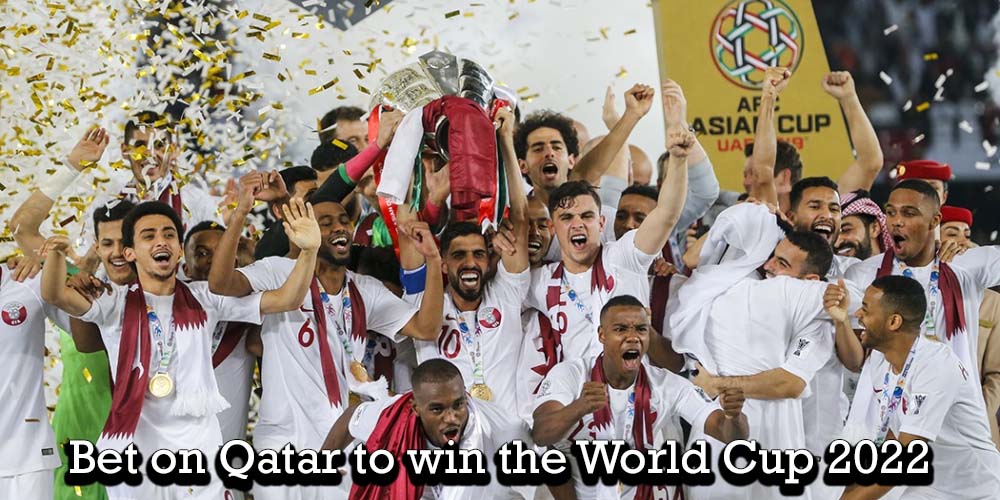 Miracles happen every day, don't they?
The home team will do everything in order to go as far as possible. Asian teams do have a history when it comes to World Cups: remember South Korea from 2002? Something similar is not impossible to happen to Qatar. If you believe they can end up as winners, then express your disagreement with 2022 World Cup betting predictions and pick them for odds over 150/1. It's one of the weirdest bets on the World Cup, but you might take advantage of it.
FIFA World Cup bets #6: Luka Modric won't lead Croatia to World Cup glory
Croatia probably won't feature Luka Modric in its 2022 World Cup squad. By the time of the next tournament, Real Madrid's Ballon d'Or crack will be 36. At the age of 33, he won the World Cup MVP award and led his nation to the final. However, they lost the very last match to France in Russia, but they are still full of talent and potential. Will you place a bet on Croatia to win the World Cup? Their odds are over 40.00.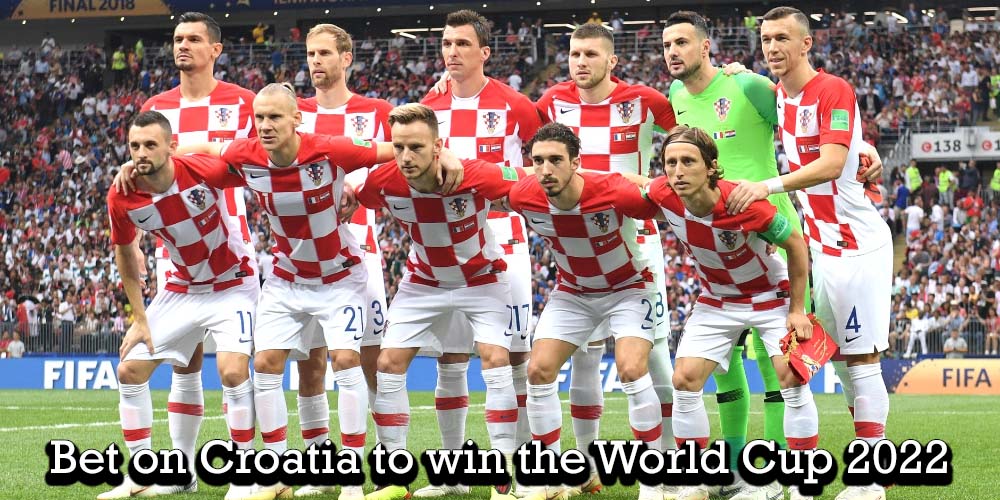 Bet on 2022 World Cup #5: Cristiano Ronaldo's one last chance to prove he's the GOAT
Cristiano Ronaldo is one of the greatest footballers of all time. 5-time Champions League winner, he claimed the very first UEFA Nations League trophy ever, right after winning the Euro 2016 for Portugal… He is not fighting for Ballon d'Or this year, because he had a mild season with Juventus (Serie A winner + MVP), but they were surprisingly knocked out of the Champions League by the Dutch youngsters.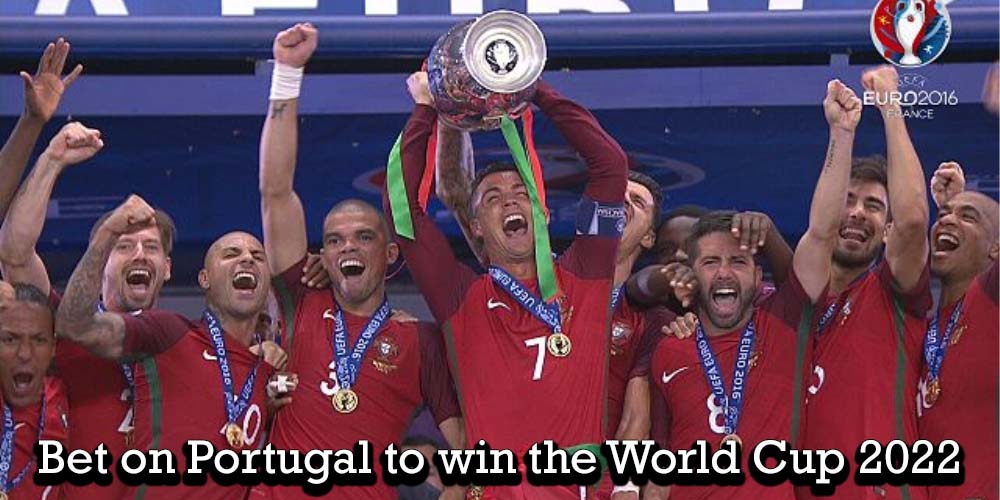 Master and teacher for the nation
While 2022 World Cup betting predictions don't put Ronaldo's team among the top favorites, you might want to pick them. Their odds are 25/1. The Portuguese captain is the GOAT and he will still be there in 2022. By then, they'll also have Atletico Madrid's newly-bought crack Joao Félix and the national team is getting better and more ambitious by the day. Portugal might upset the odds by winning the tournament, just like they did in 2016.
2022 World Cup betting predictions #4: should you pick the Netherlands?
The Duch  team has always been among the top football nations in the world. They gave us the likes of Marco Van Basten or Johan Cruyff, to name only a few. However, in recent years they have been hugely underperforming. For example, they even failed to participate in the Euro 2016 as well as the World Cup 2018 tournaments.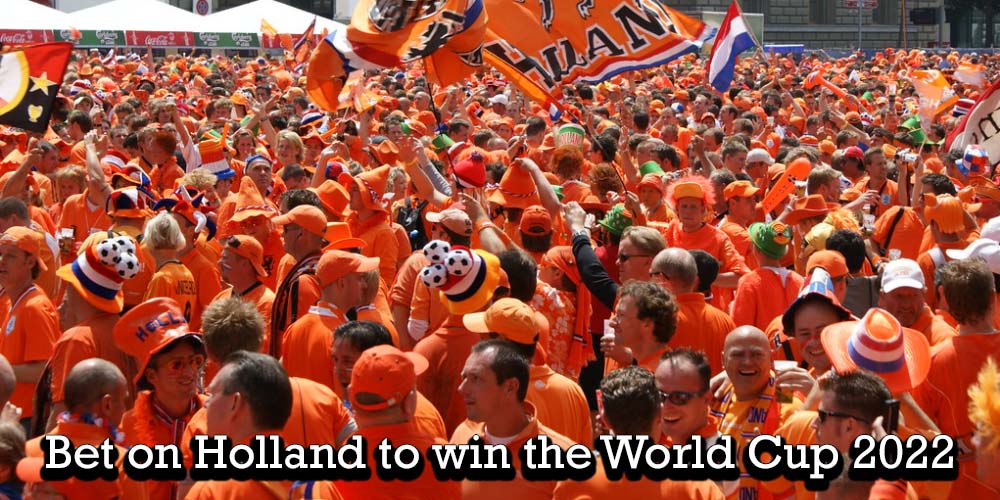 The Oranje on the throne again?
Now they are back, and they are hungry for success. With world-class youngsters like Barcelona's Frenkie De Jong and Juventus' Matthijs De Ligt, they have huge potential. In addition, their defense is led by Liverpool's Champions League hero Virgil Van Dijk. The odds for the Netherlands to win the World Cup are not the worst either. Will you pick them?
2022 World Cup odds #3: The Germans are always so Klose…
First of all, I'm so sorry about that pun. Second of all, Germany won the World Cup back in 2014. The coach is still the same – Joachim Löw. However, a lot has changed since then. Manuel Neuer probably won't be there in Qatar as it's time for Barcelona crack Marc-André Ter Stegen to take his place in the Nationalelf. If Löw manages to build up yet another team full of talented stars who are hungry for success, they might win the World Cup. Just like they did in Brazil, 2014.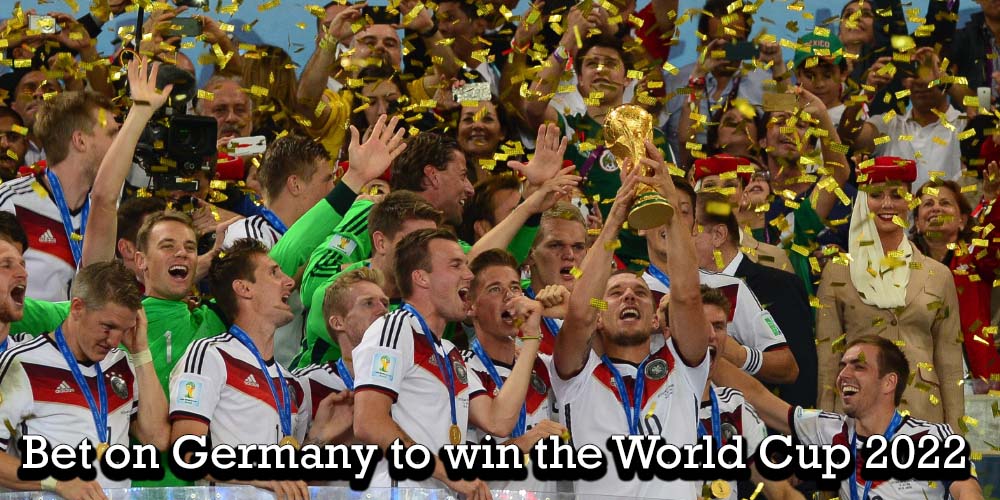 Yet another comeback?
2022 World Cup betting predictions put Germany among the top favorites. Germany has been pretty much humiliated in the World Cup in 2018, but other than that, they are frequent members of at least the semi-finals, if not the final itself. Placing a bet on Germany to win the World Cup could easily win you some money in 2022!
2022 FIFA WC tips #2: France, again?
The title-holders always have to be considered favorites. That pretty much explains why France's odds for winning the World Cup in 2022 are at 7/1. They have an experienced squad full of world-class players like Mbappé, Pogba, or Varane. French talents have never disappointed the football world. It's easily understandable why 2022 World Cup betting predictions rate France as one of the top 2 teams in the world.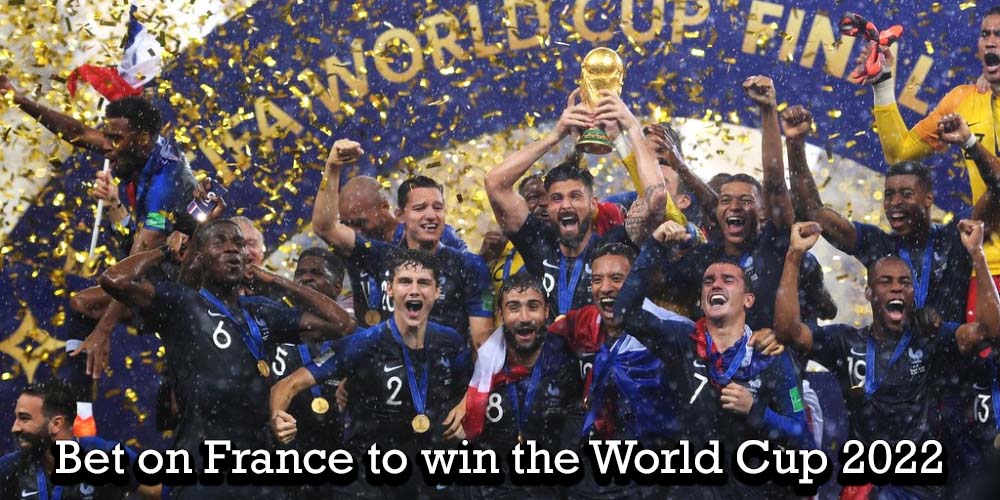 Reaching the Euro final is not unusual for France…
World Cup 2018 is not the only tournament this French side reached the final in. Before that, they were finalists at the European Championship as well. However, Cristiano Ronaldo's will seemed stronger back then, as Portugal seized victory after extra time. World Cup 2022 could be different, but France has a lot to prove at Euro 2020 as well.
Soccer World Cup bet #1: Brazil to win the 6th?
It's never a bad pick to bet on Brazil to win the World Cup, as they are the most successful nation in the history of the tournament. Online sportsbook sites in Germany believe in their chances for 2022 as well. Especially after winning the Copa América 2019, where they conceded only 1 goal throughout the entire tournament. That one goal came from a penalty in the final against Peru, whom they beat 5-0 in the group stage.
Brazil going for the 6th
Brazilians are seeking their 6th World Cup trophy and with Real Madrid youngsters Vinicius and Rodrygo in the front line, Alisson in goal, Militao, and Casemiro with defensive duties… Well, they have every chance to sit back on the throne of football once again. Especially if they lose individualistic players like Neymar – whose absence already earned a trophy this year. Why couldn't it happen once again? Brazil is the best guess according to the 2022 World Cup betting predictions.