Is Tour de France Betting just a wager on the best team doctors?

Can cycling ever clean up its act and become drug free?

Should you back Chris Froome to win the Tour De France at Unibet?

Would you cycle 2000 miles in three weeks without being on drugs?
The books are open for Tour de France betting with the usual suspects at the top of the odds tree at sites like Unibet, however whilst a bet on sport in France can turn these lycra clad loonies in a promotional video for the French Tourist Board into a real sporting occasion one does have to bear in mind that you're very probably betting on which team doctor has the most up-to-date medicine bag and whose PR department can spin performance enhancing drugs into an pancake allergy medication for the media.
With just days to go before the start of this historic bike race most of those in the Tour de France betting they won't get caught this year, won't get caught this year. The riders will be having blood transfusions from 14 year old Norwegian girls who spend their entire lives above 20,000 feet, the doctors will be ensuring that the particular derivative of their performance enhancing steroid isn't on the banned substances list yet, and the sponsors are just hoping their coke arrives in time for the off.
For How Long Will Cycling Claim To Be Cleaning Up Its Act?
For it's 105th incarnation the Tour will last a grueling 3,329km in 21 stages and if riding two thousand miles in three weeks is something you'd do without being on drugs please do leave your name and address in the comments section sot he authorities can pick you up and put you somewhere with rubber wallpaper. Cycling clings to the claim it's cleaning up its act, and has done now for years, making as much progress as Brexit negotiations, and leaving the organizers of the Tour De France betting no one cares.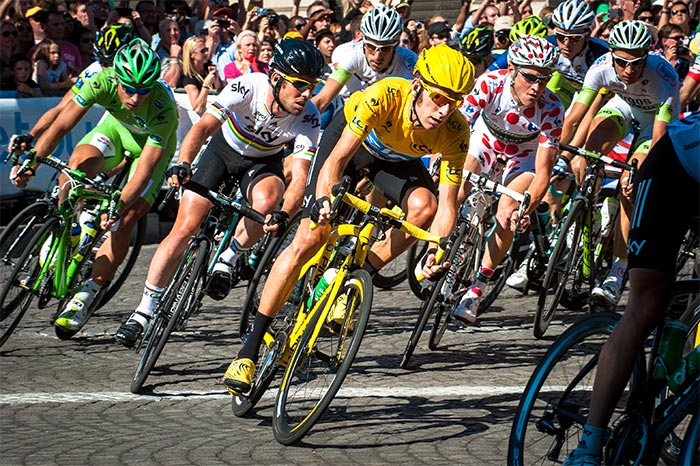 Unfortunately they are essentially right. Ever since Lance Armstrong torpedoed the sport's reputation it has suffered from swirling drug scandals galore that have dredged up the past and confirmed the present isn't much better. If you want clean cycling don't watch the Tour de France betting you'll see it, find a velodrome and take advantage of French gambling laws to wager on the Olympic teams instead. Road racing is only worth a wager at Unibet and co if you accept the inherent flaws in this flagging French farce.
Find All Your Tour De France Betting Odds At Unibet
We should, of course, never condone or tolerate drug abuse, however many of those to have been there will tell you that, despite the very pretty television pictures from hired helicopters, the best way to see rural France is as fast a pace as possible whilst on a cocktail of drugs that will make it go by even quicker. This year 22 teams have taken up the challenge but which of them should you back at Unibet to dose themselves to the finish line first at Unibet before they get underway in Noirmoutier-en-l'lle?
Well realistically you could back Alenjandro Valverde at Unitbet at 22/1 but Adam Yates gets 20/1 and Romain Bardet 18/1 ahead of him with Primoz Roglic at 17/1 pipping both. Tom Dumoulin get's 14/1 with Mikel Landa at 10/1 just behind Vincenzo Nibali on 8/1. This leaves the top of the field for Tour De France betting Nairo Quintana at 7/1, Richie Porte at 4/1 and the pure-as-the-driven-snow "honest guv'nor" Chris Froome tops the pack at 8/5 to win and make French gambling news headlines on the 28th.