Horse racing is the only sport in India on which it is legal to bet. In fact, it has a history of more than 200 years in the country. Today, it is a very popular sport and pastime activity in India. There are many big horse racing events in the country. Moreover, India is a country where you can find horse races almost every day of the year. 
How did horse racing come to India?
As we mentioned horse racing in India is more than 2 centuries old. In fact, the first horse races in India started to take place in 1777 in the city of Madras. By 1799 English horses started to participate in races on Indian racetracks. In 1894, there were already 73 racetracks in the country.
Today horse racing is a big industry in India. There are 9 racecourses in the country. The seven biggest tracks of the country are in Delhi, Mumbai, Calcutta, Bangalore, Mysore, Hyderabad, and Pune.
As India was a British colony, Indian horse racing is very similar to British racing. In fact, there are 5 most important races are called "Indian Classics" just like 5 Classics in British horse racing. So, there are 1,000 Guineas, 2,000 Guineas, Oaks, The Indian Derby, and the Indian St. Leger. They all take place in Mumbai, except St. Leger, which takes place in Pune.
Indian Derby is the most important and prestigious race in India. It runs on the first Sunday in February. Another important horse racing event in India is the classic 1000 Guineas, which along with 2000 Guineas runs in December. Similar to the British and Australian versions of 1000 Guineas, the Indian version is held over a distance of one mile, or roughly 1600m.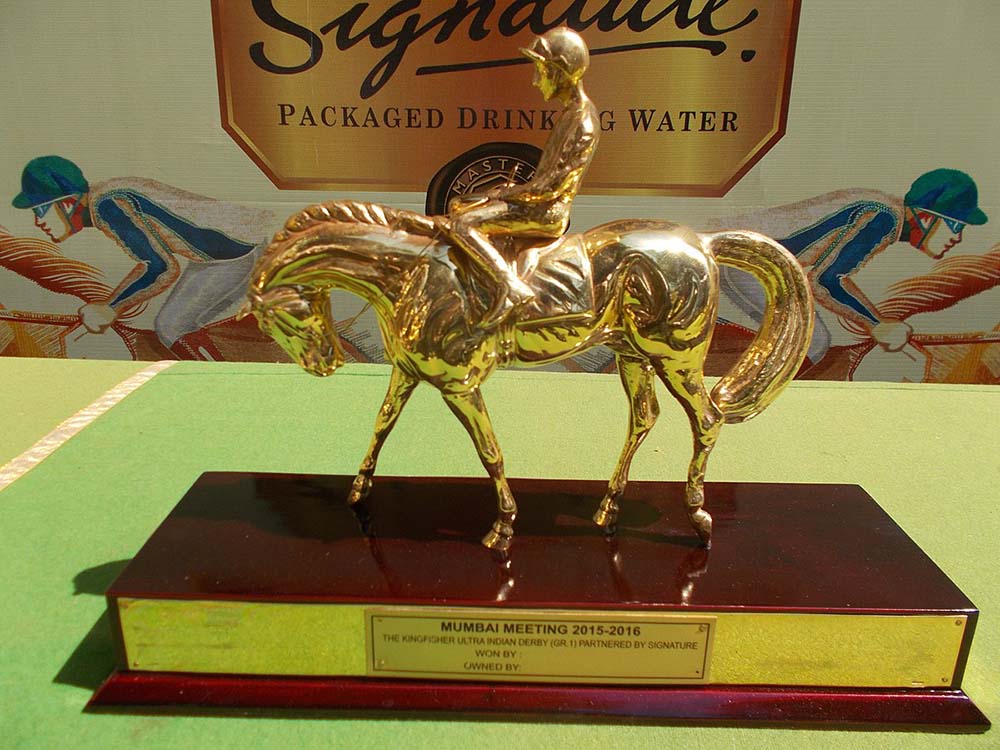 Is betting legal in India?
Horse racing, along with the lotteries, is the only legal form of gambling in India.
In 1996, the Supreme Court of India decided that horse betting is not only based on luck but on skill too. So, with that decision, the court stated that it is not illegal to bet on horse racing in India.
Horse racing in the country is regulated by the Turf Authority of India. It consists of 5 main race clubs: They are Royal Calcutta Turf Club at Kolkata, Royal Western India Turf Club, Ltd. racing at Mumbai and Pune, Madras Race Club racing at Chennai and the hill station of Ootacamund, Bangalore Turf Club Ltd at Bengaluru, and Hyderabad Race Club at Hyderabad.
How to bet on horse racing in India?
First of all, you should know the types of bets on Indian horse racings. So, here are they:
Win: Bet on a horse to finish first.
Place: Bet on a horse to finish in the top three. Or the top two if the field has seven or fewer runners.
Accumulator Win: A multi-race bet in which winnings move on to the next selection. One for the more experienced bettor.
Accumulator Place: See above except you just need all your selections to run a place.
Kenchi: A permutation of the Accumulator Win or Place bet accepted for a chosen group of 3-5 races. It gives you more of a chance than the straight-up accumulator.
Forecast (Exacta): Pick two horses to finish first and second.
Quinella: Just like the forecast except you don't need to select the first two in the correct order.
Second Horse: Back a horse to come second only.
Tanala: In this bet type you must predict the first three horses in the correct order. If you get the winner right, but your second and third choices reverse their places, you win a consolation share of the pool.
You can place your bets at on-course bookmakers or with the pari-mutuel system. Online betting is available on overseas operators. So, if you want to make bets online there are online gambling sites in the UK, such as Bet 365 that take bets for horse races in India. Moreover, Bet365 has live streaming on all the races in India. Also, they offer tote betting on Indian horse racings.
Don't forget to check on online gambling news in the UK to stay updated on the news of horse racings and more.