Leading up to the 2014 World Cup, the serial biter Luis Suárez was on a PR campaign. The aim of which was to prove that he was now a reformed player. Well, that was a waste of time and money….

Introduction: The Biter Luis Suárez
The old biter Suárez was now left behind. That was the guy who had racially abused Patrice Evra. The guy who had bitten both Ivanovic and Bakkal and had hand balled Adiyiah's header off the line against Ghana. As the new Suárez said to Sports Illustrated Magazine, "I want to change the bad boy image that has stuck for a bit because I don't think I am at all how I have been portrayed." He went on to say, "Obviously, it's not the most attractive image that I can have for myself. But that's not what I want to be remembered for. I want to do things right. I really, really do."
Great White Shark: "I have the biggest bite."  Suárez: "Hold My Beer"
How easily those words tumbled out. Yet in the final group game with Uruguay vs Italy, with the score at 0:0, the cannibalistic instincts of Suárez took over. In the 79th minute, Giorgio Chiellini was able to head the ball away just as Suárez steamed into him. They both tumbled to the ground. It appeared that no one initially saw the biting. Many thought it was a clash of heads. The referee, Marco Rodríguez, gave Italy a free kick. The fact that he didn't book Suárez points to the belief that he didn't see the infraction. He also failed to spot the knife and fork, napkin, tooth picks and bottle of bar-b-q sauce. You can check out the 2022 World Cup betting odds here.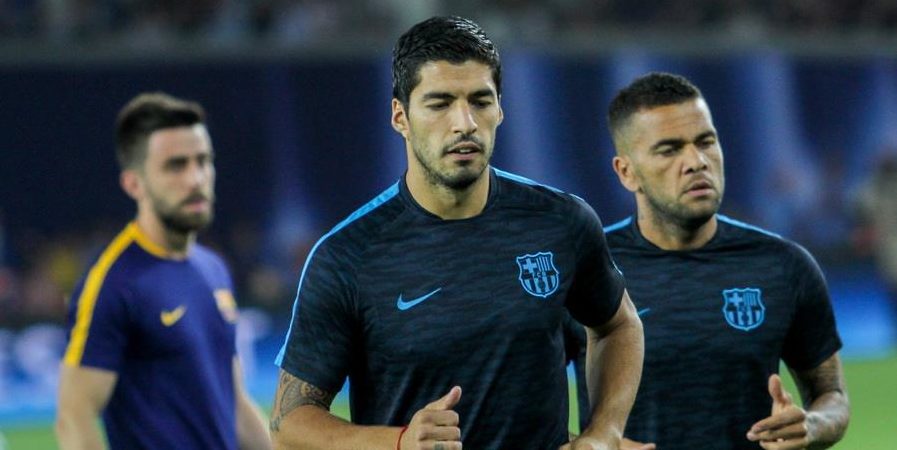 Feeling Peckish
As you can imaging, Chiellini was livid and chased the referee whilst at the same time pulling his shirt from his shoulder to display the bite make. Meanwhile, the biter Luis Suárez sat on the ground holding his teeth as if they had been accidentally damaged from the contact. The fans in the stands were also unaware of what had actually transpired. Many thought the players had suffered a clash of heads. But gradually it dawned on both commentators and fans that Suárez had done it again. Maybe it's as with sharks and tigers. Once they get a taste for human flesh, then that's all they want.
Italian Bite Size Player
It goes without saying that Chiellini was obviously certain about being bitten. As he later told sports book news about the incident, "It was ridiculous not to send Suárez off," he said. "Suárez is a sneak and he gets away with it because Fifa want their stars to play in the World Cup. I'd love to see if they have the courage to use video evidence. The referee saw the bite mark, too, but he did nothing." And the response from Suárez, "These are just things that happen out on the pitch that you shouldn't make such a big deal out of." At least he choose Italian.
It's Not My Fault…Chomp, Chomp
The thing is, that the biter Luis Suárez, has never taken full responsibility for any of his illegal behaviors. When he bit midfielder Otman Bakkal whilst playing for Ajax Amsterdam against PSV Eindhoven, he claimed, "we were on a bad run that would lead to our manager Martin Jol getting the sack." And according to Bet365, after biting Branislav Ivanovic was playing for Liverpool against Chelsea, he shrugged it off by saying, "I gave away a stupid penalty." In the final case against the Juventus defender Chiellini, after the Italian goal keeper had denied his shot, Suárez claimed that, "If I had scored that goal, then what followed would never have happened. I would not have done anything. Nothing." In other words it's the fault of Buffon, the Italian goal keeper. Also please note the logic of a five year old.
I Meant To Kiss Him
In spite of, or maybe because of his continued denial ("I lost my balance . . . hit my face against [CHIELLINI], leaving a small bruise on my cheek and a strong pain in my teeth"), Fifa handed him a tough penalty. Suárez was banned for 9 Internationals, all football for 4 months and he was ordered to pay a fine of $100,000. Brazil TV played the three biting incidents on a continuous loop. In Uruguay there were cries of fake news with the media pointing to the UK as being the real culprit as they had been knocked out of the World Cup by Uruguay. The Uruguayan President even went as far as to call Fifa "fascists" and "a bunch of old sons of bitches."
The
Bela Lugosi of Football
Well, the ban was served. He now plays for Barcelona and has since apologized to Chiellini. Online sports book sites say that six years have passed by without a repeat incident. But let's not forget that Barcelona has a very strict contract with him. As to why he was biting, we really don't have a definitive answer. Apparently he doesn't bite family members or anyone outside of football. In spite of all the stories of hardship, of growing up poor on the streets of Salto and having to look after his siblings from an early age, there's no reference to his brothers chewing their way through problems. He doesn't seem to see as that serious. "I know biting appalls a lot of people, but it's relatively harmless. Or at least it was in the incidents I was involved in. When Ivanovic rolled up his sleeve to show the referee the mark at Anfield, there was virtually nothing there. None of the bites has been like Mike Tyson on Evander Holyfield's ear. But none of this makes it right."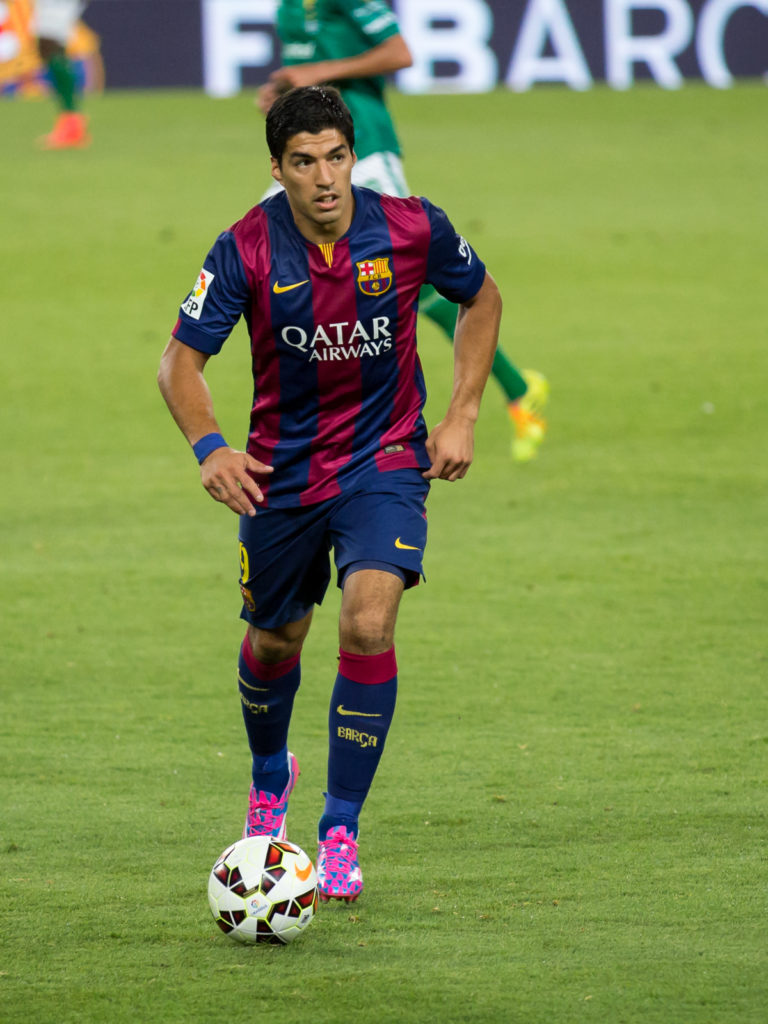 A Bet with a Bite
You can actually bet on when and where on the body, Luis Suárez will chomp down next.  In fact, you have more chance of being bitten by him, than by a shark. The odds of getting bitten by Suarez during a football match are higher than being struck by lightning (1 in 10,000), being in an airplane crash (1 in 11 million), or getting murdered in the Americas (1 in 6,100). Now go and make some money off that information and have a punt with Bet365. Here are the delicious odds:
When will Suarez bite a player?
100/1 0.01 to 23.00 minutes
33/1   23.01 to end of first half
25/1   Start of second half to 68.00 minutes
25/1   68.01 minutes to final whistle
Where will Suarez bite a player?
33/1   Arm
33/1   Shoulder
40/1   Leg
40/1   Hand
50/1   Back
100/1 Foot
The Biter Luis Suárez Needs Help
Maybe it's a mental issue. Perhaps he has a mental affliction whereby all footballers appear to him covered in mayo or ketchup. Personally, I think it's a childish trait that is the only means by which he can deal with frustration. He is, without a doubt, a talented player. But, more than that, he is also a horrible cheater. He was found guilty of racially abusing Evra. Yet after receiving an eight match ban, and a $40,000 fine, he still refused to shake hands with the player. His frequent diving and showing the middle finger to opposing fans are the traits of an immature and childish individual. In short; the guy should get some professional help.
Football Chant
Yes, there was even a football chant for Luis:
"Your teeth are offside,
Your teeth are offside!
Luis Suarez, Your teeth are offside!"
Conclusion: Like Father Like Son
In April of 2019, Suarez's son, Lautaro was being paraded around the pitch after the Barcelona win over Levante. And guess what. Yep, following in dad's footsteps, the little six month old, chomped down on daddy's shoulder. He's obviously learning from the master!