Gloucestershire Cheese Rolling Festival 2020
Posted: December 20, 2019
Updated: January 17, 2020
The cheese can reach speeds of 70 mph

Book an ambulance before you start

One guy has won 22 times
What on earth is the Gloucestershire cheese rolling festival 2020? Well, do you want to take part in a sport that is both exciting and dangerous? Want to break some bones and lose a tooth?

Introduction: Gloucestershire Cheese Rolling Festival 2020
Then welcome to the Gloucestershire Cheese Rolling Festival 2020 at Cooper's Hill, located in the center of Brockworth, Gloucester. Stand at the top of the hill and look down the 200 meter course. It's like really steep. In fact, so steep that it's impossible to run down. The only way to the bottom is going head over tits. Just keep in mind that there's a good chance that you day will end in a hospital visit without any cheese.
History Time
The precursor to the present practice involved the rolling of bread down the hill. It probably started in Pagan times as a means of bringing good harvest. Then during the middle ages it evolved into an economic competition. Various land rights and exclusion from taxation were just some of the prizes on offer. Today the competition takes place on the 25th of May, over the Spring Bank Holiday.  As a way of respecting it's roots, today the competition begins with the throwing of bread and other baked goods down the course.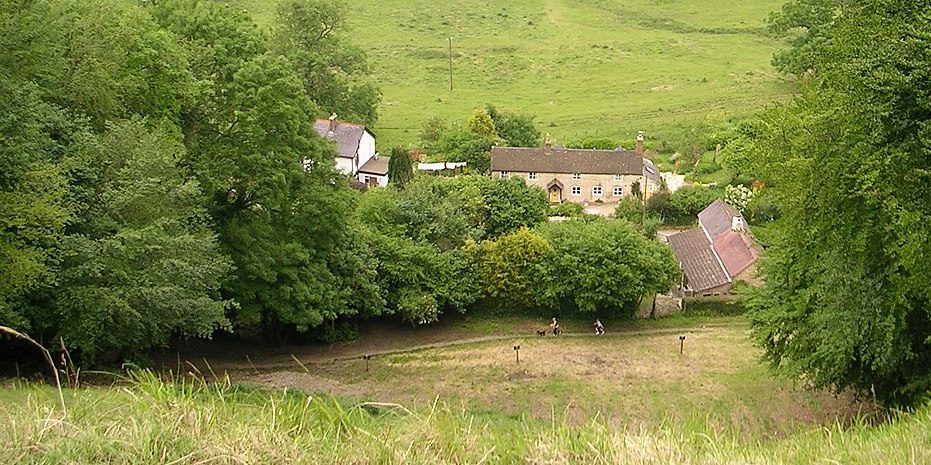 Death Wish
Anyone can take part in the Gloucestershire Cheese Rolling Festival 2020. First off place a bet. You can use your phone to contact Betsson. After that, you just need to get yourself to the top of the hill and let the Master of Ceremonies known you're there. And willing to face death. Luckily there's no paper work or formalities to go through. Just you and your soon to be broken limbs. Hopefully you have your will already made out and in your pocket. Before beginning the race, water is spread on the course.
 Mud and Rocks
Then the cheese is let go at least 1 second before the Master of Ceremonies says the unique traditional countdown of, "One to be ready, two to be steady, three to prepare, and four to be off!" Sorry to say, but the course is not fragrant grass intersperse with warm soft mud. That would be way too comfortable. No, for a surprise there are rocks sticking up to catch the unwary. Blame British humor. And the mud makes the journey down even more precarious as there's little means on controlling your rapid descent.
Jack and Jill
There are four races run throughout the day. Three for the guys and one for the gals. The cheese can reach speeds of up to 70 mph and has only every been caught once in the last 8 years. Weighting in at 9lbs, it can certainly do some serious damage. Online sports book news says that, since 2015, it's been replaced with a lighter foam replica. That's health and safety for you, taking away all the fun/danger.
That's Gonna Leave a Mark
Also the contest is now to be limited to just 15 contestants, though in reality it's a mad free for all. This was a simple precaution as there were not enough local paramedics and hospital beds to deal with the injuries. The winner is the first to the bottom. And yes, you get to win a roll of cheese. If you have any arms left to pick it up with. And are not suffering from concussion. As far as betting goes, some local book makers do give odds. We recommend sticking with Betsson.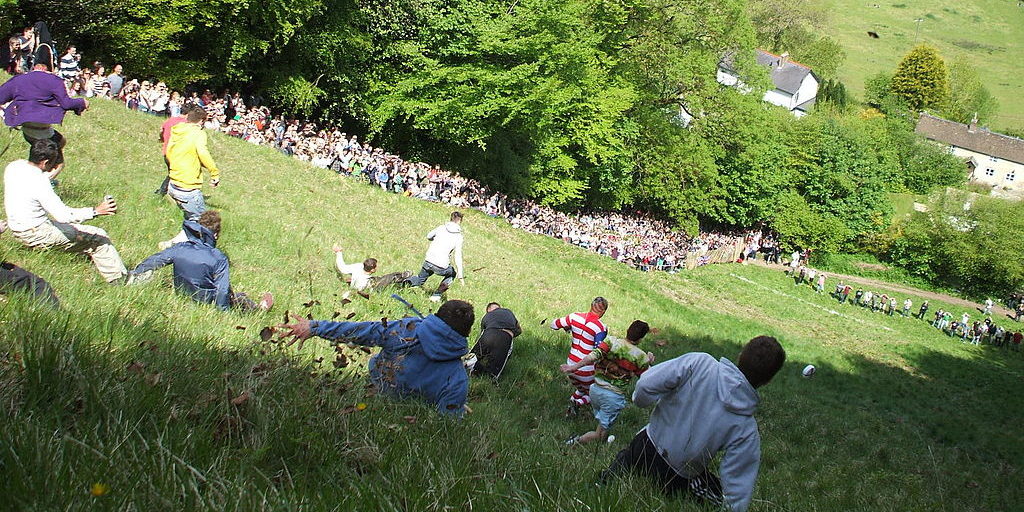 Tiss But a Scratch
And speaking of injuries, let's take a look at some numbers. According to online gambling sites in the UK, in gentle football the injury rate is around 8 per 1,000 participants. In placid Lacrosse it's around 6. But in the Gloucestershire Cheese Rolling Festival 2020, they don't f*ck around. It's a whopping 333 per 1,000. Put into perspective, that's 5 players out of each 15. So not so bad. No dead yet. But there's always the possibility for next year. In 2005 the races were delayed as they waited for ambulances to ferry the injured to hospital.
Gloucestershire Cheese Rolling: A Real Woman
As the 2015 women's champion, Katie Hagenuard, says, "While I did break my arm, just the feeling of winning, is amazing!" Hagenuard was one of those that took off down the hill, full speed ahead. Though she did suffer major tearing in her right thigh, a major gash in her head, and a broken arm, she says she would happily do it again. Talk about mad cow disease. Absolute wife material!!
When is Cheese Rolling 2020?
The Cooper's Hill Cheese Roll and Wake will take place on Monday, May 25, 2020.
There is no admission fee.
The 1st race begins at Midday.
In 2019 the race order was:
12.00 – First Men's Downhill Race
12.15pm – Second Men's Downhill Race
12.30pm – First Children's Uphill Race age 11 years old and under
12.34pm – Second Children's Uphill Race age 12 – 16 years old
1pm – Women's Downhill Race
1.15pm – Mixed Adult's Uphill Race
1.30pm – Third Men's Downhill Race
What Roads will be Closed?
All the roads in Brockworth around the venue during the Cheese Rolling and Wake have been close by the police since 2013. Though the road closures for this year's event have not yet been announced, we are certain that the same road closures and restrictions that were in place in 2019 will be used:
Painswick Road, Green Street, Cooper's Hill and Nuthill had sections closed for duration of the day.
Painswick Road: closed from Junction 30390, Ermin Street to Junction 30197, Buckholt Road.
Green Street: closed from Junction A46 to Junction Cooper's Hill.
Cooper's Hill: closed from Junction A46 to end of the road.
Nuthill: closed from Junction A46 to Junction 30217, Bondend Road.
Parking restrictions and no waiting were also in place on Ermin Street, Cirencester Road and Shurdington Road.
Ermin Street: From Junction 30365, Vicarage Road to Junction A46, Painswick Road.
Cirencester Road: From Junction A46, Painswick Road to Junction 30196, Birdlip Hill.
Shurdington Road: From Junction 30380, Ermin Street to Junction A417.
The order was in force from 12am until 11.59pm on Monday, May 27.
No need to worry if you're just passing through as alternative routes are well signposted.
GAMBLING News -
December 2022