The Life of GG Allin – Sober Since 1993
Posted: December 19, 2019
Updated: December 19, 2019
Numbed in the haze of idiocy

Stage performance at it's best
Watching today's celebrities I can't keep the life of GG Allin out of my head. While you can make bets on celebrities through online sportsbooks in the UK, you can also throw your feces on them. So-called gangster rappers are crying at the court, real talents are being imprisoned but hardly anyone cares. And call me a boomer but I just can't keep up with all these new faces. Half of the actors from Netflix productions I wouldn't even apply for a jam rag commercial. What is the message of GG Allin and why is it so important today?
A day ago you could make money from betting if Tekashi 69 is going to cry or not at his hearing at court. And he did when his father showed up, it's actually a touching story. But how comes GG Allin in the picture? In this wrecked world of fake ideas, we need a savior. GG Allin born as Jesus Christ Allin has brought us the teachings of the scumfuck.
"This narrow-minded hypocrite puppet society trying to kill rock and roll and they can't do it."
Do you have that episode from Black Mirror, when the guy realizes that he is living in some kind of sick X-factor, that rules his whole life? So he goes to stage without taking his "meds" (drugs to numb him). Holds a piece of broken glass to his throat and starts to tell people that this whole thing is fake and they should wake up. After, the ruling power's answer to this move is not to make a martyr of this guy but to award him. And then, every year he goes to the stage pulls a piece of broken glass to his throat and works as a steam valve for the oppressed.  The life of GG Allin is not compatible with any compromises.
This is what happens in mainstream media. To find a real artist you have to dig the dirt. Go underground and be part of this rotting post-beat society. During my night outs in downtown, I find more valuable artist than in galleries. The only difference is that they paint for two beers. Actually it's a good way to make money.
Find a dirty pub. Find the local artist there. You need the guy who was winning every art-awards till he turned twenty-something and turned to heroin. You are looking for an unfulfilled promise. If you say his name everyone will know him and shake their heads with a resigned look on their face. Now give this guy a few bucks and ask him to make a portrait of you or just buy a random painting from him. He'll be happy if you cover his expenses of the canvas and the paint and pay a beer on top. Now you just have to wait for his death and your ill expectations will financially benefit.
The birth of the savior
Despite his given name Jesus Christ, Allin was not a savior. At the time there were innumerable punk bands with the same qualities as The Murder junkies. If Allin wouldn't cross certain lines like throwing feces in the face of his fans nobody would remember him. This guy is interesting indeed but we have to deal with him with a bit of distance for our own sake. What he was truly achieving is that he was able to overcome the bribe of society. He wouldn't acknowledge common values thus he was truly a free man and was able to express himself freely without any compromises.
Jesus Christ Allin born in 1956 was living in a log cabin with his religious fanatic family without running water or electricity. Her mother could escape this situation and took Allin and his brother Merle with her. Later he performed together with his brother in the Murder Junkies. I have no intent to investigate the psychological motives of his "career". Enough said that he had the reason to not like rules and superstitions after his childhood. It's funny that in my previous article I was writing about the method of motivation by humiliation and I just realized that GG is motivating others by his own humiliation.
The life of GG Allin – Stage performances without fear
"I want to die on stage and bring some of the fans with me".  Fortunately, he wasn't able to fulfill his prophecy as he died of a heroin overdose in 1993. But visiting a GG Allin concert was risky for many reasons. First, there was a big possibility that the event will have some special guests, the cops. Second, threats of physical damage by the singer. Allin beat up many of his fans not considering age or gender, which is pretty PC actually. But this was a back and forth thing. Before one of his concerts, he shot so much brown that he wasn't able to talk or walk. But his audience wanted something in exchange for their money so they beat him up badly.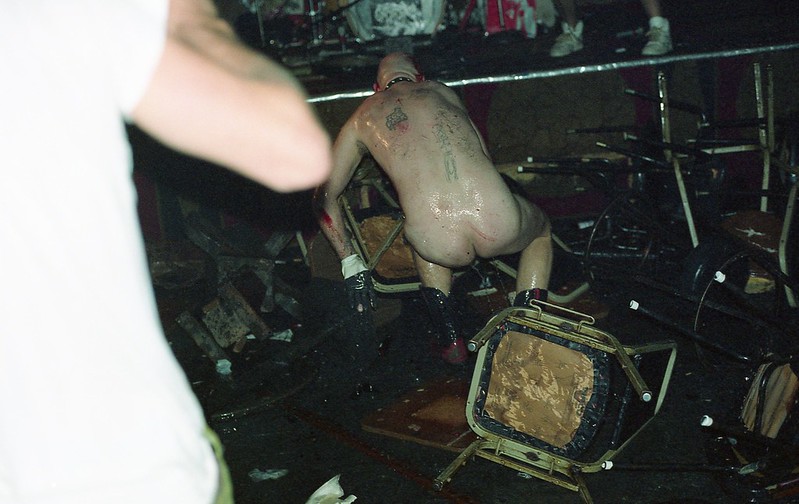 It's not likely that he had hard feelings for it. In this documentary (which I highly suggest watching if you were reading about this guy until this point) one of GG's fans, named Tusk shares his safe methods for a Murder Junkies concert. As he says the safe bet is to always stay behind Allin, he is only dangerous forward. However, analyzing his movements from vintage footages it can be really complicated.
What you get for your many is very diverse. It's like gambling. You will probably see blood. Yours, other's but most frequently GG's. Violence is not an answer to anything. As Allin said he is a friendless man and obedient to the fact that he is not here to make anyone happy. If you are lucky he will shit on the stage and you can take home some souvenirs on your clothes.
Sober since 1993
Enough said, Allin stopped hating people and doing drugs since 1993. He wanted to abuse himself and to die young, not to play in some 60's band. Listening to his lyrics or some of his interviews I have the feeling that this guy really had some principles. He was reasonable in a way that he was keeping up with these things. On the other hand, he was long gone to cloud cuckoo land. The life of GG Allin is a real testimony of empty agonic resistance and revolution against existentialism.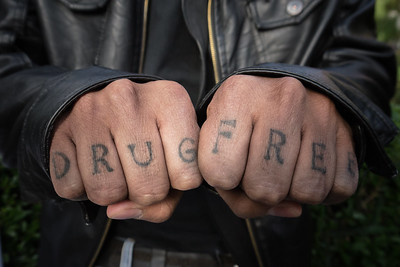 Well, what's left to us from his heritage is to check online gambling sites in the UK and make bets on Eurovision. Live fast and die young!
GAMBLING News -
December 2022