For the first time, the England, Manchester United and DC United player, Wayne Rooney talks about gambling. And admitted that he was under the spell of a serious gambling problem. Talking to the 32Red's Stay In Control awareness campaign, the 34 year old described how gambling had negatively impacted his game, both on the domestic and International level.
Introduction: Wayne Rooney Talks about Gambling Habit
He said that when he was young, he suddenly had access to huge sums of money. This, couple with boredom between matches and training was not the best situation.  He told online gambling news in the UK that he can now looks back on his naivety. As he says, "For an away game with Manchester United, you stay in a hotel – and with England, you're in a hotel for seven to ten days," he said. "You get bored and do things to fill the time. At that time gambling was one of them."
A Salary of $326,000 per week
He continues, "It was easy to place bets by phone. It didn't feel like real money. It wasn't like I had to go into a bookies and put bets where there are limits. Before you know it, you've lost a good bit and you don't realize the amount you're putting on." Alongside Lionel Messi and Cristiano Ronaldo, Rooney was one of the greats at a very early age. His signing for Manchester United was at just 18 years of age. And with a salary of $326,000 per week!
"A Bad Situation"
As could often be seen in his style of play, he suffered from a self destructive streak. Also he often fell to on-field recklessness. Unfortunately, these are also characteristics which can easily translate into a gambling habit. As he fell more and more into gambling, he talks about chasing his losses. These built up and he quickly became "sucked into a bad situation."
Wayne Rooney Talks about Gambling: Mobile Apps
Using a mobile betting app, Rooney managed to lose $950,000 over the course of just five months playing online gambling sites in the UK. On one occasion he blasted through over $85,000. This was during a two hour sprint via an online casino like PartyPoker. The Sun Newspaper reported on the various gambling excesses that have dogged the player over the years. They claim that he lost over $650,000 playing online Black jack and Roulette in 2017.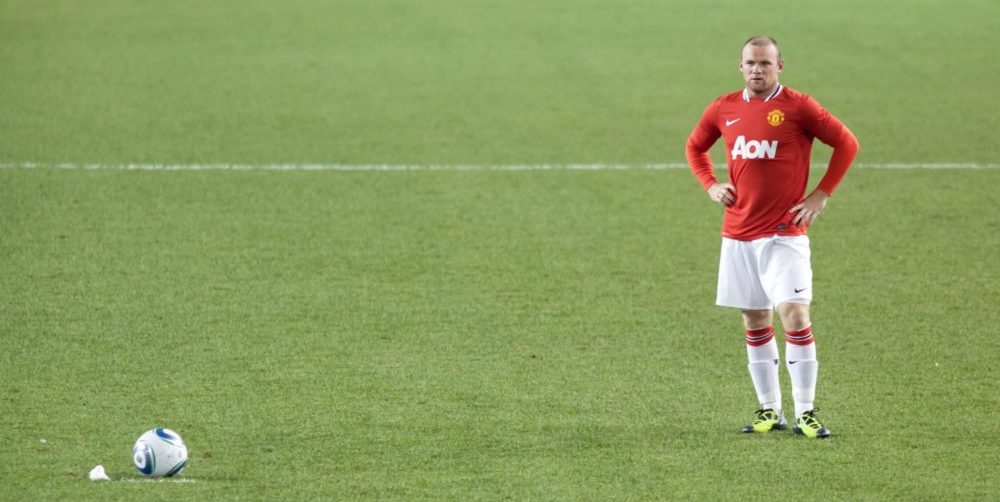 Derby Country Controversy
It was during this period, that an on field gambling controversy was to haunt both him and his new team, Derby county. By now everyone knew that Rooney had problems with gambling. Yet, on moving to this second tier team in that Summer, he wore the 32 Red logo on the front of his shirt. With the number 32 on the back. This was in spite of other numbers being available. Considering his troubled past, this seemed like a cynical and short sighted move.
Cynical Move
Derby County owner Mel Morris claimed that the arrangement was "just good business". It was a means of maximizing sponsorship. It also allowed the team to pay the huge salary demands of Rooney himself. Others saw it as a last cash grab from Rooney. After all he was now entering the twilight of his career. And yet others were critical of both Derby United and 32Red for inserting themselves into the team in such a manner. But the bottom line is that football and gambling, with sites like PartyPoker,  go hand in hand. And there appears to be little that can separate them.